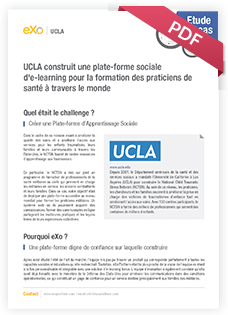 The University of California at Los Angeles (UCLA)
UCLA builds a social e-learning platform for worldwide education of health specialists
Since 2001, the U.S. Department of Health and Human Services has mandated, the University of California at Los Angeles (UCLA) to build the National Child Traumatic Stress Network (NCTSN).
Within the network, frontline providers, researchers, and families collaborate to raise the standard of care for victims of childhood trauma while increasing access to services.
The NCTSN has a program to train military and civilian health professionals who support service members, veterans and their families. In this case, they needed to deploy a globally-accessible Platform to provide workforce training to military providers.
Download the case study!