Apple celebrates its 40th Birthday!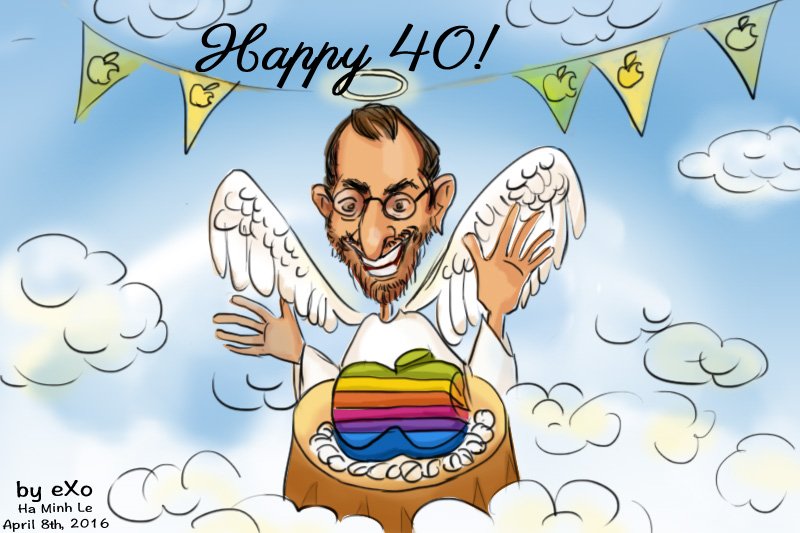 Born in 1976, in Steve Jobs' parents' garage, Apple has grown to become a global tech brand. But its road to success was also filled with a number of failures. And for its 40 years of existence, Apple has been looking for new sources of growth.
Let's flash back on 40 years of history.
Apple is born on April 1, 1976
The first Apple computer is created in Steve Jobs' childhood home. With the computer genius Steve Wozniak, Jobs develops the Apple I, one of the first individual microcomputers. Only 200 units are produced and cost something Iike $2,100.
The first brand logo represents Isaac Newton
Designed by Ronald Wayne, one of Apple Computer's three cofounders, the logo represents the famous physician Isaac Newton seated under an apple tree. And in 1977, the brand adopts the munched apple. On its 30th birthday, Apple Computer becomes Apple.
Apple finds success 1 year after its creation
Released on June 10, 1977, Apple II is the first personal computer produced in large quantities. For seven years, Apple sells over two million copies of this computer. It has a color monitor, eight extension slots, and a keyboard!
Apple's first computer weighs 19 pounds
In January 1984, Apple Computer puts out the Macintosh, its mainstream computer. It is the first computer to have a graphic interface, which doesn't need code. Its portable version is released in 1989 and weighs 19 pounds.
In 1998, the iMac signals a new era
In 1985, Steve Jobs is dismissed from Apple and makes his major comeback in 1997. The iMac is out in 1997, and thanks to its rounded edges and bright colors, makes history!
Apple counts as many failures as successes
If Apple has made iconic products, others have marked its great failures. The Apple III, in the early '80s, is made without internal fan. The Newton, a sort of personal assistant known as the iPad's ancestor, is also a failure.
5 men mark Apple's history
Ok, we know Steve Jobs and Steve Wozniak, the two brand founders. But we shouldn't forget the following:
Jonathan Ive, Apple's inspirational designer
Tim Cook, Steve Jobs' successor in 1998
Mike Markkula, Apple's first shareholder in the late '70s, with a $250,000 investment
Apple diversifies its turnover in the 2000s
On October 23, 2001, Apple puts out its iPod, which can hold up to 1,000 CDs. For 10 years, the brand sold over 300 million of this product. And for the first time, between 2004 and 2005, Apple doesn't achieve more than half of its turnover with its computers.
In 2007, Apple introduces the iPhone, and the smartphone becomes the brand's steamroller and prime engine for growth.
After 40 years, Apple is in doubt
In 2014, Tim Cook introduces the Apple Watch, but the brand still hasn't communicated about the turnover generated by the smartwatch. Nevertheless, we know we can't count it among Apple's successes.
On January, 26, 2016, Apple announces the slowest iPhone growth. It remains a moot point whether the iPhone SE will save Apple's turnover. Wait and see!
Anyway, Happy Birthday, Apple! We wish you all the best.
Stay tuned for more fun cartoons!
Follow eXo Platform's board Cartoon of the Week on Pinterest.