Benjamin Mestrallet is awarded the Ivy Price for the young manager of the year.
Paris, October 14th, 2008 – the price for the young manager of the year has been awarded to Benjamin Mestrallet, founder and CEO of eXo Platform.
This price has been delivered by Pierre Aussure and his team specialized in the Executive Search, and have been validated by senior manager of many IT market leading companies like: Eric Boustouller (CEO, Microsoft France), Marie-Christine Levet (Iliad administrator), Christophe Parcot (CEO, Yahoo France), Mats Carduner (CEO, Google France), and Michel Lepert (CEO, Bull Western Europe).
Benjamin Mestrallet was competing with two other finalists: Carlos Diaz (Bluekiwi Software) and Emmanuel Gonon (Oslo Software).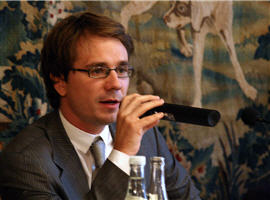 At 29 years old, Benjamin Mestrallet is awarded for his management style, his entrepreneur spirit, his determination to make eXo Platform a reknown company and the firm belief he has in his products.
This award comes while eXo knows a major increase of its activities around the world. The company is in many countries outside Europe: South East Asia and recently in Africa, where there are many business opportunites. "Giving eXo Platform an international dimension was a real challenge we are about to win", says Benjamin Mestrallet, "To my opinion, it is very important for the company's development and for its recognition on a very competitive market, to be quickly present on future market where we can be in advance on major competitors".
Benjamin Mestrallet founded eXo Platform in 2003, and has been the first to develop the concept of workspace virtualization that looks like common operationg systems like Windows or Mac, and available via any internet browser. Benjamin explains: "With this innovative concept, we were determined to propose an intuitive solution, where the user is in the center of the system, where he can quickly find his habits and where he can participate actively to the company's life." He adds: "We give a strong collaborative dimension to all our applications, because I am certain that the future of entreprises is standing on these points: strenghtening the links between collaborators and bringing all the tools needed to a good information use and diffusion."