Cartoon of the Week: MacKenzie to Become World's Richest Woman
Amazon CEO Jeff Bezos and novelist MacKenzie Bezos announced this week that they are getting a divorce after 25 years of marriage.
Mr. Bezos made the announcement on his Twitter account signed by him and MacKenzie. The tweet suggested that they will remain a family and cherished friends.
'As our family and close friends know, after a long period of loving exploration and trial separation, we have decided to divorce and continue our shared lives as friends', the statement read.
Author MacKenzie Bezos, 48, was one the first employees of Amazon, doing accounting for the start-up. She first met Jeff when they were both working at investment management firm DE Shaw.
At that time, he was vice-president and interviewed her for a research assistant position. They hit it off immediately.
25 years later, the couple owns one of the biggest tech company in the world. And that brings me to my next point – how the assets would be split.
As the Bezos's live in Washington state, which is a community property state, any wealth acquired during the marriage could be split equally after the couple divorces, unless the two have signed a prenuptial agreement before the marriage. Which they haven't.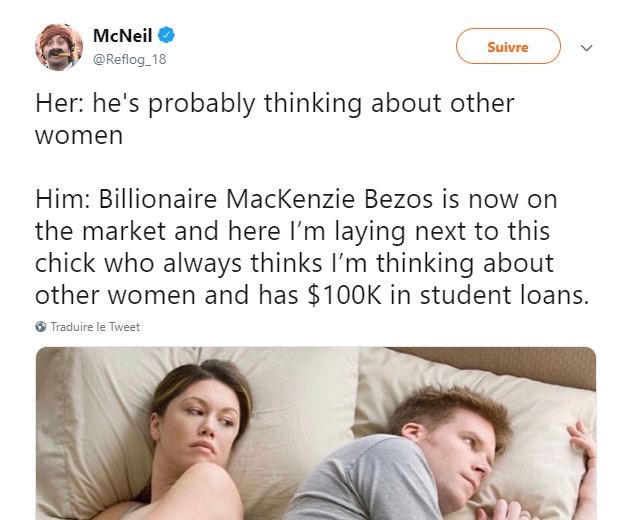 With that being said, as Amazon was founded 1 year after the two got married, MacKenzie is entitled to half of Amazon's fortune. That is estimated as up to $66 billion.
This would mean that Jeff Bezos, with a net worth of $137 billion, would lose the title of the world's richest man, while MacKenzie would gain the title of the world's richest woman. Jeff would then become the fifth richest person – and I bet Bill Gates wouldn't mind taking the first spot.
Even though a divorce is usually an unfortunate event, MacKenzie's efforts in helping and encouraging Jeff build an empire wouldn't have been for nothing.
Follow eXo Platform's board Cartoon of the Week on Pinterest.