Cartoon of the Week – Oracle Celebrates Java 20th Anniversary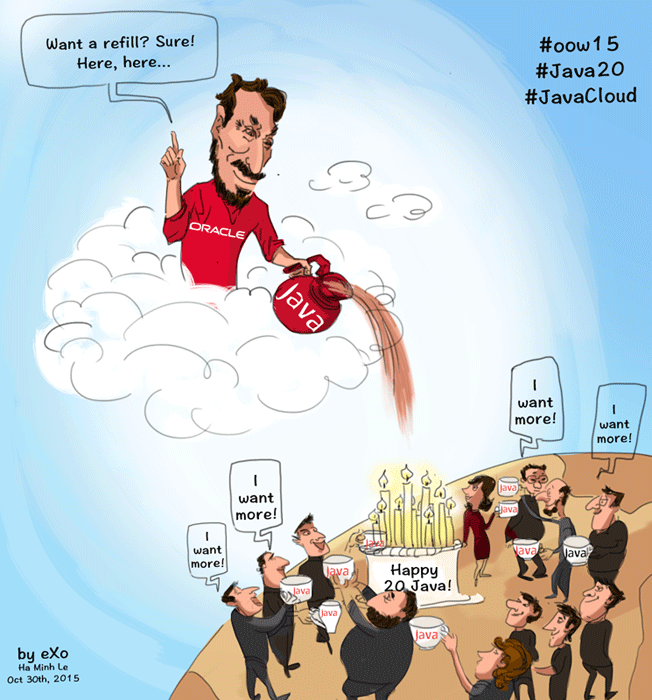 On the occasion of the OpenWorld Conference in San Francisco, Oracle announces its new offer: Oracle Cloud Platform for Integration. This offer extends Oracle's iPaaS portfolio, which simplifies the integration of applications and services for the Cloud, mobile, and the Internet of Things (IoT).

All this, of course, using Java!
Born in 1995, Java is a programming language used by 9 million developers and employed in 7 billion devices and objects. Huge, to say the least.
Twenty years later, Java forms the spine of numberless programs, in both personal and professional spheres.
The simplicity of the Java language and the support of major industry players like IBM, Google and Amazon have driven a rapid increase in its use within business.
"IBM's adoption of Java has allowed the developer community to bring unsurpassed value to the investments our clients have made in their Java-based solutions," said Harish Grama, vice president, Middleware Products, IBM Systems. "IBM looks forward to the next 20 years of growth and innovation in the Java ecosystem, including mobile, cloud, analytics, and the Internet of Things."
The announcement of WebLogic Server and Oracle Coherence, which constitute the new generation of Oracle Fusion Middleware and the most important version of Oracle Web Logic, is a significant milestone. The new version facilitates the standardization and high availability of multi-data centers and also integrates development with comprehensive Java EE7 and Java SE7 support.
With this updated version, companies can enjoy the same platform, both in-house and in the cloud.
Currently, we are witnessing the emergence of several Web giants, such as Google and Amazon, which are pushing the massive use of cloud infrastructures based on Java.
In the near future, will all the major players get behind an initiative to standardize cloud services?
Java in the cloud—the best is yet to come!
Explore more eXo Cartoons on Pinterest:
Follow eXo Platform's board Cartoon of the Week on Pinterest.