Cartoon of the Week – The NSA hacked!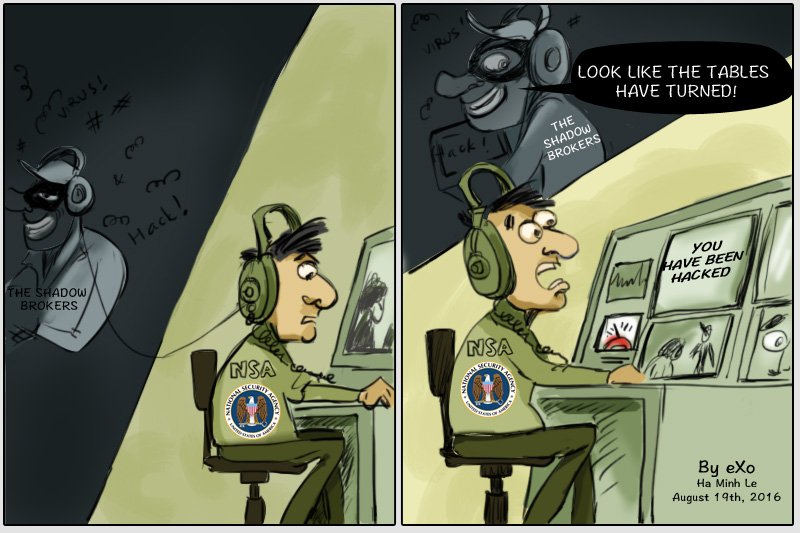 A mysterious group has published National Security Agency (NSA) spyware and promises to unveil more secrets through a dubious auction… All this against a backdrop of tension between Moscow and Washington and when the US presidential elections are looming.
For 4 days, this case – with its Cold War scent – has intrigued intelligence people and computer security specialists. On 13 August, The Shadow Brokers, an unknown group of hackers, snatched spyware programs and tools from the Equation Group, or so they claim. The Equation Group is known for working closely and quietly with the American agency responsible for digital spying.
The Shadow Brokers have already gotten their hands on what the agency cherishes and protects the most: a small part of its computing arsenal.
Many IT security researchers have looked at the data published by The Shadow Brokers. They have found in it a set of tools to bypass firewalls and spyware allowing data to be extracted from IT networks.
The amount and richness of the data, as well as the kind of programs found, have convinced the experts that they have before their eyes authentic material.
These data seem to be relatively old: the dates found on the documents show that they were stolen in fall 2013. If it is true that they were stolen some time ago, why would the hackers publish the data now? In this nebulous business, we can only draw assumptions.
For many observers, the hackers wanted to send a message.
We might have answers in the days to come. In a message posted on the Internet, the Shadow Brokers say they have auctioned some of the data, for now protected by passwords, promising even more interesting revelations to come…

Stay tuned for more fun cartoons!
Follow eXo Platform's board Cartoon of the Week on Pinterest.