Cartoon of the Week: Tim Cook after Jony Ive's departure
Hardly having left Apple, rumours are spreading at full speed, pointing the finger at Tim Cook as responsible for the malaise of Apple's mythical designer Jony Ive.
Why has Jony Ive left Apple?
According to The Wall Street Journal, the man behind the iPhone design felt demotivated by Tim Cook's growing lack of interest in product design.
Indeed, the report states that Jony Ive had become 'frustrated inside a more operations-focused company led by chief executive Tim Cook'.
The origin of the disagreement dates back to 2015 when Apple launched its Apple Watch. The designer wanted to position the product in the luxury industry as a prestigious fashion accessory, whereas Tim Cook argued for an extension of the iPhone. The result leaves much to be desired, with hundreds of copies of the Watch Edition in gold, at €18,000, remaining unsold.
According to Bloomberg, Jony Ive was being gradually excluded from the brand's strategic meetings and he had been absent for several days since 2017. These absences led to many departures from Apple's design department, including six specialists and about 25 per cent of the total staff in the department.
Tim Cook has nothing against design
Tim Cook decided to react by sending an email to Dylan Beyers, a journalist at NBC. The CEO states that the report on tensions with Jony Ive is 'absurd' and that the information disclosed 'does not match with reality'. He adds that the design team is 'phenomenally talented' and 'stronger than ever'.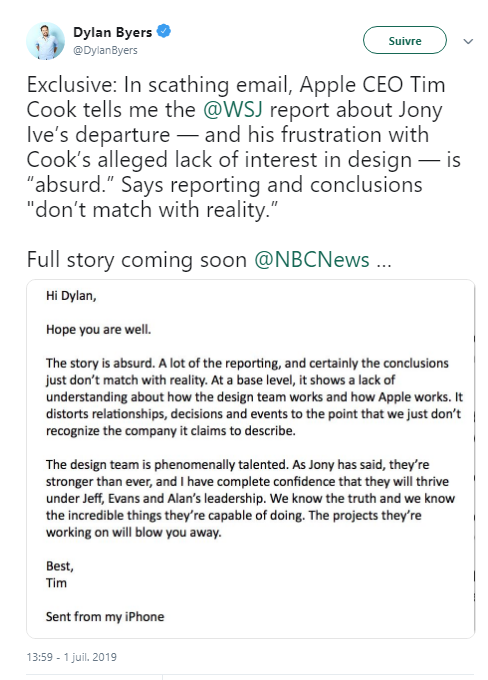 It should be noted that it's rare for Tim Cook to react personally to the media. Usually, it's the public relations department that's responsible for responding.
In view of these accusations and all this controversy, Tim Cook will need to pray a lot because the matter is far from over.
Follow eXo Platform's board Cartoon of the Week on Pinterest.