Cartoon of the Week – Uber lands on Facebook Messenger!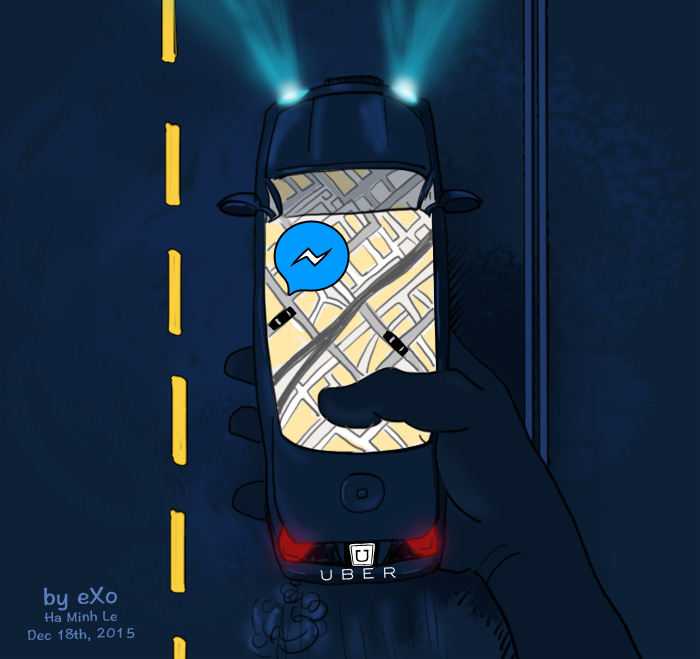 On Wednesday, December 16, two Silicon Valley giants became partners. By connecting our Uber accounts to Facebook, we can now order a Uber car using Facebook Messenger. It looks like transportation has bumped into messaging …

Let's say you're in a party, out for dinner or at home. You're chatting with a friend you want to join. You decide to order a car. Well, easy peasy! You won't even need to leave or end the chat session. The Facebook application Transport will find you a nearby car.
"With the ability to request, view, and pay for an Uber ride in Messenger, taking your next ride is as simple as sending a message," Uber said.
Uber has set the ball rolling for transportation but in the future it won't be the only partner. Uber is Facebook's first partner. Soon, it will provide users with other transportation services and, according to their geographical location, they will be able to choose.
"You can request a ride from a car service without ever needing to download an extra app or leave a conversation," Facebook explained.
Uber is playing nice, and as a commercial gesture and for a limited period of time, your first ride with Uber via Facebook Messenger is free of charge!
This is good business for Uber, which can now expand its customer base more easily. On the other hand, it will allow Facebook to collect banking data from its customers.
With Transport, Facebook is once again proving its determination to develop its messaging service and to make Messenger an autonomous application, with its own tools and services.
For now this service is not available everywhere, only in a few American cities.
Explore more eXo Cartoons on Pinterest:
Follow eXo Platform's board Cartoon of the Week on Pinterest.