Cartoon of the week: Microsoft to conquer Apple's loyalists?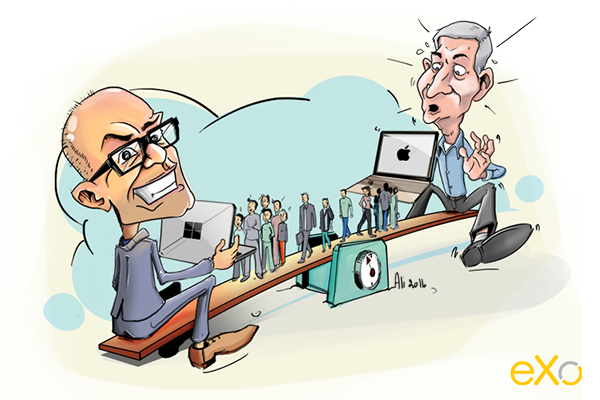 When it comes to technology, Apple is used to getting all the attention. Last week, the giant introduced the MacBook Pro a day after a Microsoft event.
And as always, Apple loyalists can't stop talking about how good-looking, well designed and light to carry the MacBook is. Some even called it "the svelte beast."
And let's admit it. From the outside, the MacBook Pro looks incredibly stunning, especially with the revolutionary touch bar. You can quickly select emojis with it, swipe through photos and play a bit with Adobe Photoshop.
Sadly for Apple, not everyone seems to be that impressed. After Apple's announcement, a lot of people raised concerns about the brand's segments. The Pro was targeted at professionals, but the computer, for instance, has only 16 GB of RAM instead of 32 GB or more.
Not only that, but Phil Schiller, the company's senior vice president of worldwide marketing, introduced a low-end MacBook Pro for its "other customers" that doesn't contain a touch bar, doesn't have a touch ID, has less performance and has only two ports (according to Mashable).
This makes one wonder if Apple has lost interest in the creative segment or if the brand is having trouble figuring out its positioning strategy.
The MacBook Pro is pushing people to its competitors
The MacBook disappointment has led users and even some Apple loyalists to look at the competition.
Microsoft has obviously grabbed the opportunity to show everyone how far it has come. With the new Surface Book i7, Microsoft wants to be part of the creative process, unlike the sluggish Apple.
Microsoft didn't just settle for launching a cracking new product, it has also introduced some other good stuff: the HoloLens mixed-reality headset, which is way too ahead of the technology curve; the Windows 10 Creators updates; the touch screens and digital pens on Windows 10 notebooks that make it so easy for graphics artists looking for some appealing features  to drop their MacBooks; and so many other waves of innovation.
Even Microsoft CEO Satya Nadella said he wants to bring "mixed realities" to life through 3D content, AR and the marrying of Windows with Office and gaming.
So, we're expecting to see more exciting products around that idea!
Is Microsoft beating Apple in its own battlefield?
In the decades-long battle of the brands, we can tell that Microsoft is growing at its competitor's expense, making it hard for Apple to catch up.
Microsoft has apparently earned the title of the monarch of innovation, leading people to wonder if Apple is just a follower and no longer a leader!
It's obvious that in the duels Microsoft against Apple, the Mac versus Windows and the laptop versus the computer, the odds are leaning toward Microsoft this time.
I'm more than eager to know what the next round holds!
Stay tuned for more fun cartoons!
Follow eXo Platform's board Cartoon of the Week on Pinterest.