eXo and Vizuri are partnering at Red Hat Summit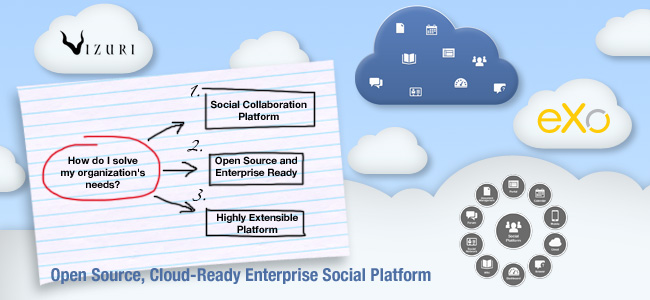 eXo, the Enterprise Social Platform company, today announced its strategic partnership with Vizuri to better serve growing, North American demand for solutions built with eXo Platform 4. Building on the worldwide success of the company's system integrator (SI) partnership program, eXo provides partners with the resources and support to quickly respond to new opportunities.
With this agreement Vizuri becomes eXo's first Gold SI partner in the US. Vizuri adds eXo Platform to a strong global open source solution and partner portfolio that today serves hundreds of major customers both in the private and public sectors.
The partnership enables Vizuri to offer a team of eXo-certified consultants who can migrate, implement, and deploy enterprise portals, social-collaboration solutions based on eXo Platform open source software.
"Our commitment to our systems integrator partners has proven to be a key element of our overall success in the market", said Benjamin Mestrallet, eXo CEO and Founder. "Now, we're giving Vizuri the tools for a shorter, easier on-ramp and much faster time to value for eXo deals."
Vizuri customers who require a full featured social-collaboration software, open source, based on standards, extensible and designed for enterprises, will now have the opportunity to enjoy eXo Platform 4.
Joe Dickman, Vizuri SVP: "We're excited to be broadening our partnership with eXo and in the process delivering more value to our customers by offering a new alternative to enhance their websites and social intranets with new ways to expand and customize their solutions with rich user-experience services."
For this partnership launch, Vizuri cordially invited eXo to their booth at Red Hat Summit to speak with companies about this partnership and present the new eXo Platform 4 product.
About Vizuri:
Vizuri is a software design and development company with a diverse client base in both the private and public sectors. Vizuri's mission is to be a superior provider of Information Technology (IT) services to our clients. We deliver innovative, results-oriented business solutions from expert services through full-scale project responsibility engagements. Vizuri is recognized for our ability to pinpoint emerging technologies, and efficiently and effectively incorporate those market-changing developments into clients' business models. Through strategic partnerships with open source companies—including eXo, 10Gen, Red Hat, EnterpriseDB, and Acquia—Vizuri supports industry's growing demand for the best-in-class Open Source solutions.