eXo Mobile Apps Are Now Open Source
Open source is very important at eXo. Platform has been open source since its inception in 2003. We contribute to many OS projects such as Crash, Juzu, Maven, Jenkins, etc. However, the Mobile app was still closed source, despite many requests on the forum.
So we listened to these requests: the eXo Mobile apps are now open source.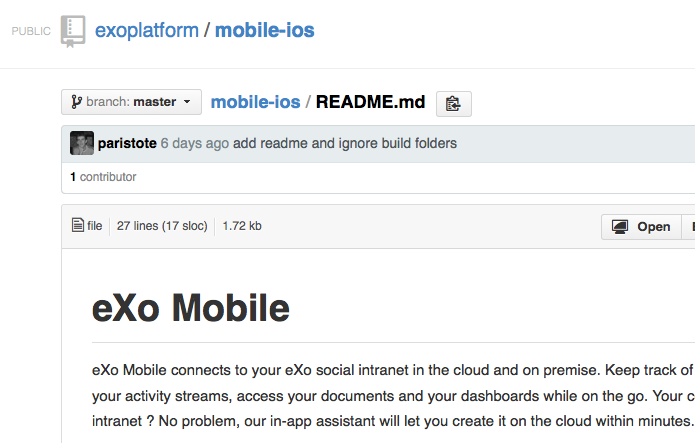 The source code of the applications running on both iOS and Android is now available on GitHub under a LGPL v3 license. Go ahead and fork our repos if you wish to contribute! We are using the famous Git Flow development workflow, and we will happily review and study any push requests.
As all other eXo projects, eXo Mobile benefits from great software factory tools to build, test, analyze the code and track issues:
eXo Mobile for Android:
eXo Mobile for iOS:
Jenkins: https://ci.exoplatform.org/job/mobile-ios-master-ci
Sonar: coming soon…
A few things haven't changed though. We're still present and active in the eXo Mobile space on the community website and on the community forums.
To start using eXo Mobile, download the apps from the Apple App Store or the Google Play store.
Cheers!
Join the eXo tribe by registering for the community and get updates, tutorials, support, and access to the Platform and add-on downloads!
Make the most out of eXo Platform 4
Register to the next webinar and get a complete overview of what you can do with eXo Platform 4. Reserve your seat now!