eXo Platform 4 Highlights: New Navigation
Platform 4 is here. While the beta phase is in full swing and developers are squashing the latest bugs, let's discover together what's included in the best version we have ever released.
Never Lost
With this major release, we are inaugurating a totally new and redesigned navigation. No matter where you are inside your Intranet, you will never be lost. From general applications to your personal Dashboard, everything is only one or two mouse clicks away.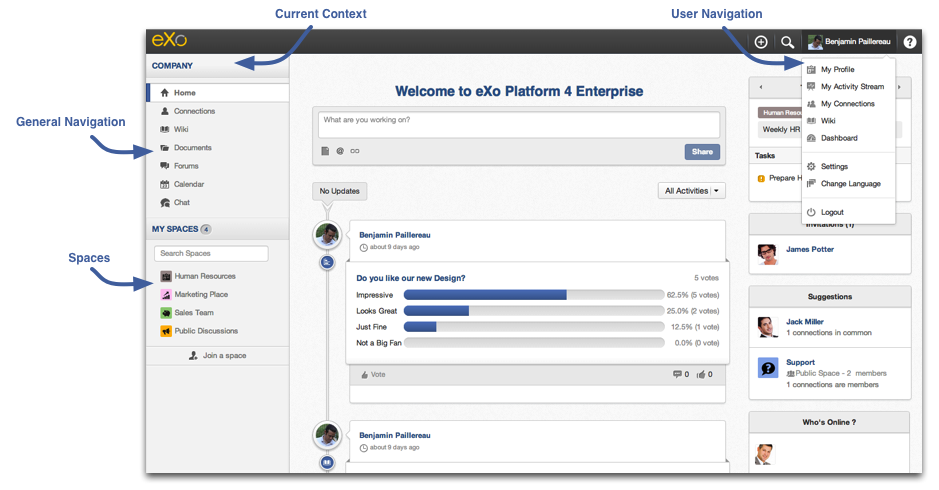 But even more than that, we always give you a personalized view of your current context. For example, if you're inside a Space, we show the Space's secondary navigation as part of its context.
As a Collaborative Platform since 2008, we have learned a great deal from our users' and customers' feedback. eXo Platform 4 is a giant step forward. It's more user-friendly, easier to use as a day-to-day Social Intranet, and more sexy (because sexy doesn't hurt).
General Navigation
General Navigation is of course your main access to collaboration with other Intranet users. You have access to Wiki, Forums, Calendars, and Documents right out of the box.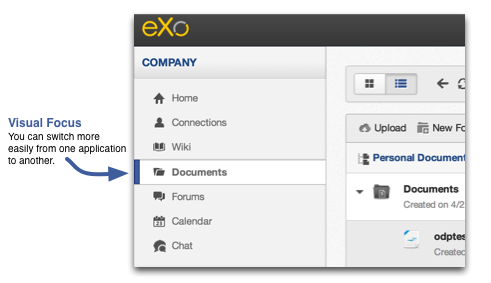 Because eXo Platform leverages a strong Portal foundation with its GateIn portal integration (codeveloped with Red Hat/JBoss – https://www.jboss.org/gatein), you can even integrate your existing applications into your Social Intranet. They will be accessible just like any other built-in application. For example, in the screenshot above the Community Chat add-on application is integrated into the General Navigation.
Space Navigation
Of course, what would eXo Platform be without Spaces? Spaces are places where you can work together, share documents among collaborators, etc. You can build Spaces for project management (invite your colleagues on this new project you're starting and be ready to work together), for different Business Units (human resources, sales, marketing), or for Community Places (public discussion, sports group, etc.).
The important thing is that you have immediate access to your Spaces and applications. With the new Space filter, you can search and find one of your Spaces in seconds. And because you can be a member of dozens of Spaces, the most used ones appear at the top of the list, allowing you to easily find and switch between them.
User Menu
Finally, since each user can now create his or her own Wiki page, we decided to add a dedicated context for users. For instance, you can access your personal place from the top menu bar.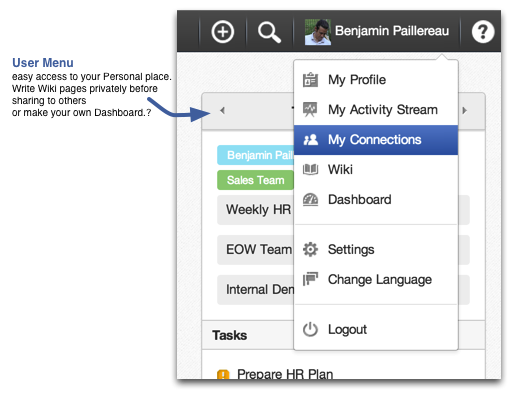 Then, as with Spaces, there is a secondary navigation where you can update your profile, check your Activity stream, manage connections, edit Wiki pages, or create your own Dashboard.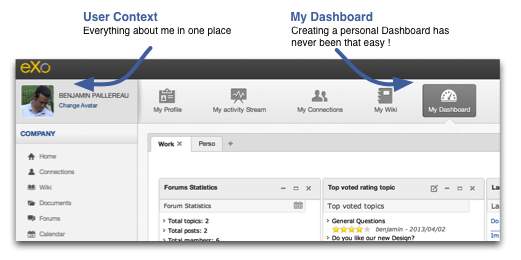 Of course it works for you, but it also works for others. Thus, when you click on any of your colleagues in the Intranet, you're automatically redirected to their public profile. This is all about building your social network more easily.
We hope you will enjoy this new feature of eXo Platform 4. If you don't have time to download and try eXo Platform 4 now, watch this two-minute video to get the big picture.
Stay tuned: next week we'll highlight all the work done on the design of eXo Platform 4. We changed more than 400 screens; you'll be amazed at the details and effort done on this release.
Download and see eXo Platform 4 for yourself or request a live demo.