Happy birthday to eXo Platform SEA!!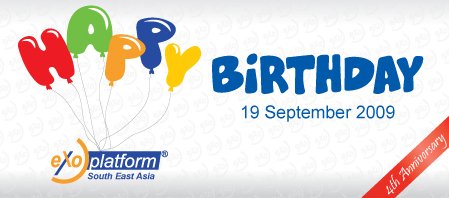 This year, eXo SEA is celebrating its 4th anniversary with a dining party on 18th September. This is a nice opportunity for all the employees and the board of management to gather in a united ambiance, to review our successes as well as to define the objectives for the coming year.
We are proud and happy to say that we had a very successful year at eXo SEA in particular and at eXo worldwide in general. Started as a product development center of eXo, today, eXo SEA is growing up and is becoming a strategic office in South East Asia. Beside the development activities, we also invested in the market research and expanded our business in South East Asia region – a growing market for high technologies. Working as a customer-focused company, during last year, we impressed the Vietnamese customers by our high-standard products such as Portal, Collaboration Suite, Social, Content Management…etc. Our first contracts with major organizations in Vietnam are a concrete proof to confirm again the leading position of eXo SEA in the open source market here.
In June, eXo Platform signed the partnership with JBoss/ Redhat to merge the two famous portal projects and at the beginning of September (only 3 months later), eXo and JBoss introduced GateIn – a new level of portal at JBoss World in Chicago. For eXo SEA, this major event is the contribution of several technical teams in Vietnam as well as another testament to convince the local customers and partners about our strengths and capacities. Of course nothing would have been possible without the strong cooperation of other eXo offices around the world.
The eXoers play a major role at eXo SEA, and more than that; they are key players enabling the future of our products as well as the image of the company. During last year, we recruited a number of talented, young and dynamic persons in order to consolidate our teams. We promoted the relationships with different universities and organizations: Polytechnic University, PUF, IFI, Vinasa… Moreover, we also sponsored and participated to a lot of significant IT events in Vietnam such as Barcamp Hanoi 2009, WITFOR 2009…
eXo Platform SEA is actually recognized in Vietnam as a solid Open Source Portal and Enterprise Content Management solution provider. Click here to send a happy birthday email to eXo Platform SEA. And stay tuned to visit our new website in Vietnamese coming next week.