How to collaborate on projects using eXo Platform
Projects are a key area where effective team collaboration is most often needed. From discussing, to scheduling meetings, sharing files and notes, co-producing content, assigning tasks and following progress—project teams deal with various activities and need a place where all project tools and activities can be accessed.
In this article we will explore some concrete examples of how eXo Platform can be used to work on projects collaboratively.
Setting up a project space
The spaces feature in eXo Platform lets you create a dedicated group site and invite a team to it to collaborate. So creating a space for your project is where it all begins.
When doing so, you can decide whether your project space is visible or hidden to non-members and if they can openly join it or let you (as the space manager) handle who gets added to your space.
In the space creation wizard, there is an option for inviting users from a group. I would recommend that you do not invite members yet, but instead create an empty space, personalize it to your satisfaction and then invite people to it.
Once your project space is created, you can visually customize it with an avatar and cover photo.
By going to space settings you can also customize the list of apps that will be available in your space by adding/removing apps. This varies based on your needs but for a project space, we will typically need a wiki, a document repository, a task manager, a shared calendar, and a forum for discussions and polls. By default, you will have an activity stream as the space's homepage which will aggregate all activity taking place in your project space's different apps.
Next, you may want to think about creating and organizing your basic content within some of those apps. For example, in the Wiki you can create an initial wiki page in which you share information about your project, its goals and procedures. In the Documents app, you can create your basic folder structure, and in the calendar you can set up any recurring events such as weekly project meetings.
Once this is done and your space seems ready enough to you, you can start inviting members to it through the "space settings" area. When doing so, you can invite individual people as well as bulk-invite members of other group spaces. When typing in the name of the person/group you would like to invite you will see a handy list of automatic suggestions.
If you're not sure who to invite, eXo Platform's people directory may prove handy. You can search for people in your organization by position and skills, consult their profiles to learn more about what they do best, contact them privately and invite them to join your project space.
Sharing project information, procedures, notes, etc.
The wiki app lets you write rich information pages easily through its online rich text editor.
In the context of a project space's wiki, you can create wiki pages dealing with your project procedures, team organization, roles and responsibilities, how the team is going to meet, a roadmap, etc…
The wiki can also be an effective tool for writing and organizing project team meeting notes during or after each meeting.
Note that changes to wiki pages are automatically traced in the project's activity stream and can be commented and discussed there.
Working with project files
Having a shared file repository for your project is essential. You do not need to rely on 3rd party file sharing solutions because eXo Platform provides a built-in document management app. Your project files can be uploaded easily and organized inside folders.
Popular file formats can be previewed inside the Documents app, searched, tagged and commented.
Editing documents is done through the "Remote Edit" feature. This lets the user launch a document in his locally-installed document editing application (such as MS Word, Excel or PowerPoint) without downloading it, and start editing it there. This locks the document for editing by one user and releases it for other members as soon as it is closed.
Once the document is saved and the document editor is closed, this automatically creates a new version of the document (visible on the activity stream and on version history), and it unlocks the document for other collaborators who are then allowed to edit it in turn.
A version history allows tracking who did what and when, to restore versions, compare versions, and more.

Modifications to documents (such as adding new versions, adding metadata tags, moving, renaming, etc.) automatically generate comments under the document on the project's activity stream to inform collaborators about this activity and to let them interact conversationally around this work.

With the share function, a document can be shared with other people (who are not members of the project space) or with another team space in order to have their feedback or contribution on a particular document without having to invite them to the project space. This feature can also be used to easily publish a document that has been finalized to a general area in order to announce it and make it accessible (and searchable) to a large audience.
All changes and updates to documents (such as adding new versions, adding metadata tags, moving, renaming, etc.) automatically generate comments under the document on the activity stream to inform collaborators about this activity, and to let them interact conversationally around this work. Thus the activity stream acts as a conversational hub for collaboration around specific pieces of content.
Tasks are organized in your space's Tasks app under projects and subprojects which will contain sets of tasks. For each project/subproject, the project manager can can also set up a specific flow of steps within each project that tasks will have to go through.
An individual task can be assigned to people, scheduled, commented and all of its changes and progress can be tracked.
The platform provides a full-featured built-in Calendar application. It allows creating and managing private or shared/group calendars. Your project space can have its own shared calendar where you can schedule project team meetings or meetings with external stakeholders who are not necessarily members of the project space.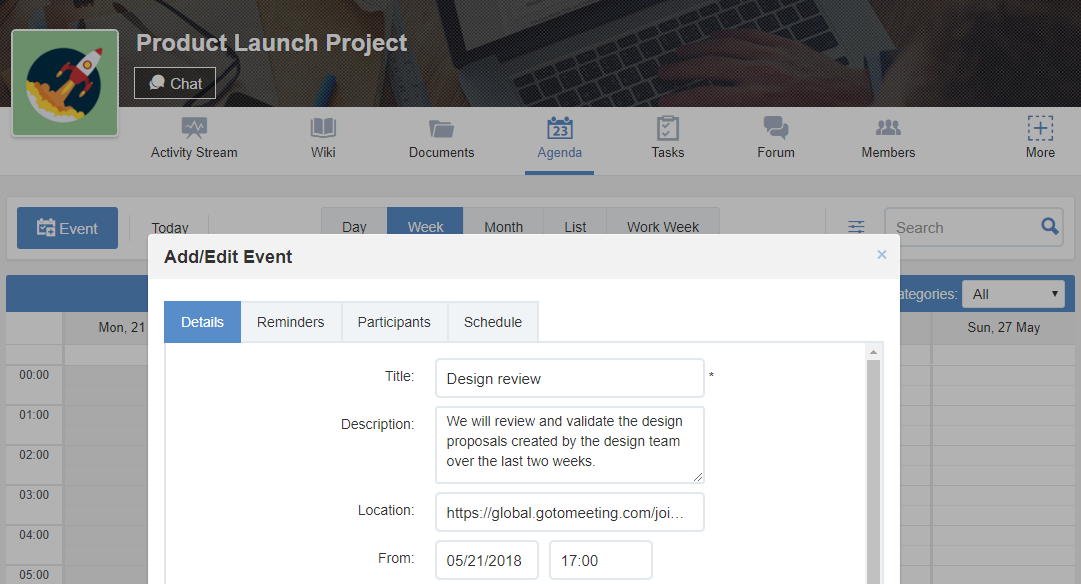 Like other apps of your project space, the Calendar app is integrated with the collaborative activity stream, making activity and changes around project events more visible and interactive.

Note that tasks can also be automatically overlayed in the project's calendar thanks to the calendar integration option found on task projects.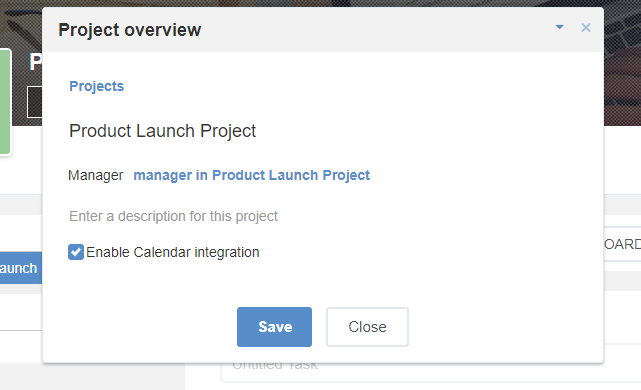 Discussing around your project
A major part of discussions within your project will naturally take place in the activity stream (see the next section). You can also discuss through a dedicated forum where you can have rich discussion threads around the next great idea or poll your project team around a proposal or project-related decision.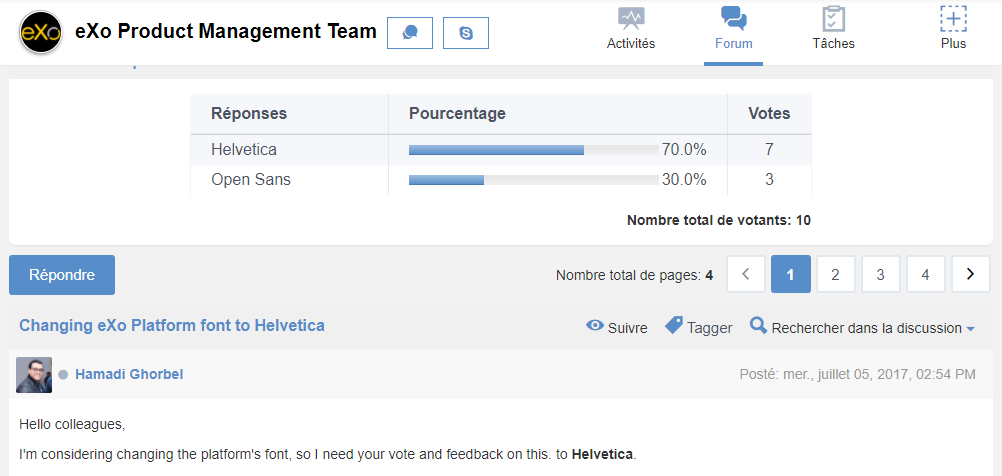 If your team prefers, you can always chat in real time instead using your project's chat room. This allows your project team members to collaborate in real time. One advantage of using the built-in chat app is that it is integrated to the platform's collaborative modules, allowing the user to take collaborative actions inside your project's chat room and have the results of those actions reflected automatically inside the associated project space. For example, if you share a file inside the chat room it will be automatically uploaded the the space's Documents app. The same applies to events, tasks, etc. that are created inside a chat conversation.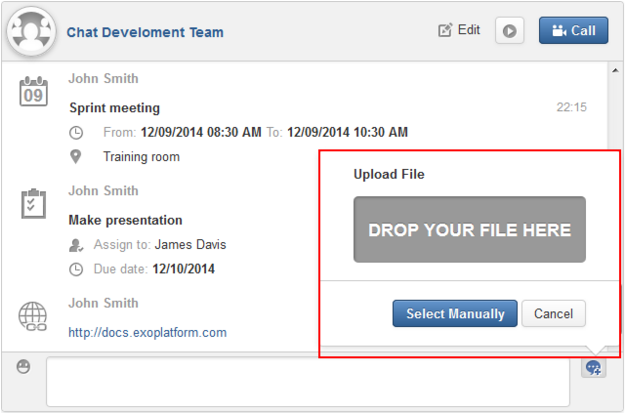 Following project activity and sharing quick updates
The microblogging feature found on top of your project space's activity stream allows to easily publish rich posts in the activity stream, typically within community spaces. It can be used to make an announcement within your project or initiate a conversation thread.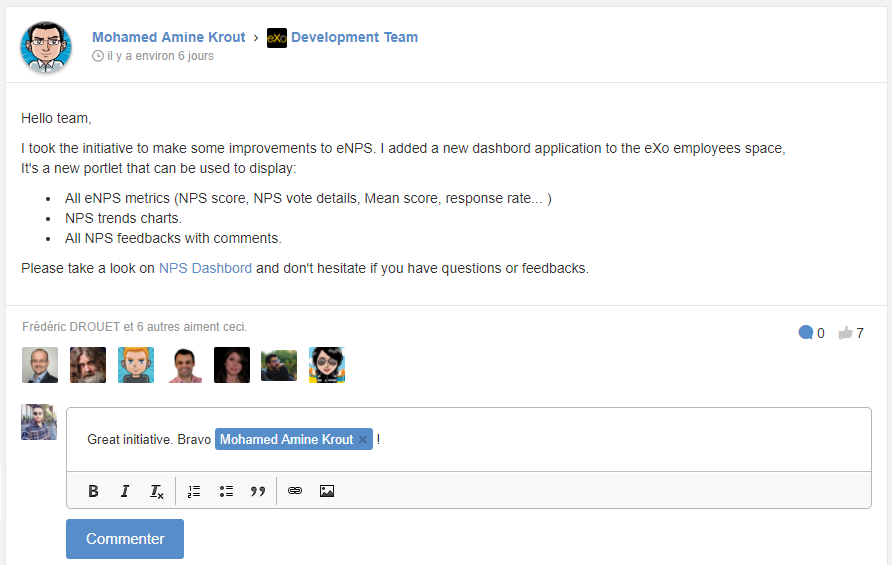 It can also be used to share one or several images (such as when discussing design ideas and professional mockups), share one or several documents, and share links to internal or external content.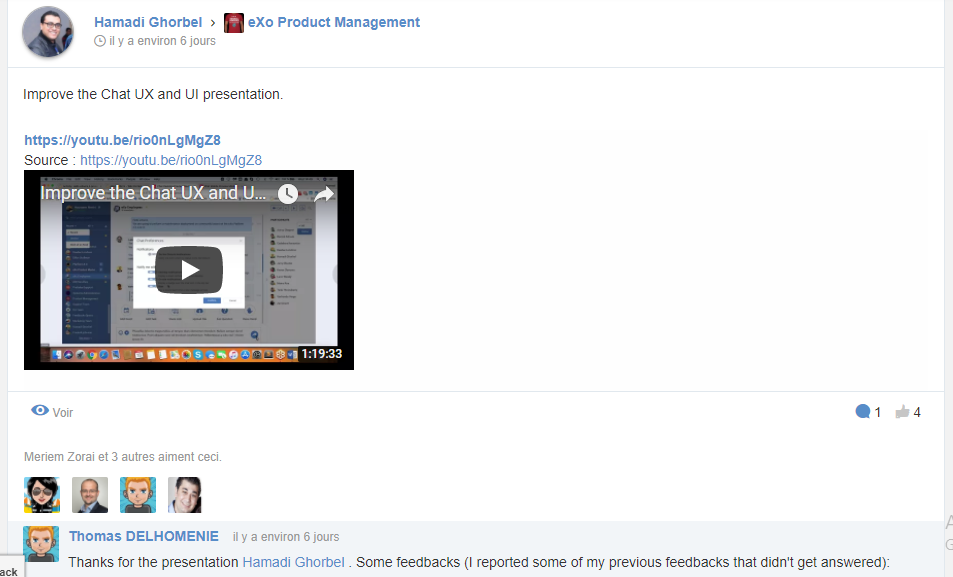 Images and links can also be inserted in comments, allowing to have richer discussions in the activity stream.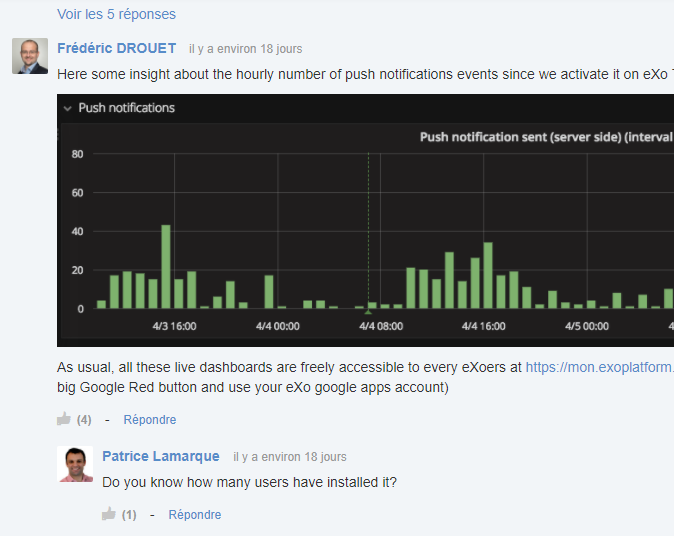 Thus, your project's activity stream is the place where you can glance at your projects latest activities (including automatically-generated updates regarding activities taking place in your project's collaborative apps, such as changes to documents).
Finally, eXo Platform's notification system will insure that you stay informed about relevant updates taking place in your project. These include on-site notifications,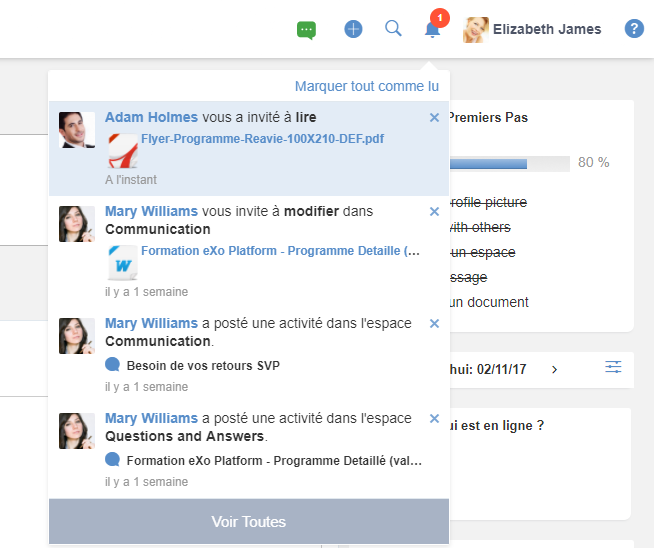 email notifications,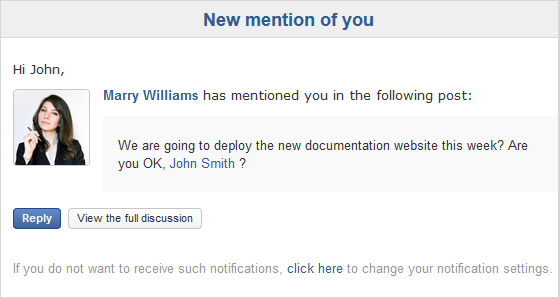 As well as mobile push notifications.