Introducing gadgets to eXo DMS
Our developers are progressively equipping eXo DMS with Google Gadgets. In eXo DMS, Gadgets will allow users monitoring the status of their eXo document repositories. A first sample has been committed last week. It is still in beta state, but already shows the list of recently published documents.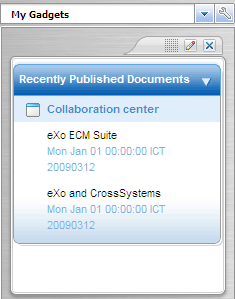 Such Gadgets can be displayed "a la carte": they are either inserted into the eXo User Workspace (the retractable left part in eXo), or they are inserted into a plain page through the "Gadget Wrapper Portlet", or they are viewed from an external environment like, why not, a mobile phone.
They complement the existing DMS applications (ECM Administration, JCR File Explorer), which are still here to actually manage the content.