Microsoft joins the Eclipse Foundation – Cartoon of the Week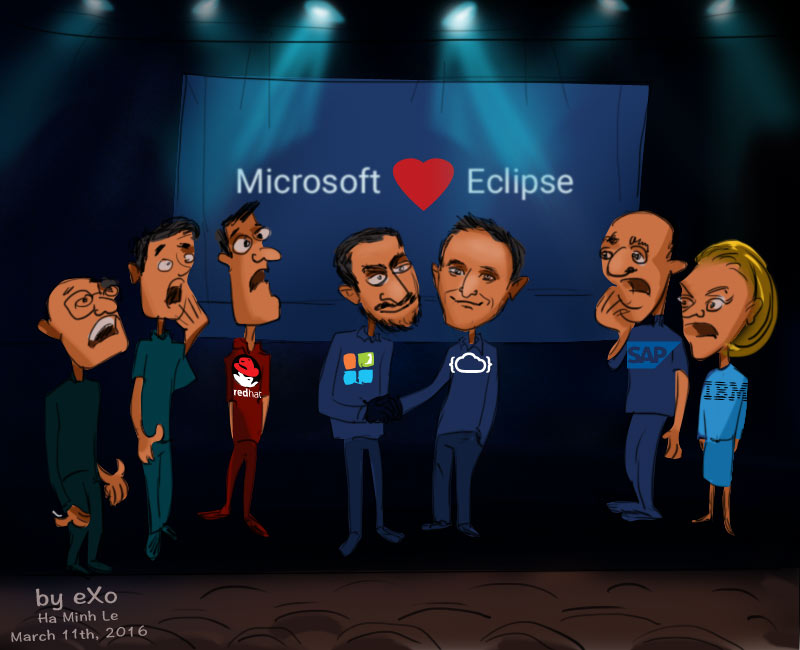 Microsoft has worked on several occasions with the Eclipse Foundation to enhance Java developers' experiences with some of its development and platform services, including the Microsoft Azure cloud platform and Visual Studio Team Services.

Visual Studio Team Services is the online version of the Team Foundation Server (TFS), a Microsoft platform that supplies many services to development teams, including code sharing, work follow ups, and software distribution.
However, the company's absence from the engaged contributors to the Eclipse Foundation has always been notable.
Through this new initiative, Microsoft takes one step closer to a collaboration with the foundation as a Solutions Member.
According to Shanku Niyogi, Visual Studio Team General Manager, the company will be able to work more closely with the Eclipse community.
With this announcement, we can expect a closer relationship with and integration of those we consider the most popular IDEs, including Java Eclipse Open Source IDE and Visual Studio, a Windows development software suite designed by Microsoft.
Microsoft also joined the software development company Codenvy to announce a new extension aimed at simplifying the integration of Microsoft services with Eclipse's services.
 "Eclipse Che is moving development forward with a universal workspace. By making workspaces portable, they can relocate anywhere, giving development teams on-demand environments that can be part of an agile process."  Tyler Jewell, CEO of Codenvy
Stay tuned for more fun cartoons!
Follow eXo Platform's board Cartoon of the Week on Pinterest.