[New Release] eXo Knowledge Suite 1.0 released
The eXo KS team is proud to announce the release of eXo Knowledge Suite 1.0.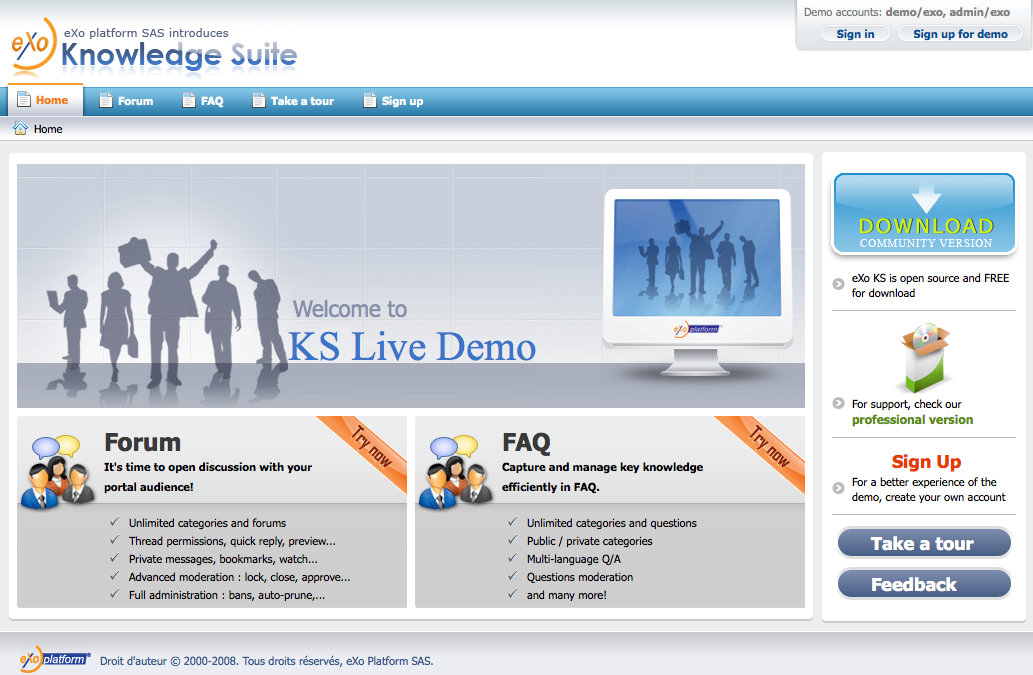 eXo Knowledge Suite (KS) intends to help you to collect and organize your enterprise knowledge. KS adds two new products to eXo Platforms's catalog.
eXo Forum is a full featured message boards application.  It's perfectly suited for support, feedback or brainstorming activities where you will forge knowledge. It is easy to use with rich text editor, quick reply, preview and posts editing. It encourage involvement with integrated polls and thread ratings. Finally, it is easy to find anything with categories, bookmarks, watch, search, notifications and tags. The main features of eXo Forum are :
Unlimited categories and forums
Fine grained permissions, Rich editor, quick reply, preview, BBCode
Private messages, bookmarks, watch notifications…
Advanced moderation : lock, close, approve, hide, split, merge…
Full administration : bans, auto-prune,…
eXo FAQ is simple and intuitive application for generating Frequently Asked Questions. It is a very valuable tool to expose state of the art knowledge among the enterprise. Domain experts can moderate and organize the knowledge. Builtin facilities such as search, send by email and notifications make knowledge easy to find. The main features of eXo FAQ are:

Unlimited categories and questions
Public / private categories
Multi-language Questions and answers
Questions moderation
You can download eXo KS  here and read the release notes. Also, please read more information about our eXo KS wiki space.
If you have questions, the best place to go is to our brand new community support sites Forum eXo Platform and Purchasing faq (guess what we use to power these services ?) . If you are definitely an email person, you can still use the mailing list exoplatform@ow2.org.
Finally we will update our live demo shortly in order to let you try all administrator and moderator features.