On a Lighter Note… How to Play Tic-Tac-Toe in GateIn Portal
Prabhat Jha, one of the JBoss developers collaborating with the eXo team to build GateIn, shows how to add a tic-tac-toe gadget to GateIn on his blog today.  Here's how he describes it:
If you thought Portal was only about serious stuffs such as content aggregation, integration of different applications, out of box personalization and natural front end to SOA etc then think again. Using GateIn's gadgets, you already could import different cool gadgets say from Google to your dashboard and page. Now you can tic-tac-toe as well. Here is a screen shot from GateIn Portal for you i-dont-believe-until-i-see kinds.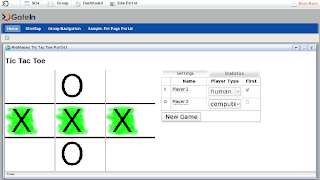 Check out the rest of his post here.