Platform 4.2 Feature Scope – A Sneak Peak into What's Coming Next

While eXo Platform 4.1 was landing, the planning and initial work on the next version was already starting. It required a lot of upfront discussions, planning efforts and tradeoffs, but all eXo teams have been able to align to deliver a great Platform 4.2 release. Let's see what will be coming in.


On-Site Notifications
In 4.0, we introduced email notifications to help transition to a more efficient collaboration model. Now, following the same flexibility, you will be able to decide if you want to receive some of them in a tiny badge counter right in the top navigation bar.
User Profile Redesign
The user profile page is being redesigned to organize the information better. Here is how it should look now.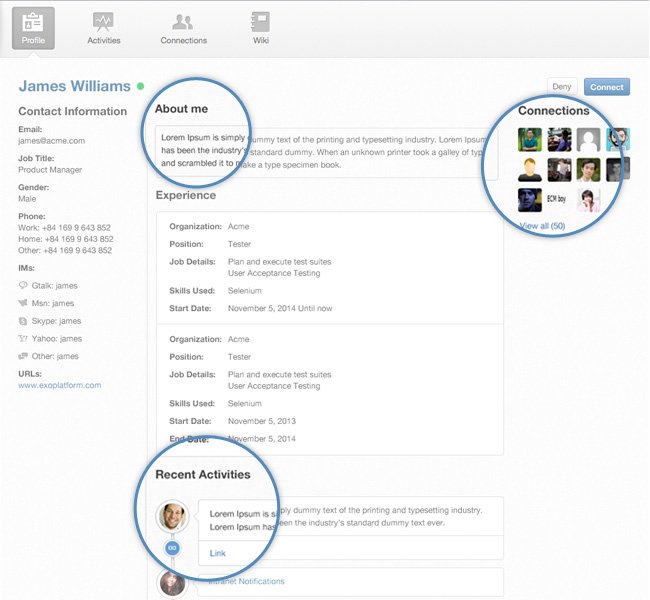 We took the opportunity to add some extensibility for developers by adding a few dynamic containers to enrich it with extra components.

Document Preview
Since we spend so much time reading information, it's important to make it a pleasant and refreshing experience. With the new document preview available from the activity stream and the content explorer, documents will look beautiful and more engaging.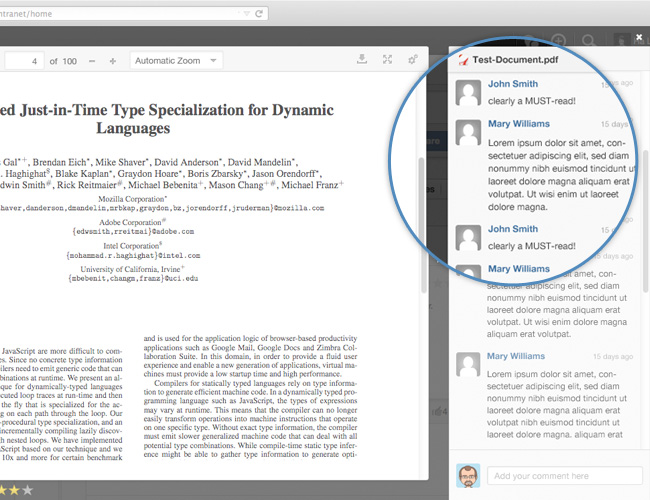 The preview component integrates comments on the side for your convenience. Like its predecessor, it will be able to read office files, pdfs, images, videos and audio content, but now with more style.

Open in Office
A recurring request from users was for the ability to not only store, but also easily edit their documents, spreadsheets and presentations. With Open in Office, you will be able to open a file remotely with your Office application suite.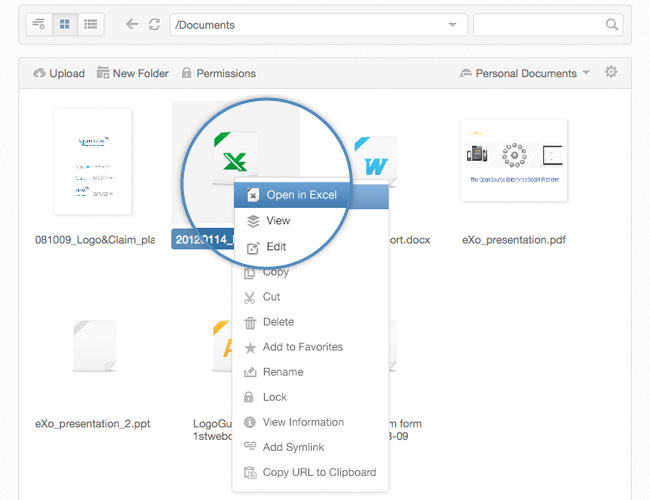 In truth, this feature already existed, but we are now extending the support to more operating systems and browsers. It will be able to open not only Office formats, but also virtually any file format as long as an application is associated with it in your computer.

Skin Module
While end users generally appreciate eXo Platform's look and feel, one size will never fit all and some developers have asked a few times how they could customize it. Indeed, it's possible via css. But in Platform 4.2, it will be much easier. First, it will be possible to ship a skin as an add-on to override the eXo default skin. Second, no more than 4 variables will be required to make a full new color theme.
Calendar API
The Calendar app was lacking an API to create calendars, events and task objects. Platform 4.2 will bring a brand new REST API for it. Until we provide the api doc, developers are advised to check out the specification.

Spring MVC Support
Spring MVC is a very popular web development framework among developers. In fact, many developers are already using it to make portlet applications in eXo. Platform 4.2 will bring official support and documentation to it.
Learn more about Spring MVC at: https://docs.spring.io/spring/docs/current/spring-framework-reference/web.html#mvc

Juzu Support
Because more is better, we are adding official support for another great web development framework. Juzu is a modern web development framework inspired by Play, but written with Java standards in mind. With Juzu you can write applications for eXo Platform. In fact, Juzu has been there for a while and some native apps in eXo Platform are powered by Juzu. But in eXo Platform 4.2, developers will be supported to write their applications with Juzu 1.0.
Learn more about Juzu at: https://juzuweb.org

Answers add-on
The Answers and FAQ applications have been in eXo Platform for a long time now. They provide a great alternative to forums for knowledge management and support scenarios.
But in reality, they have not been used very often by eXo customers. Starting with Platform 4.2, Answers and FAQ apps will be an optional feature, shipped as a separate add-on. Of course, it will remain a supported feature for existing customers, but through the add-on.

SSO add-ons
Security is a key aspect of any enterprise software. One of the reasons eXo Platform is a solution of choice is its wide support for single sign-on solutions.
But let's face it, installing and integrating a SSO server with eXo Platform is a tedious task. By shipping several SSO add-ons for single sign-on integration, we hope to simplify the installation process and make it more automated and less error-prone.
How long is the wait?
Because Platform 4 has been so well received, it gained more users and has a fast-growing community to satisfy. So there is naturally a strong demand for new features and more frequent releases.
That's why we are now publishing a 2015 roadmap for eXo Platform. We are planning two minor releases containing features picked from customer requests or from ideas popular among eXo Tribe members.
We know Platform 4.1 required a long wait. So for Platform 4.2, we are targeting a feature-complete beta in May, for a final release in June 2015. As usual, we will feed any impatient users with a set of milestones along the way. And we count on you to send feedback!
As with any release, we tried to make the right balance between features for the end user, for the developer and for admin. I'm very excited to see them taking form. In fact, some of them have commenced and look promising.
Watch this blog for more info about these features. And in the meantime, you can follow the progress on the Roadmap page in the Tribe website.
Join the eXo tribe by registering for the community and get updates, tutorials, support, and access to the Platform and add-on downloads!
Make the most out of eXo Platform 4
Register to the next weekly live demo session and get a complete overview of what you can do with eXo Platform 4. Reserve your seat now!