Preview Release of eXo Social
We are proud to announce the release of eXo Social 1.0-Alpha 1. Behind this geeky version number you should understand a Preview version which is not meant to be used in production. But it's a good way to see what will be in the final release.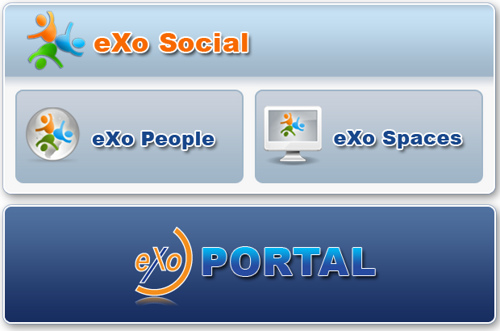 This release come with the first version of the support of the OpenSocial Standard.
eXo People brings Enterprise Social Networking to your work. It allows you to organize your workforce in an efficient way through a better understanding of your people skills. It implements the OpenSocial standard that simplifies the development of social applications and allows to reuse the enterprise social graph inside your organization by any other application.
eXo Spaces add communities to your work. It allows to easily regroup people by interests or projects. It leverage any existing application such as Portlets or Gadgets to enable a collaborative work.
More to come :
Rewriting of the Profile storage to be shared with the Portal and CS
Improve the compliance to openSocial
Improve the UI of spaces
More configurations options for the spaces
So go test it, and don't hesitate to send us feedback.
Useful links: