Sweet updates to the documentation on SPNEGO, OpenAM, PicketLink IDM, and more!
In the past few weeks, questions surrounding SSO integration with eXo Platform have been raised to us, although its documentation has been available. So we decided to refine this chapter with first updates on SPNEGO and OpenAM.
For SPNEGO, the tutorial not only covers Linux but also Windows. You can now follow new steps to set up Active Directory on Windows. Also, to make it easy to integrate SPNEGO with eXo Platform (for both Tomcat and JBoss), eXo provides the SPNEGO extension, so steps here are totally updated. In the Client configuration, besides instructions for Firefox, we also added those for Internet Explorer. After performing configurations, you can test it easily in both Windows and Linux environments.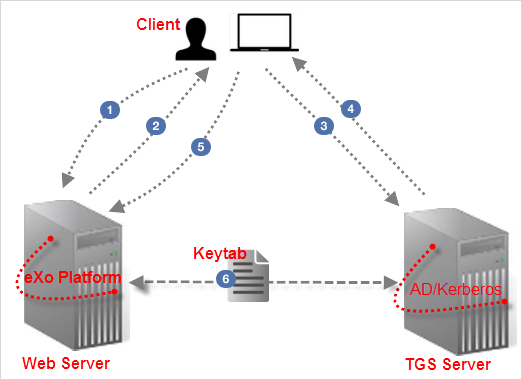 For OpenAM, to deal with common problems from Community users, we restructured this tutorial with clear illustrations and step-by-step procedures. Once again, before diving into this how-to, you first determine your case (callback or non-callback to eXo Platform service), and remember not to miss steps stated in this guideline.
Have you ever heard about Dev and Debug modes when running eXo Platform? eXo developers love these pretty options that are very useful for debugging. However, how different they are in Tomcat and JBoss? And how to specify a port for remote debugging? Moreover, what indeed makes the eXo Dev mode so good? That's why you should spend 5 minutes discovering this new part.
Another topic is PicketLink IDM configuration. In addition to the full list of configurations in the PicketLink IDM reference, this topic gives more details about some of them that you might find helpful. This aims at supporting common interests of Community users.
The last is about events of eXo Platform. After spending hours checking the product, eXo developers collected all necessary information about Listener Service events of eXo modules. Now, you can get a clearer picture about which events fired by simply checking out this content.
Of course, following technical instructions in Documentation website is not always simple. Even when you are not able to solve your problems with these updates, we hope to be able to investigate your case and improve our guides in parallel. So don't hesitate to give your logs and information to the eXo Community: we will collect all to speed up your success.
Join the eXo tribe by registering for the community and get updates, tutorials, support, and access to the Platform and add-on downloads!
Make the most out of eXo Platform 4
Register to the next webinar and get a complete overview of what you can do with eXo Platform 4. Reserve your seat now!