The eXo Activity Pulse Add-on: measuring and monitoring the social activity on your Platform

Do you ever need to know what has been happening on your eXo Platform? How usage has increased today or this week? Or you might want to reward the user who is the most active in the forums, but you don't know how to get this information quickly. Or simply you might want to see activity statistics for all users to understand the rhythm of your eXo Platform.

Since eXo Tribe hosts a lot of important traffic and activity every day, we had very similar requirements. So a few months ago, we developed a new feature called eXo Pulse. Many tribe members have asked how they could use it for their own projects and how they could contribute by adding more capabilities. That is why we decided to extract the feature and package it as an add-on to share with you. The feature has been separated out as a new add-on called the eXo Platform Activity Pulse.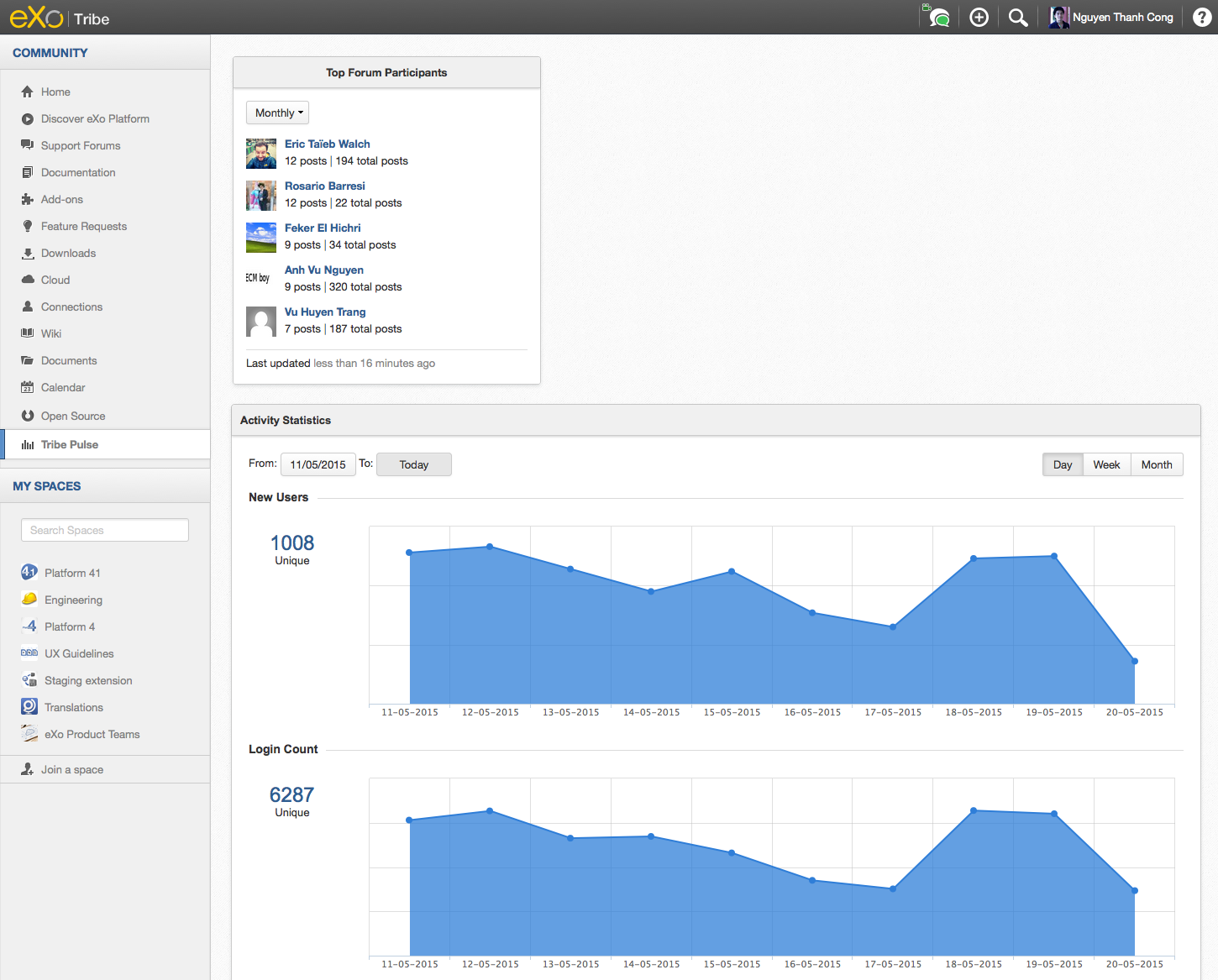 The eXo Platform Activity Pulse provides 2 gadgets:
The top forum participant gadget shows the most active users in the eXo Platform forum. Statistics are collected for this week, this month or this year.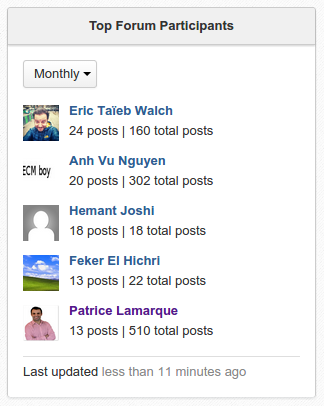 The activity statistics gadget displays statistics and metrics that reflect the activity and growth of the Platform. Here are the metrics that are currently integrated:
Number of new users
Login count
Number of active forum users
Number of new forum posts
Number of social connections for new users
Number of new posts on the activities stream
Total number of eXo Platform downloads
You can see all statistics above in the Maximized view.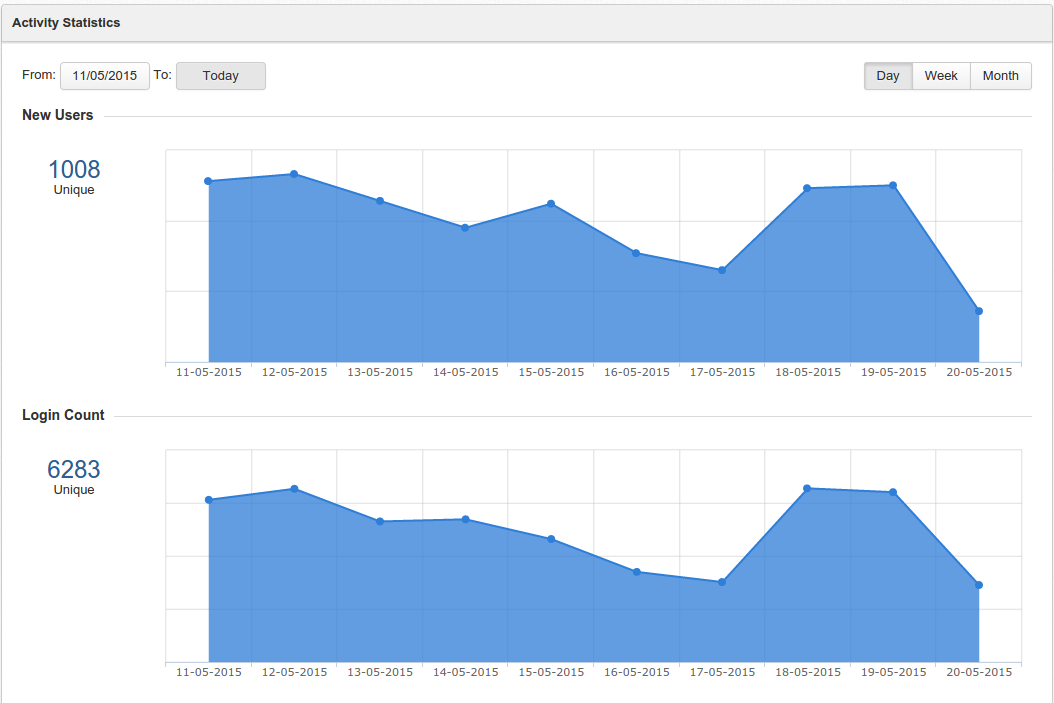 And in the Minimized view, you can select the statistics one by one: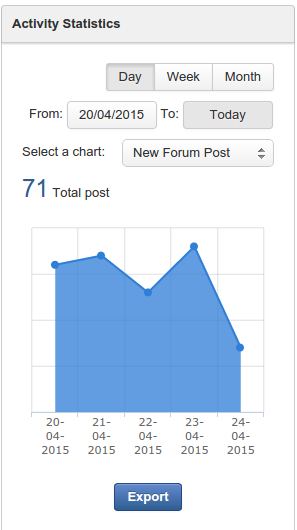 The data are held by day. So you can select statistics from the date when you deployed this add-on. You can view the statistics easily. One important function of this gadget is exporting the statistics to Excel or to a CSV file. You can store the information in files for reporting or checking when you are offline.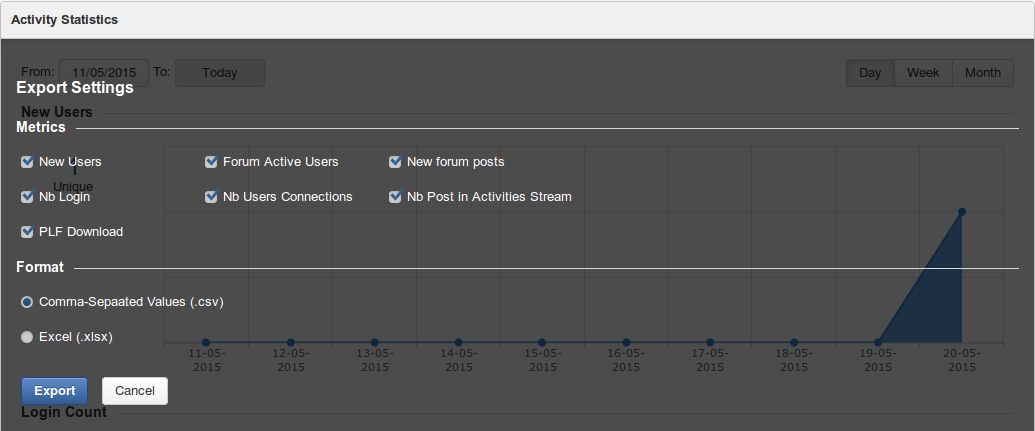 Do you want to customize this add-on with your own metrics? Do you want to change the type of charts shown? These are easy to do. We will show you how in a dedicated blog post, next time.
The eXo team hopes that you will find something interesting in this add-on. And we welcome your feedback, questions and ideas.
Resources:
Join the eXo tribe by registering for the community and get updates, tutorials, support, and access to the Platform and add-on downloads!
Make the most out of eXo Platform 4
Register to the next weekly live demo session and get a complete overview of what you can do with eXo Platform 4. Reserve your seat now!