Platform 5.0 Sneak Peek: reply to comments
This post is part of a series of articles introducing some noteworthy improvements to eXo Platform. Watch this blog for more product news in the upcoming weeks.
In line with what we have just presented to you about the possibility of "Liking" comments, we have continued to enrich conversations on the activity stream by adding the ability to reply to individual comments. Let's find out how it works.
Activity Stream
So we simply added a "Reply" action next to the "Like" icon that opens the reply field.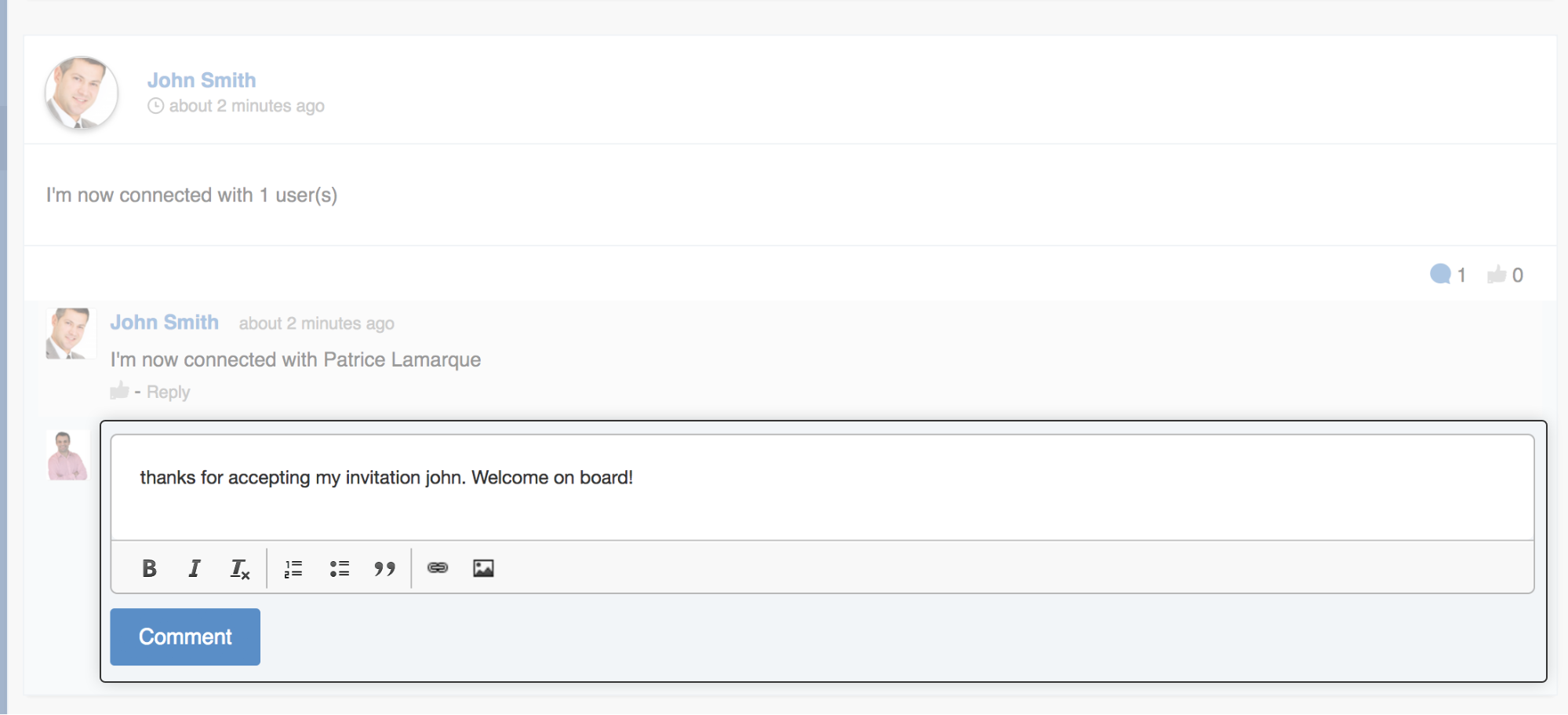 By clicking on "Comment," your reply will be indented to indicate which comment you are replying to.

Sometimes, several interesting ideas come out during a conversation and they call for different answers. From now on, it is possible to have several parallel threads attached to the same activity in the stream.

To keep your activity stream easy to read, we collapse the conversation after three replies.

Beware, there is only one level of replies possible. Thus, replying to an answer will add it below without indenting it. Indeed, our user research has shown us that the benefit of this simplicity exceeds that of having complex conversations with a higher level of depth.
Documents Preview
In addition to the activity stream, this feature is available on document previews.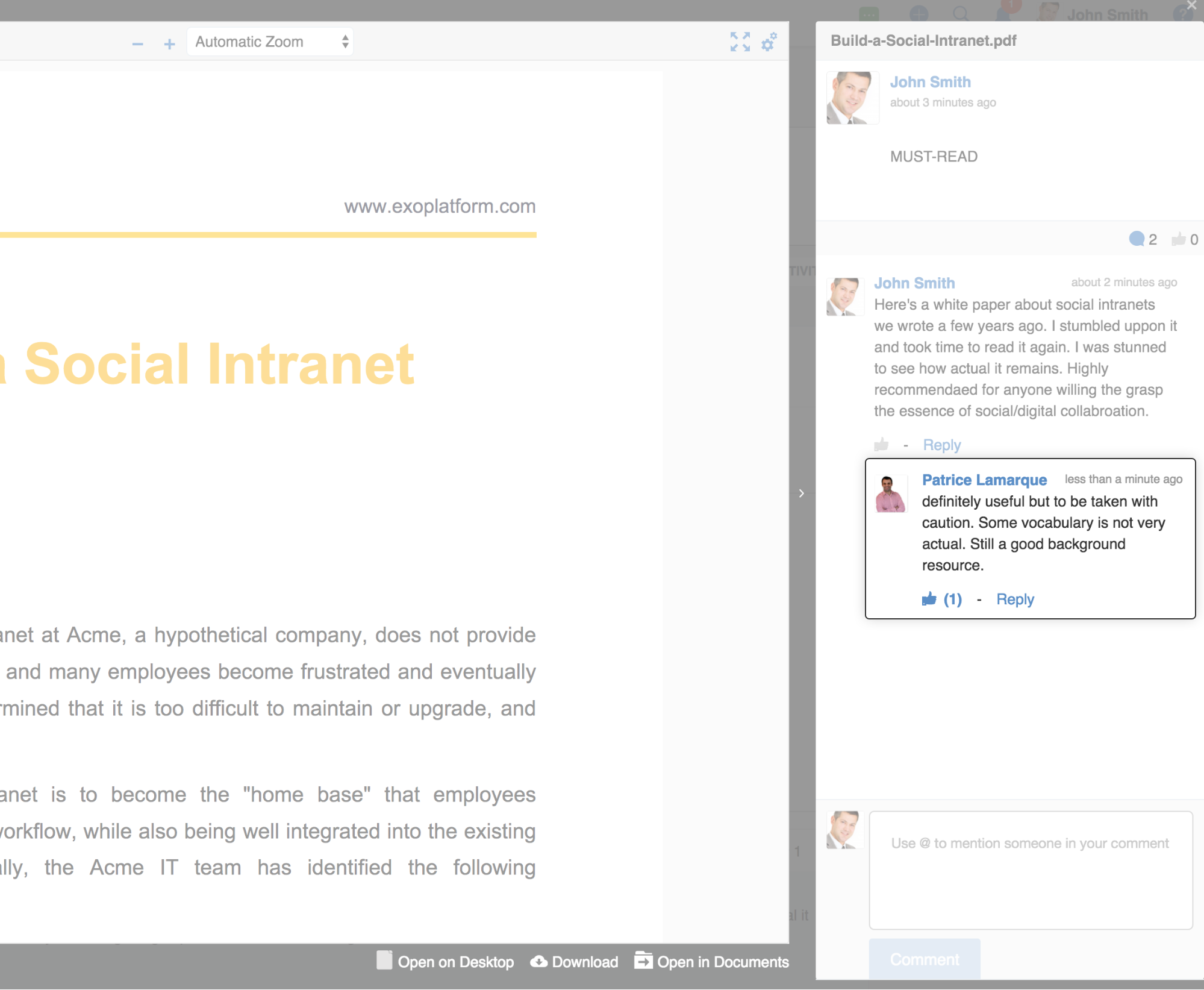 Now your document reviews will be clearer by allowing each one to argue on a specific point without all the comments mixing.
Forum Integration
When it comes to an activity originating from the forum application, conversations naturally integrate with the "Quote" function. A quoted post will be represented as a reply to the corresponding comment in the activity stream.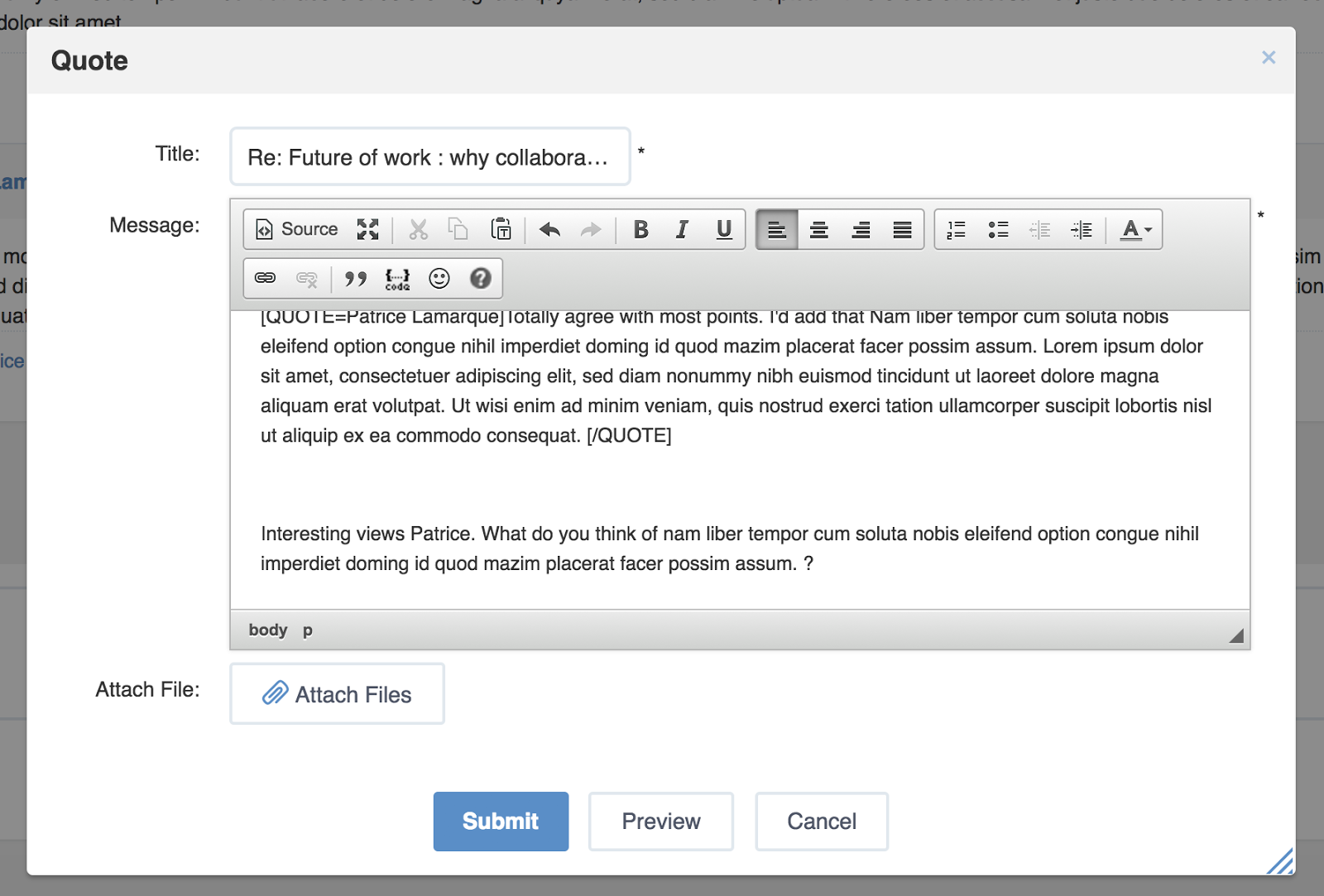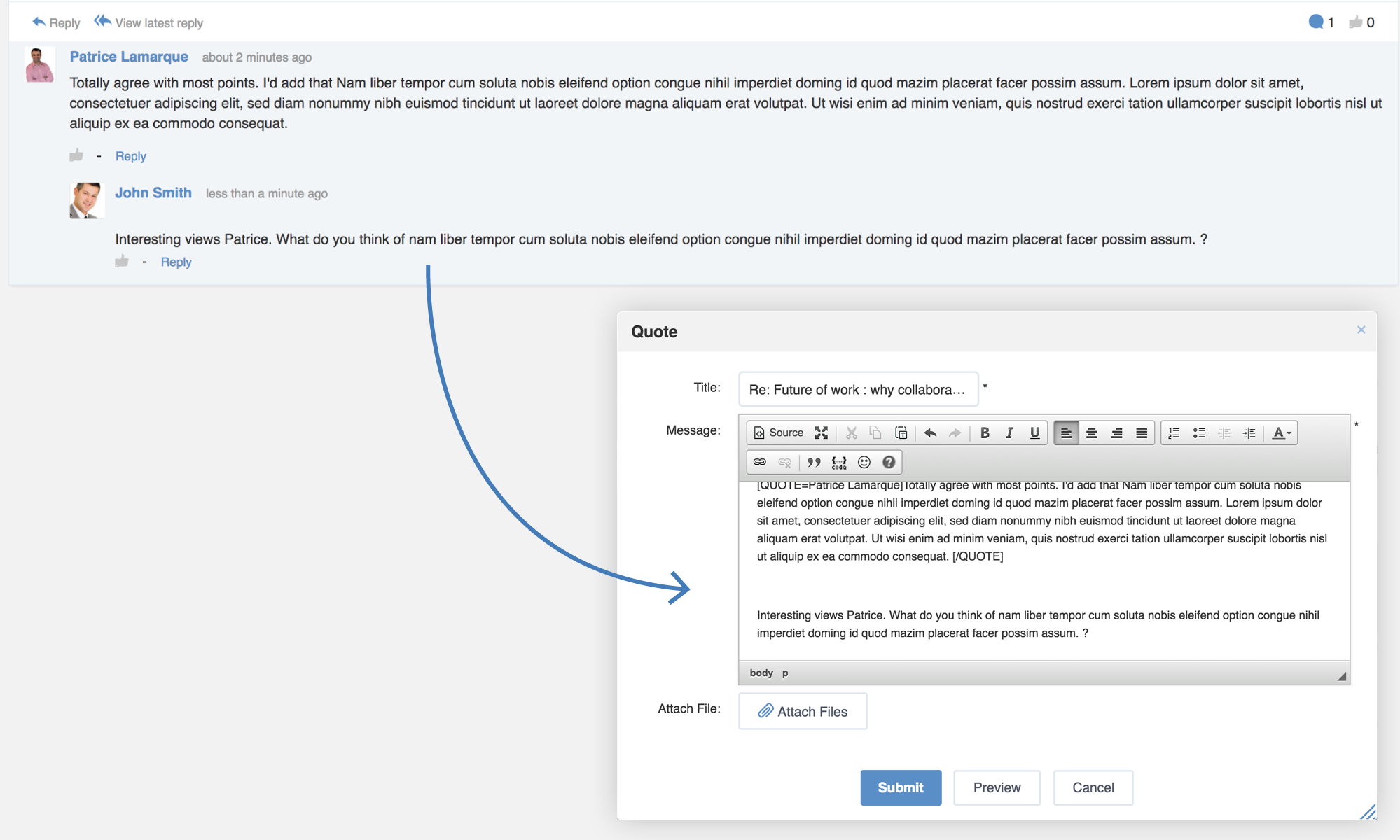 Thus, the activity stream preserves its consistency and readability, even when complex discussions take place in the forum.
Clarify Work in Tasks
For the sake of consistency, tasks also benefit from responses to comments.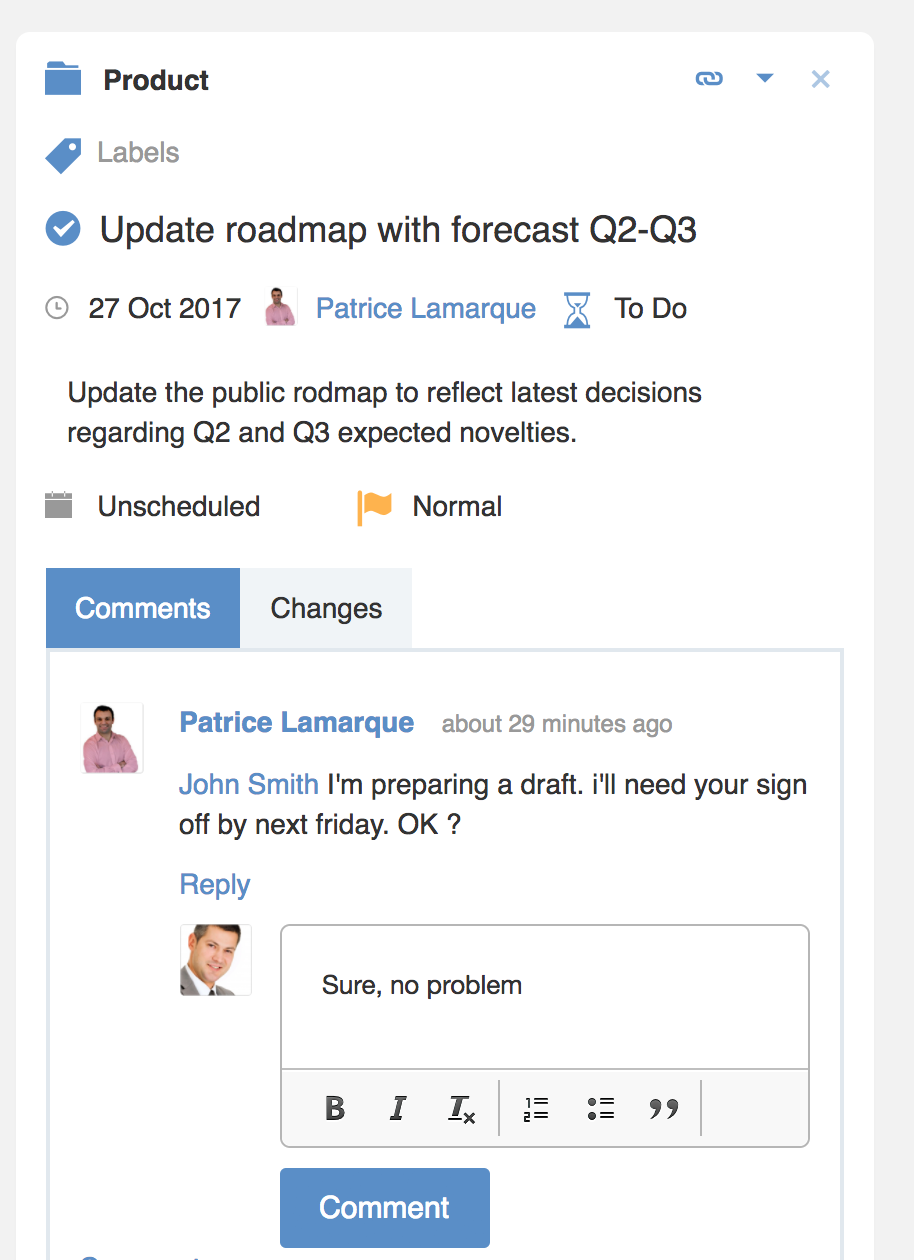 As in activity streams, you can respond to comments on tasks. During the life of a task, there are sometimes several steps that require different conversations. For example, to clarify the expectations when it is not clearly expressed in the description, or report the progress of work or validate the outcome. Now you can relate these different conversations, much more clearly to the task involved.
Notifications
Finally, you will be able to receive a notification every time someone replies to any of your comments.


What do you think?
We have previewed this feature on eXo Tribe to collect your feedback. So don't hesitate to speak up; there is still time to make adjustments! For those who wish, it is also possible to install the latest milestone release, which incorporates this feature.