A few months ago, we decided to move our customer service activity to our community site. By switching to a flexible platform and functionalities, we brought together all the benefits of our classical customer service technical support tools and coupled them with the added value eXo provides through collaboration.
Customer Service at eXo
eXo's Global Support Services department delivers customer technical support. This team addresses technical and commercial issues by collaborating with the Customer Success department.
The eXo customer technical support team is in charge of handling the tickets subscribed customers open. All subscribers are entitled to support services, which are backed by service agreements that ensure accurate, timely responses to tickets depending on the severity of the issues.
The support team went from using several tools to handle tickets to using a one-stop shop, eXo Tribe, which is our online community of eXo users, developers, customers, partners, and employees.
To achieve this consolidation, the team wanted a centralized tool that would allow team members to regain control of the customer technical support experience by implementing their own workflows and creating something that would fit well with existing support processes. This new tool would also need to solve the challenge of tracking customer environments, a feature that none of the solutions in the market did adequately. Finally, this tool also had to adapt the customer technical support process towards our core value: collaboration. This new tool would need to allow much smoother exchanges between all the involved stakeholders and enable new synergies among them.
Leveraging spaces to enable collaboration among all the involved stakeholders
The new tool leveraged eXo Platform's spaces feature to support customers through a dedicated space for each customer.

This engagement is leveraged with other eXo Platform features, such as the chat, to answer quick questions or coordinate calls, which can now be made through eXo Platform's Skype integration.
The tasks and calendar features in eXo Platform also come into play since they allow all stakeholders to have better visibility of the whole process, from what has been done to what is pending.
The socialization aspect has also been leveraged in many ways to enhance the support activity, such as following support updates through the activity stream and receiving personalized notifications.
In addition, with the members feature, customers can now see all the involved parties during the support process. With one click, customers can see who is part of the team handling their ticket request.
Managing customer requests
Support tickets are opened by creating a new forum post in the customer space. This centralizes the exchange between the customer technical support team and the customer or any other relevant stakeholder who should be involved in the process.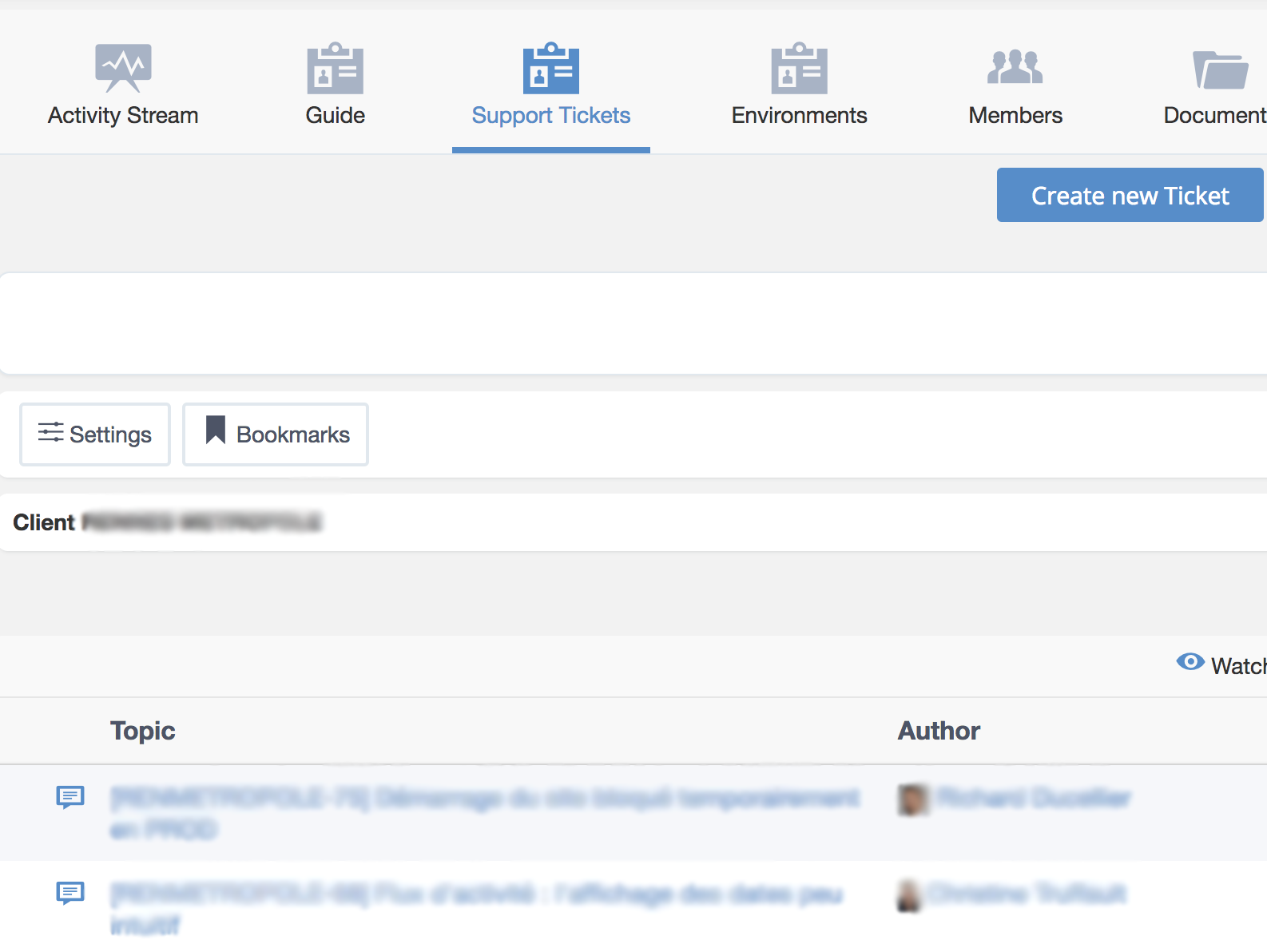 The topic is created using a simple custom-made form, in which the customer describes his or her issue and enters the information required to create the ticket. With eXo Platform, the support team can now request more information (especially the technical environment they are dealing with to enable a better, quicker responses) or involve the Customer Success team in case of a commercial issue. The details entered allow eXo's customer technical support team members to improve their efficiency while allowing customers to become more involved in the process.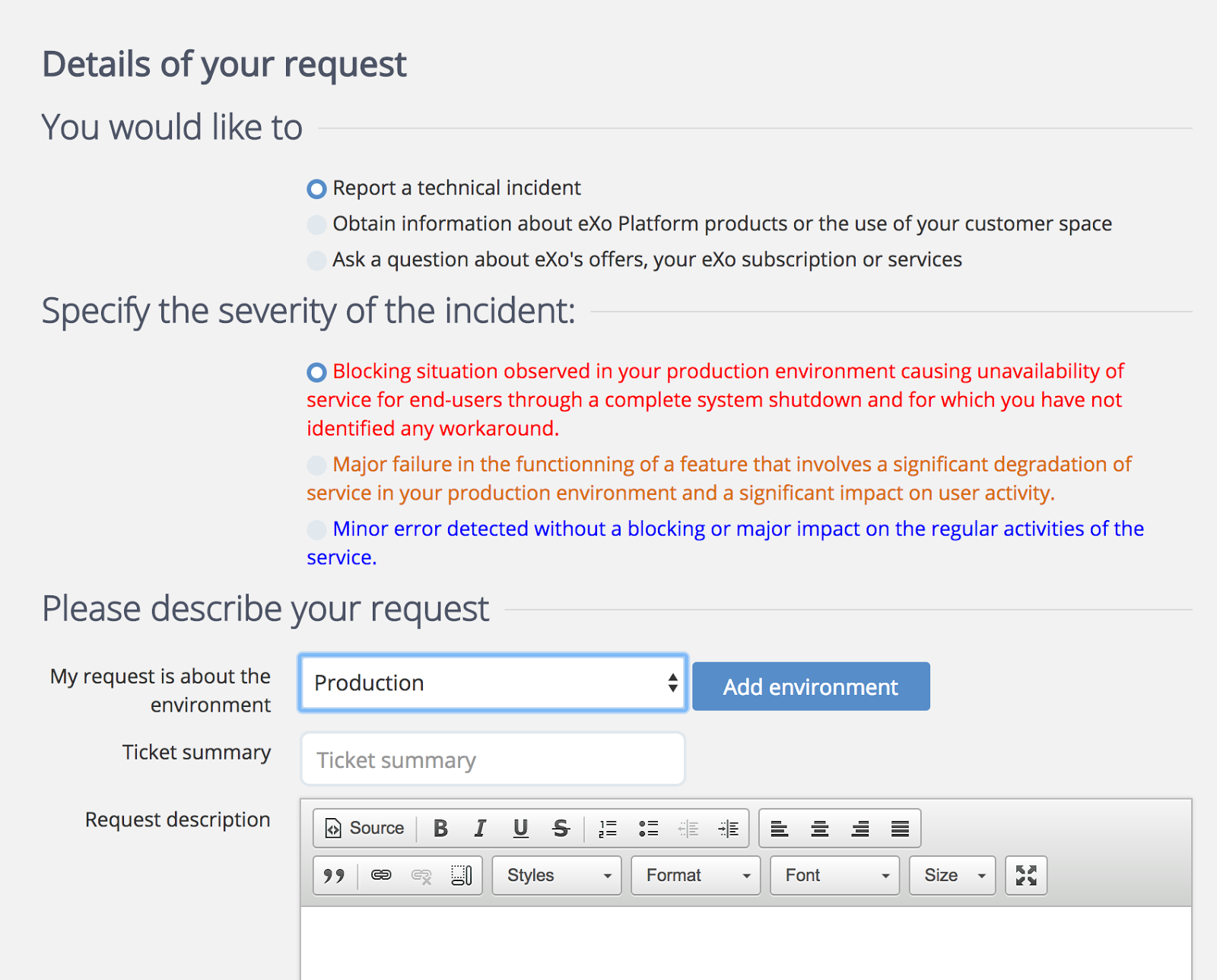 With the ability to rate forum topics, the support and customer success teams can now qualitatively evaluate the service provided to work on improving it.

In addition, the support team added an extra feature for invisible comments or discussions, which allow them to exchange information and intervene in the discussion thread for a support ticket using private comments that only eXo staff can see.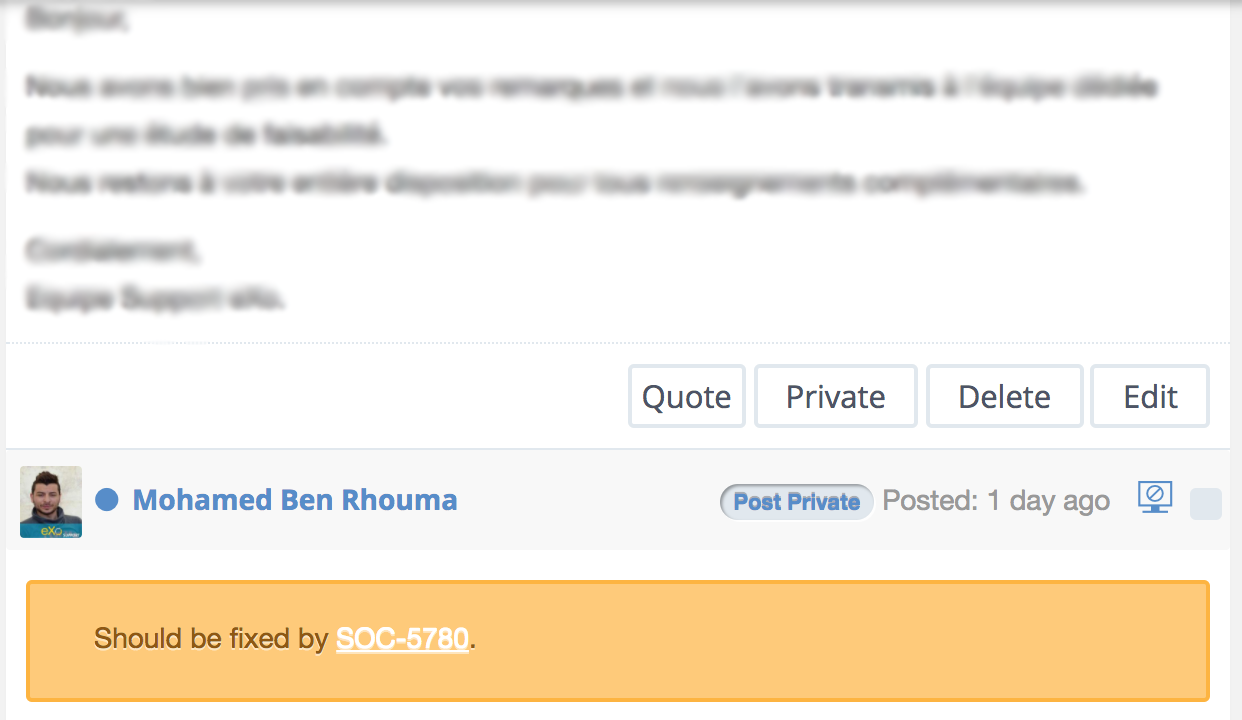 Finally, the customer technical support team also added a customized dashboard to help review and handle tickets.

In addition to support tickets, customers can send requests to their customer success representative through a dedicated form. If a customer's inquiry relates to subscriptions or services instead of technical questions, it will be redirected to our Customer Success department. This allows us to create a more efficient process to respond to customer inquiries while creating a new synergy among departments to answer customers' questions.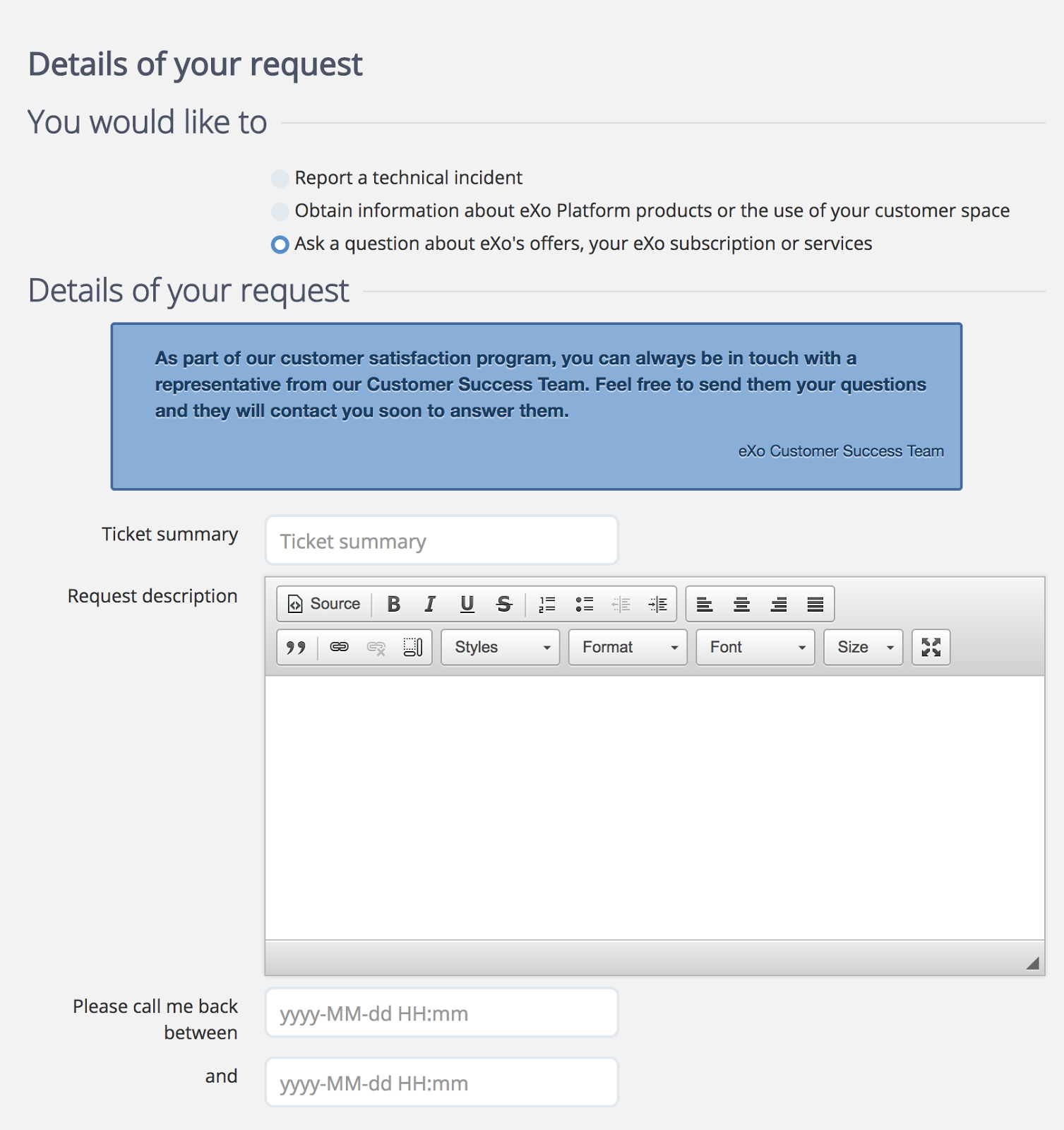 Because we wanted to ensure that the tool is easy to implement and that it is ready to use for anyone who wants to build a similar customer experience platform, we built this as an add-on for eXo Platform.
For now, the package is bound by eXo's requirements, and we keep improving it every day. As the solution matures, we hope this add-on will be distributed as a complete, robust tool for anyone interested in implementing an out-of-the-box solution for supporting their own customers. Let us know if you're interested in this solution.