Cartoon of the Week – Verizon Finalizes $4.8 billion Yahoo Deal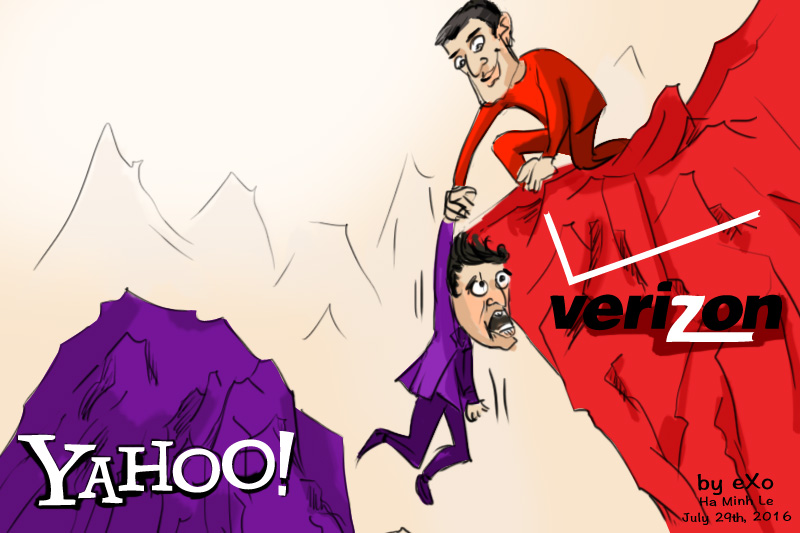 Verizon, the telecommunications giant, has spent almost $5 billion to buy the internet company Yahoo! We'll have to wait to see if it was a worthwhile deal.

Indeed, times are tough for aging tech companies… Last week, the last VCR manufacturer in the world, Funai, announced the termination of its VCR activity. And now, it's Yahoo! who's confirming the sale of its business to Verizon Communications.
Both news items, although very different, have generated similar reactions among the general public:
VCRs? Were people still using them?
Yahoo? I don't even remember the last time I visited their website!
Unlike VCRs, Yahoo! Internet services attract over one billion active users monthly, of which 60% are mobile users.
The sale of Yahoo!'s activities marks the end of an era for the young Marissa Mayer, hired as a savior after her Google experience. She expressed her desire to stay on board the Yahoo! Verizon adventure, but it is clear that she won't be steering the rowboat.
She tried to make things better, but it wasn't easy. At all.
Anyway, "no risk, no return." We'll see what the future holds for Yahoo! Verizon!
It's sad, but goodbye Yahoo!
Stay tuned for more fun cartoons!
Follow eXo Platform's board Cartoon of the Week on Pinterest.