Cartoon of the Week: Amazon launches the Unlimited Streaming Music Service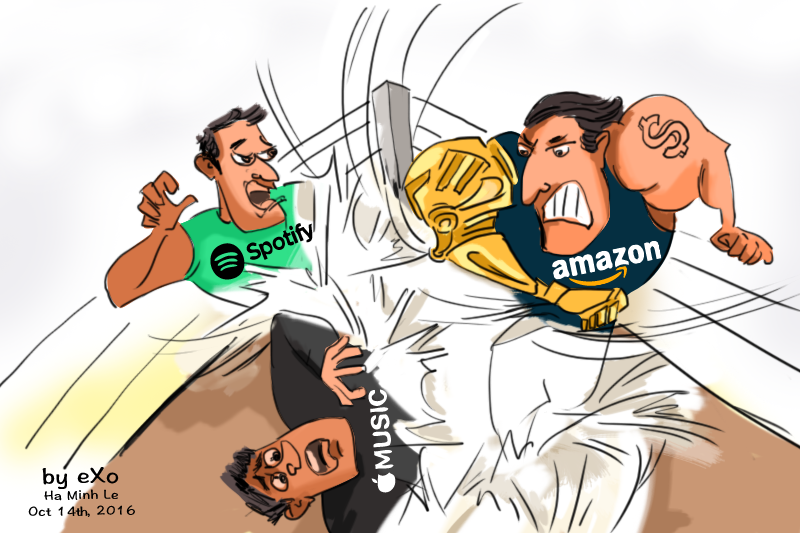 Known for undercutting the competition, Amazon, the largest Internet-based retailer in the world, is now challenging Apple Music and Spotify by launching an unlimited streaming music service.

The disruptive technology is available for non-prime members for $9.99 per month, which is similar to the competition's price. Amazon is offering lower pricing for its prime members ($7.99 per month) and even lower for those with voice-controlled Echo devices ($3.99 per month).
The "Amazon Music Unlimited" offers a vast catalog of tens of millions of songs on demand not to mention the ability to download music automatically so that the user will have something to listen to when offline.
And as the trend is toward artificial intelligence, Amazon has made good use of Alexa, it's robotic assistant. People can now choose music to listen to with the echo speaker and by giving just voice commands, such as: 'Alexa, play songs from the 90s' or 'Play the song that goes…" followed by lyrics.
It's true that compared with Siri, Alexa represents a new frontier. Siri sometimes provides search results and the user then has to click on the links and go see for themselves. Alexa, on the other hand, does the work itself and directly gives you an answer. There is no need for the user to make the extra effort, a voice command suffices. Does this scare you or excite you?
Amazon is again making a distinctive offer and is proving to the whole world that it's not afraid to take down its competitors (and we're talking about heavy ones). The brand seems so confident about its process that, when mentioning the competition, Amazon Music VP Steve Boom said in USA Today, "We've earned our seat at the table. We're one of the biggest music services in the world, period."
Amazon, what next?
Stay tuned for more fun cartoons!
Follow eXo Platform's board Cartoon of the Week on Pinterest.