BPM and Workflows Inside Your Intranet with Bonita Extension 2.0 for eXo Platform
We are pleased to announce the availability of a new add-on: Bonita Extension 2.0. You can now integrate, view and launch Bonita workflows directly in eXo Platform. While the integration is not new, this new version was designed to run with the latest versions of eXo Platform 4.0 and Bonita 6.2.
Enabling a Collaborative Workflow
An enterprise social collaboration platform should help people to do their work. Pursuing the same goal, a growing number of organizations are relying on Business Process Management software to integrate their systems and automate their processes.
In almost every BPM initiative, human workflows play an essential role, either to provide the inputs from the real world or when intangible competencies are required at decision points. Thus, it makes a lot of sense to integrate these workflows into a central location where most stakeholders can meet, such as an intranet. Because they have everything they need to hand – access to colleagues, documents and collaborative tools – employees are not hindered when executing their workflow tasks. The net result is better awareness and better execution for the organization.
Combining Bonita with eXo Platform using this extension will let you unleash a Collaborative Workflow.
How does it work?
We use two simple gadgets as the entry points for user workflows. The Process List gadget shows the processes that the current user can start. These processes are administered via the Bonita administration console.

The Task List gadget displays the workflow tasks pending for the current user.

Clicking on a task will open a form to be filled out, which will move the process one step forward.
The form has been fully integrated as a portal page to have the same look and feel.
The Activity Report Process
This version has a brand new example of a workflow, which models a monthly task undertaken by eXo consultants. They complete an activity report, which logs each intervention made during the month. This document is then signed by a customer and manually uploaded to our intranet, in the eXo Consulting space.

By implementing it as a Bonita workflow, we've been able to fully automate the process in our intranet. Watch this quick video to see it in action:
The workflow has a form, which asks for the customer's name, time period, sales order number and a file. When the consultant saves the form, the document is uploaded to our intranet into an appropriate folder, which is created if needed.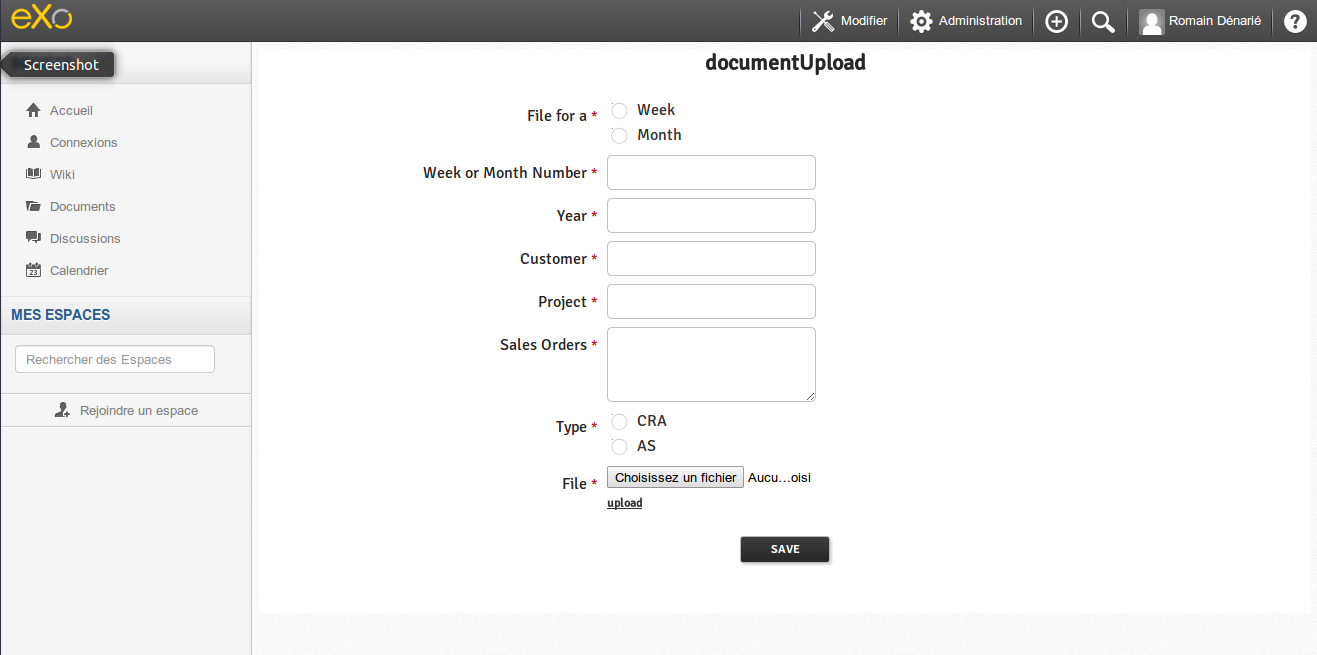 Once the form has been submitted, an activity is published in the space's stream to notify all members.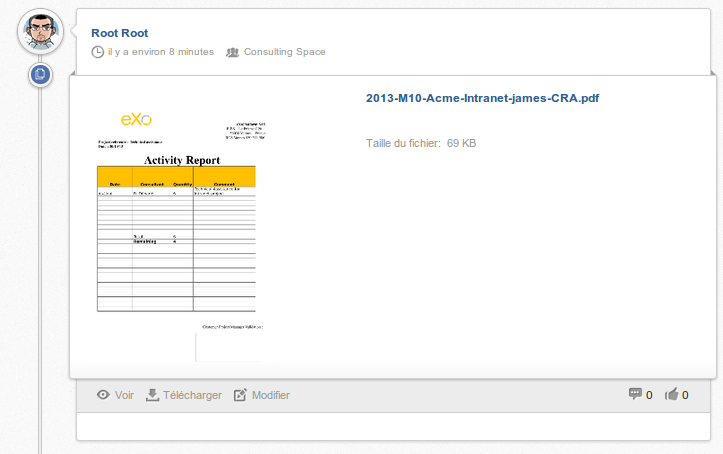 While this workflow currently fits our needs, we can easily imagine many improvements thanks to the many integration points provided by the Bonita engine and by eXo Platform. Things like creating a validation task for a manager, or sending an email to the customer would be trivial to implement…
And you, what business process will you implement? Tell us in the Bonita Extension space. You can download Bonita Extension 2.0 from the add-on center for free. It's open source and we welcome your feedback and contributions.
Make the most out of eXo Platform 4
Register to the next webinar and get a complete overview of what you can do with eXo Platform 4. Reserve your seat now!