Cartoon of the week: Facebook Takes on LinkedIn with New Job Opening Feature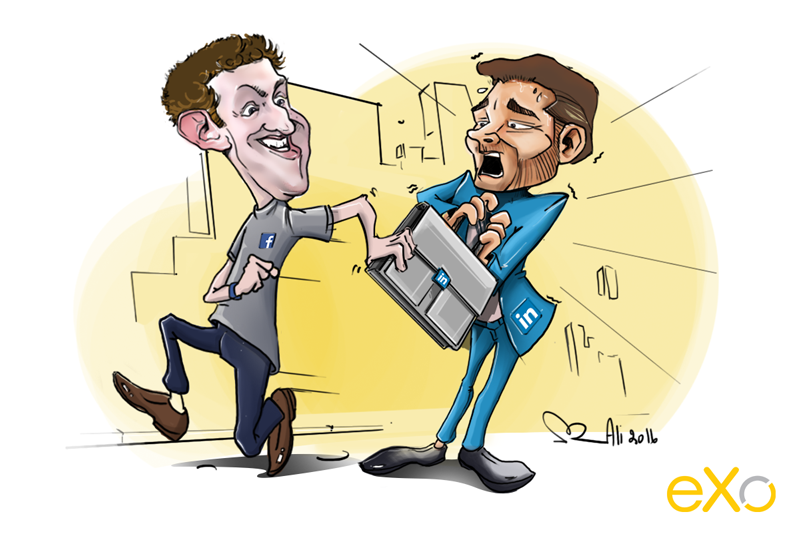 Facebook said earlier this week that it was testing a new feature for job hunting. This feature will allow companies to solicit and receive job applications and people can apply for a job through a business' Facebook page!
It seems that Facebook isn't done adding new services, acquiring networks, and growing.
How does the new "Jobs" section work?
With Facebook's jobs feature, businesses will be able to create job listings on their pages that contain the job title, the salary, the type of contract, and a description of the job. Jobs are then posted on the activities stream, attracting users back to the page.
Job postings include an "Apply Now" button that will launch a job application flow. Only successful applications will be sent to the page admins.
Facebook will probably enhance this new feature by offering paid media support for a bigger reach.
According to TechCrunch, companies could drive more traffic to their Facebook pages by paying the social network to get their job openings in front of more candidates.
It's obvious that this time, Facebook is threatening LinkedIn by launching a similar revenue model. LinkedIn gets most of its business from recruiters looking for potential candidates and job hunters posting resumes to broaden their social networks.
Facebook takes on…everyone!
This isn't the first time Facebook has competed with tech giants. Let's not forget that a few weeks ago, Facebook unveiled an enterprise communication platform aiming to dethrone Slack.
When it comes to product developement, Facebook is ready to go after businesses' strengths, whatever the cost. But is Facebook making the right move by adding this new job hunting feature?
Can Facebook win the jobs battle?
It's evident that Facebook is availing itself of its large number of users. The network has a base of 1.79 billion active users, which is four times as many users as LinkedIn has. In terms of reach, Facebook easily overpowers LinkedIn.
However, Facebook was always the perfect place to have fun, chill, gossip, share good deals, etc.
By expanding its focus, isn't Facebook risking a loss of this identity? Or will this feature kill our habit of turning to LinkedIn when we're looking for a job?
Stay tuned for more fun cartoons!
Follow eXo Platform's board Cartoon of the Week on Pinterest.