Cool documentation updates: get the most out of eXo Platform 4.2's features!

Among the big number of handy topics on eXo Documentation Website in last July, we in the Doc Team would like to summarise the major updates to the eXo Documentation Website in this blog. Let's see what they are.

Notification system
The built-in email and on-site notification feature provided in eXo Platform 4.2 is a great way to engage your users and enhance collaboration. But you don't really want to stop there, do you? Read the Extending notification system section. You can walk through a complete sample extension that features a new notification channel and a new notification type.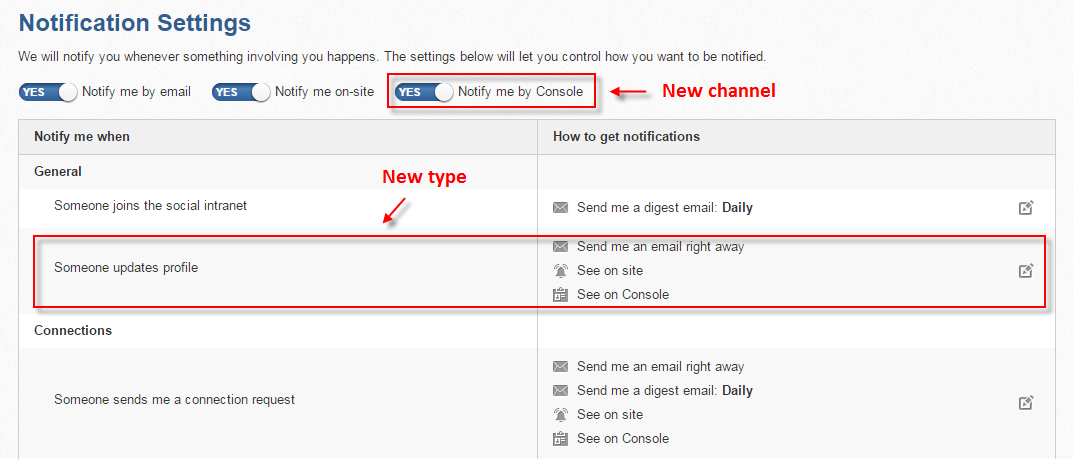 Email notification template
Have you ever thought of changing the layout of the email notification template when using this feature? It's not complicated in eXo Platform, if you know that all email notification templates are defined in the social-notification-extension.war package under WEB-INF/notification/templates/. To make it easy for you to discover this extensibility, as an example we customised the ActivityMentionPlugin.gtmpl file – the template for the Mention Notification. Click here for details.
Multiple directories
You can integrate eXo Platform with LDAP (for example, MSAD or OpenLDAP) if you have multiple directories (different servers with different administrators). This is thanks to the PicketLink IDM framework, which works with many LDAP connections and stores. Read this new guide to learn how to connect to more than one LDAP directory.
Navigation link to the Help portlet
This newly added tutorial gives step-by-step instructions for customising the Help portlet, which is in the top navigation bar, via your own extension. You will find it as simple as other customisations that we have documented before. Check out this link, and remember that it can be found in: "Changing the configuration of the top navigation bar".
Open in Office configuration
With the Open in Office feature introduced in eXo Platform 4.2, you can easily edit documents, spreadsheets and presentations in the native applications installed on your client, without keeping a local copy. Besides, as an administrator, you can configure the file types associated with a specific application or set a new label. This configuration can be performed quickly in the exo.properties file.
Clustering
In eXo Platform 4.2, if you want to make the on-site notification feature work properly in a cluster environment, there are some extra steps to configure CometD Oort. See these updates on setting up an eXo Platform cluster.
What's next?
We just want to remind you that we have a long-term plan to build a new site that collects all the useful information and tutorials for developers. So if any ideas come to mind, from design to content or anything else interesting, feel free to share them with us. All feedback is highly appreciated!
Join the eXo tribe by registering for the community and get updates, tutorials, support, and access to the Platform and add-on downloads!
Make the most out of eXo Platform 4
Register to the next weekly live demo session and get a complete overview of what you can do with eXo Platform 4. Reserve your seat now!