eXo Mobile App 4.3 Release Now Available for Android

Since its release for iOS devices two months ago, the new eXo mobile app for eXo Platform 4.3 has proven to be a welcome upgrade from the previous generation of the native mobile app. Its implementation of the responsive layout offered by eXo Platform 4.3 meant that iOS users could carry the full spectrum of the web app's functionality right in their pockets.

The time has now come for Android users to enjoy the new mobile app as well. Whether you have just started using eXo Platform 4.3 in your organization or have upgraded to 4.3 from a previous version, you can now simply download the new mobile app for your Android device from the Google Play store and connect it to your eXo Platform intranet.
If you do not yet have your own eXo Platform 4.3 intranet server and would still like to take the new mobile app for a spin, we've made it easy to connect to the public eXo Tribe community site, which is powered by eXo Platform 4.3.
Everything you need to know about the capabilities this new app brings to the table can be found in this article.
An app for more than just phones
Those of you familiar with the previous incarnation of the eXo Mobile app may already be aware that its Android version was available for phones only. The new eXo mobile app for Android is happy to run on any Android device that you use, including tablets.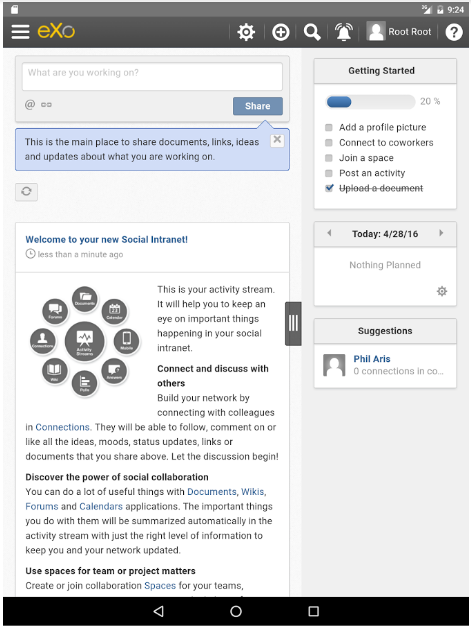 Legacy support
The Android app is not compatible with intranets running on eXo Platform 4.2 or earlier. That being said, eXo Platform users who are not quite ready to make the jump to the latest 4.3 release of the platform needn't worry about losing their mobile access—they can simply continue to use the old Android mobile app.
That earlier app remains available for download on the Google Play store, albeit under a new name: "eXo Legacy." This should make it easy to differentiate the earlier legacy app from the new one on the Play store.