eXo Platform 4 Highlights: Files Management
Platform 4 is finally there. We prepared a few articles so you can discover what's in the best version we ever released. Today's one is about Files and Documents Management, one of oldest and core features of our platform.
Simple Design
Of course, as part of the great effort made on eXo Platform 4 in its overall Design, the Files application benefits from this global renewal.
But not only does it take the new Design, it also comes with a simplified view so you can focus on your work and your files. All the complex features are hidden for standard users so they're not lost in the complexity of Files Management.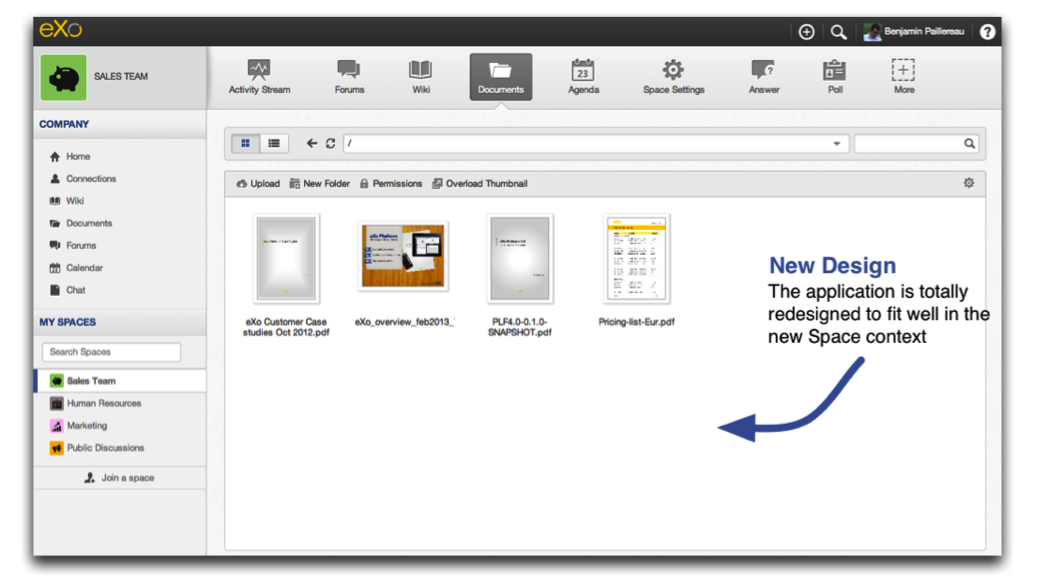 Thanks to the new Contextual Navigation, you always know if you're inside a space or inside your personal storage. As it would be redundant to repeat this context in the Documents app itself, we have also revamped it so it fits perfectly everywhere you need it.
Upload in Progress Bar
For those who come from eXo Platform 3.5 or older, this will be a huge change. The Upload has been totally rewritten. Now, you can upload a file, upload another and upload again. If the previous upload is not finished, it will be added to the In Progress list.

Multi Upload (finally!)
Yes, finally, it's here. This may be one the Most Wanted features. Until eXo Platform 4, the only way to do mass uploading was to use the WebDAV connector. That's now history!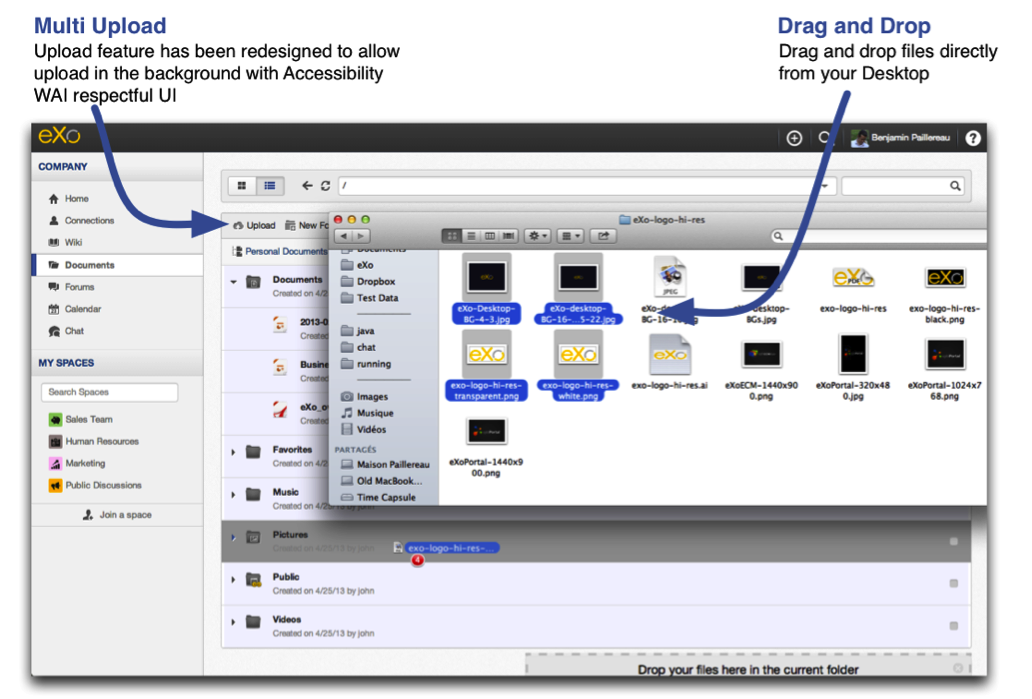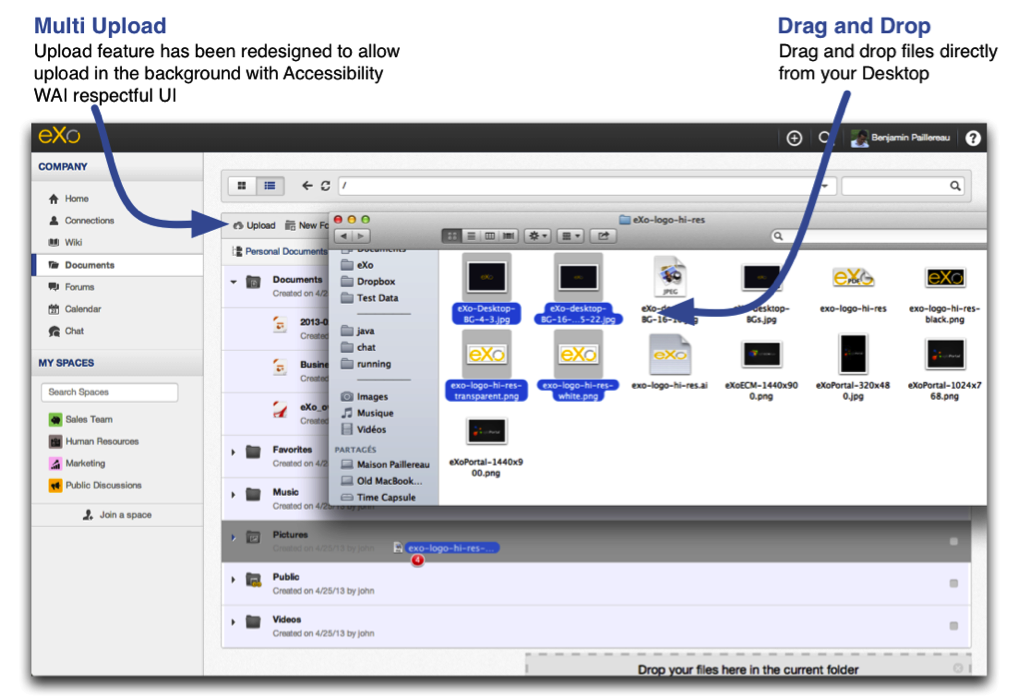 We decided to support the Multi Upload by file selection and "Drag and Drop" (DnD). In the first case, you click on the Upload button, you select multiple files on your file system and we post the files using a multipart form. The second way is by dragging files from Desktop Explorer onto your browser. It's elegant but not Accessible (WAI Accessibility), thus a standard Upload button is always there for those who prefer it, can't use DnD or simply don't want it.
Files View
It's only with you and by you that we improve the product. We have learnt a lot from our clients and partners in the past few years. Though eXo this year celebrates its 10th anniversary, we won't stand still. We will continue to listen to your feedback and improve the product accordingly.
We hope the new Files view will answer most of your feedback on Files Management versus Document Management views.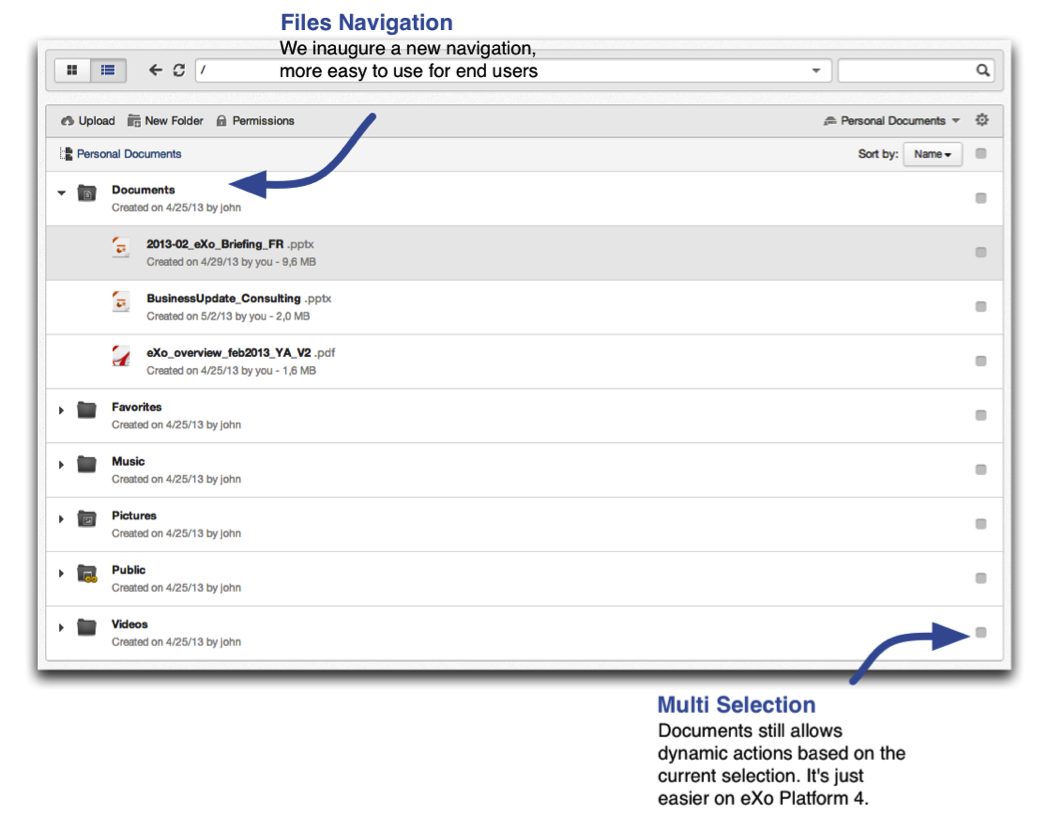 From the very beginning of eXo we have had a Document Management System so you can contribute and publish articles, news, blog posts or any type of documents you may create in the platform.
While this is still there in eXo Platform 4, we have introduced a view that will ease Files Management. You can, for example, see the file's size or its extension directly in the list. Small things but useful ones we hope.
Unified Search
Thanks to our Lucene integration as search engine in the JCR, all files are fully analysed and indexed (Microsoft Office documents, Libre Office, pdf). Using the full text search, we will now have access to all your files at a glance, everything filtered based on your permissions.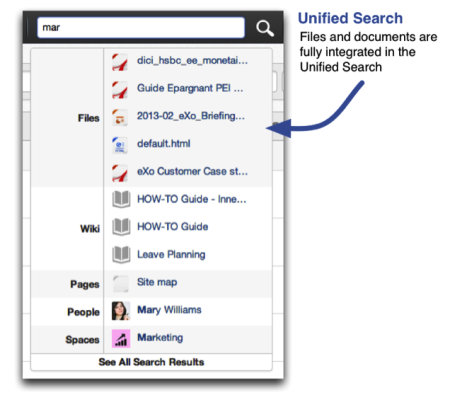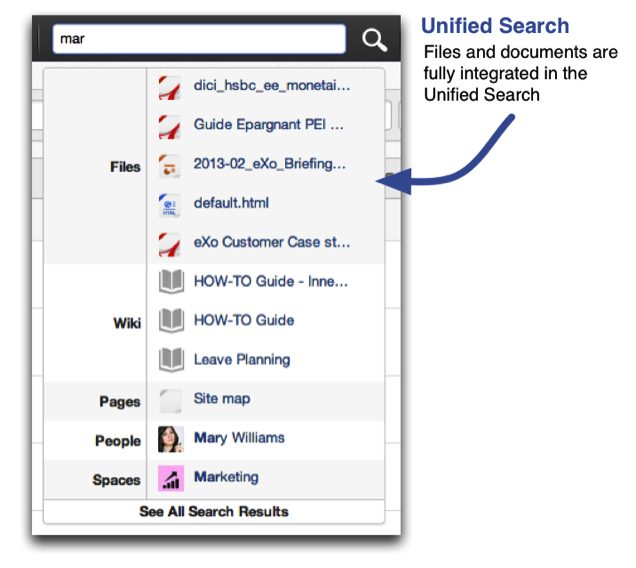 Quick Rename
Another improvement on usability is the Rename box. You don't have to enter a Title and a Name on your file anymore. You just give it a Title/Name and we take care of the rest.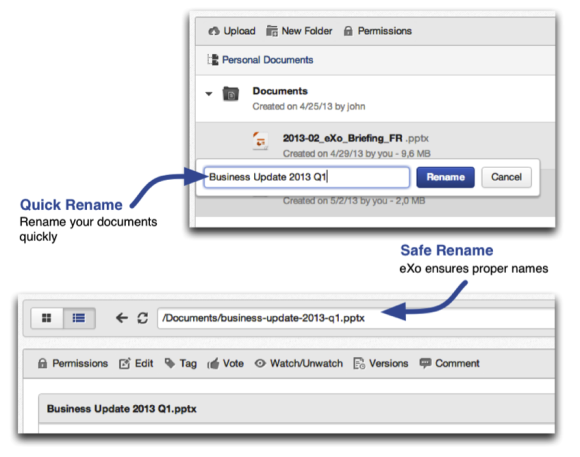 We will create a "web-friendly" name so you can share files more easily.
File and Document Management
Finally, Files management couldn't be part of eXo Platform if it is not customisable or extensible. We provide a Ready to Use platform and Ready to be customized as well.
With Platform 4, partners and advanced DMS users will be happy to find advanced features in the management tool. You can manage custom templates, views, drives, locks, queries. If you've no idea what I'm talking about, then discover more features for yourself in our Documentation website.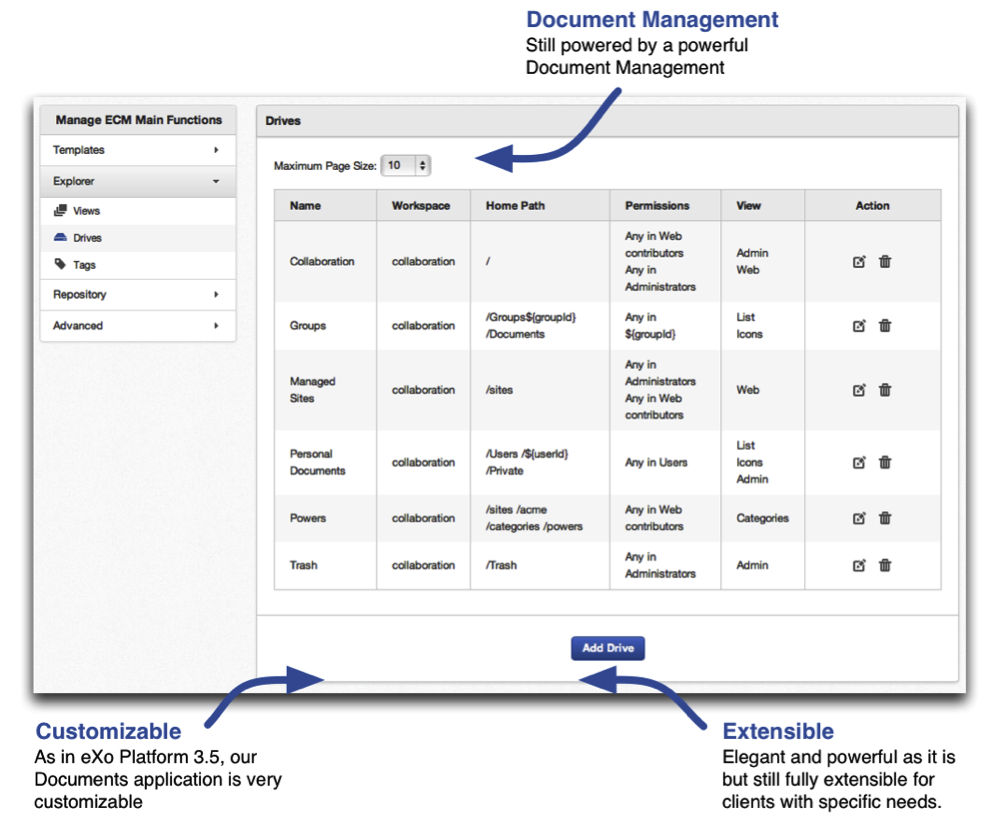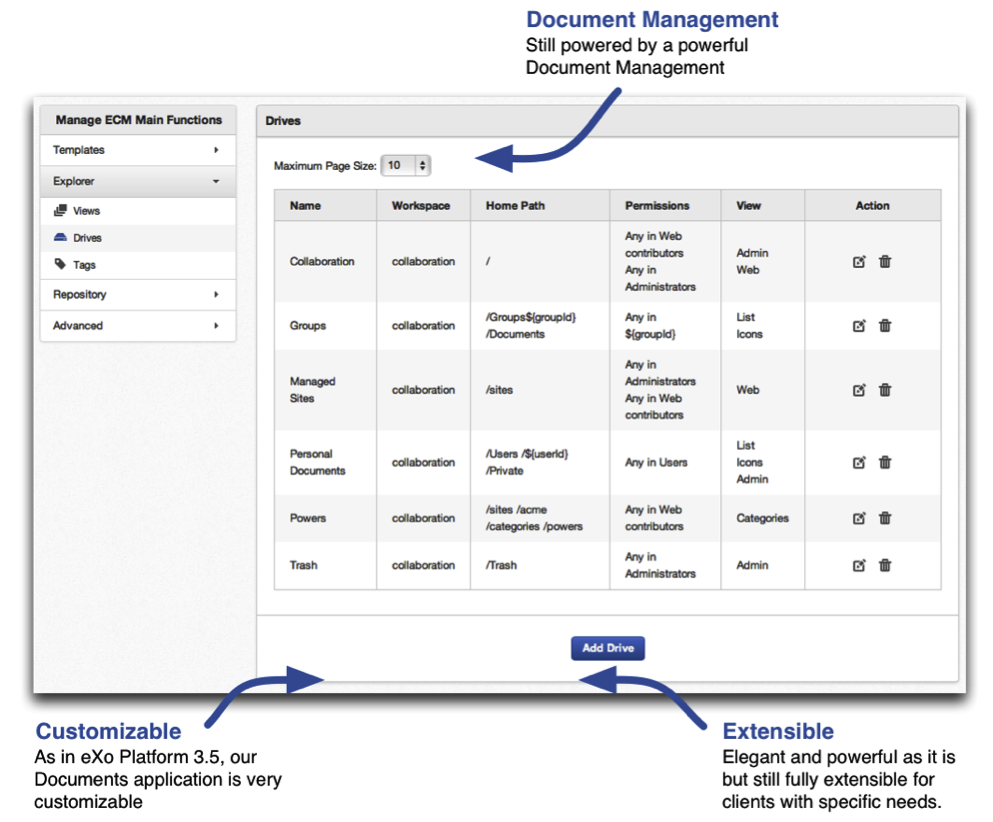 On eXo Platform 4, we chose features that will ease your work and give you back control of your Intranet. We're always looking for ways to improve the User Experience, we can't wait to have your feedback on this new release.
Stay tuned next week: we will highlight a long-awaited and totally new feature in eXo Platform 4. Do you have an idea already of what it will be about?