OEM Partner Program: Modernize Your Software with eXo's Enterprise Social Platform
Social, cloud, and mobile are the new enterprise software trends. Features that were before seen as optional or "nice to have" are now MUST HAVE.
Are you going to invest in developing the social component to add it to your software? Is it the right decision? Of course not!
Developing an enterprise social network software is complicated, time intensive and therefore extremely expensive.
Let eXo help you! How?
Simply by using the first open source enterprise social platform: the eXo Platform—the result of a decade of R&D, market survey and high-quality software development.
eXo is offering an OEM Partner Program in response to the rapidly growing demand for enterprise social capacity. The program is specifically designed to assist software vendors interested in embedding social enterprise features into their applications.
And you can be assured that eXo experts are supporting the product development and deployments that embed the eXo Platform Enterprise product so will reduce the time to market.
The program is very flexible.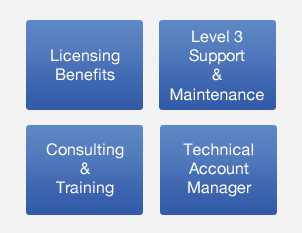 Licensing Benefits
You can access eXo Platform Enterprise Edition, a certified and production-ready system with professional documentation and a knowledge base.
You can white-label and embed eXo Platform Enterprise in your own software and redistribute it through your own direct or channel model.
You can adapt the licensing pricing to your business model (license/subscription, per system/cores/users…) with discounts based on the committed volume.
Technical Support & Maintenance
You get a Level 3 support relationship with eXo (eXo does not support your customers directly).
As an OEM Partner, you pay an annual subscription to cover your entire customer base.
Premium (24×7) and Standard (business hours) support SLAs are available.
There are an unlimited number of tickets, access to new maintenance versions and software update programs.
Consulting, Training and Technical Account Management
We offer developer training with certification to bootstrap product integration and development.
We provide consulting services to support your development and integration phases.
With the Technical Account Management service you get a consistent primary technical contact at eXo, who will work with you to understand your ongoing technology requirements.
Marketing Benefits
You can lever the eXo brand with the Partner logo on your website.
You can have your logo featured in eXo's Partner Directory.
You benefit from joint PR and events.
eXo provides two tracks for the OEM Partner Programs: Ready and Advanced. For both programs and depending on the volume commitment you guarantee to eXo, you may be eligible for an extra volume discount on the licensing pricing.
eXo's OEM Partner Program is designed to enable Partners to optimize the speed and success of their go-to-market offerings. We look forward to working with new OEM Partners and enabling them to achieve the success of our existing partners.
Learn more about the eXo OEM Partner Program announce and join the eXo tribe to discover eXo Platform 4 and get updates, access tutorials, support, and downloads!
Or continue reading about the eXo Platform OEM Program with this article:
Make the most out of eXo Platform 4
Register to the next webinar and get a complete overview of what you can do with eXo Platform 4. Reserve your seat now!