Cartoon of the Week: Google reaches a new milestone with Pixel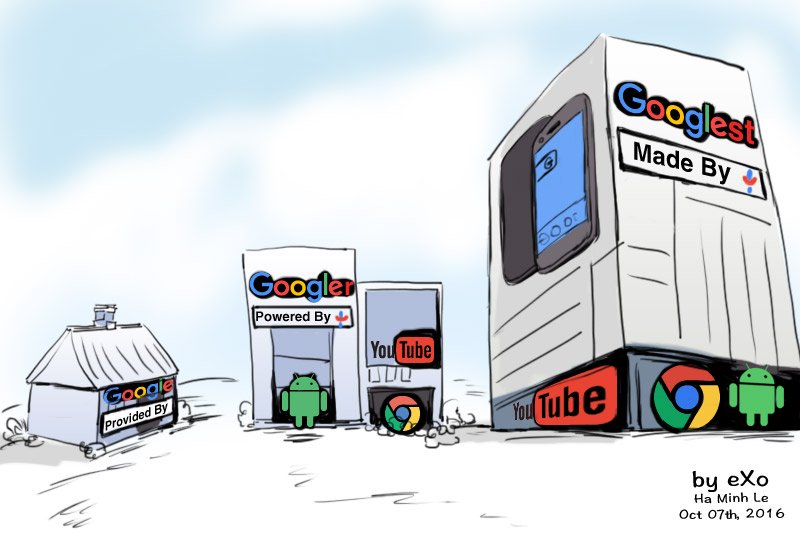 I remember when I was 18, I bought myself a new phone and was extremely pleased with myself because I did it by myself. So imagine how Google must have felt when it made its own phone.on its 18th birthday.
Well you can't really, you're not Google :p
Everyone (well, every techie) must have heard about the launch of the new smartphone made by Google this week. So let's talk about their new baby – the Pixel!
Google's Pixel phone has a battery that lasts all day and charges fast (Let's hope it won't explode!) , a very highly rated camera and so many of the other features that have made Google the best at everything they do, at least in many people's eyes.
The phone is available in 3 colours: Quite Black, Very Silver and Really Blue. Oh thank God that Google has finally come up with a new colour: Really Blue! Like, imagine our lives without this invention! You guys are the coolest 😀
But one thing everyone can't stop talking about is the assistant, the first one ever built into a device. The assistant can help you do pretty much everything.
"The goal is to build a personal Google for each and every individual," said Sundar Pichai, the CEO of Google.
And that is how artificial intelligence is taking form.
Furthermore, as Google wants to get the most use out of what's happening with technology and to always stay one step ahead of competitors, it has decided to have its own hardware. However, trusting the future of the company to its hardware partners doesn't seem to be an option anymore.
Even though the Facebook phone was a big flop, that doesn't seem to have decelerated or derailed Google's activity as they seem increasingly convinced that, if they want to something to be done right, they will have to do it themselves. And apparently Google is not afraid to eat alone.
However, this hardens the challenge for Google and exposes the company to new risks associated with the hardware field, e.g. from managing inventory to procuring components. But Google is the toughest, so the brand seems to be confident.
"Hardware isn't a new area for Google, but now we're taking steps to showcase the best of Google across a family of devices made by us", said Rick Osterloh, head of Google's new hardware division, adding, "This is a natural step, and we're in it for the long run".
Let's not forget that Google is now facing an equally fierce competitor for the first time: Apple, with the battle now being the Google Phone vs Iphone. The two phones look alike and sell around the same price point, starting at $649. Also, a lot of competitors are finding their way through A.I. Technology, like Amazon, which is now building Alexa into its hardware products (Fire tablets /Fire TV set-top boxes).
We can all see the potential for double trouble with the hardware and the assistant. Will Google figure out which one is worth the gamble or will Pixel, its new smartphone, help the company sit on the shoulders of giants and bring us even closer to a whole world made by Google?
Stay tuned for more fun cartoons!
Follow eXo Platform's board Cartoon of the Week on Pinterest.