Samba! eXo Mobile is now available in Brazilian Portuguese with other "picante" improvements!

When we're not busy building the next generation of enterprise social networks or leading the way towards better development environments, we're hard at work improving our iOS and Android mobile apps.
Today we're happy to announce that many of these improvements have reached the Apple and Google stores. Go download the iOS or Android app, and then read on for more details.

Brazilian Portuguese added
Thanks to our community, the "eXo Tribe" we have translated Platform into more than 20 languages!
We can also add new languages to eXo Mobile regularly. Last year, we added Spanish and German; now, we're releasing a new version in Brazilian Portuguese.
See for yourself!
If you want to activate your language in the app, feel free to ask us for help in the eXo Mobile space on Community.
Account Switcher
Have an account on our Community website, eXo Cloud, or your own intranet? Find it difficult to switch from one account to another?
We did too, so we've improved that process. You can now configure your account using the configuration assistant introduced earlier in eXo Mobile. Switching from one account to another seems like a breeze with the new interface.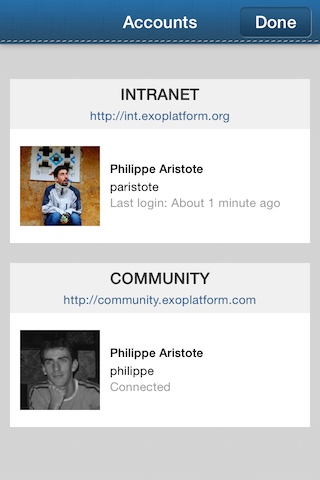 And much more!
As always, many improvements are included with this release, including the following:
We added support for HTTPS, so your communications are more secure
Your phone's language is automatically detected when you start the app for the first time
Improved stability
Remember, you can help us improve the app even more by downloading the iOS or Android app, , reporting bugs, suggesting and voting for new features, or directly submitting pull-requests.
Cheers!
Join the eXo tribe by registering for the community and get updates, tutorials, support, and access to the Platform and add-on downloads!
Make the most out of eXo Platform 4
Register to the next weekly live demo session and get a complete overview of what you can do with eXo Platform 4. Reserve your seat now!