The eXo Platform Widget: Add Social and Collaboration Features to Any Web App
eXo Platform 3 provides a set of services that makes it easier for developers to provide a better experience for end users. We now have a tool that will allow developers to add the social and collaboration UXP features of eXo Platform to any existing web app: the eXo Platform widget.
The widget can be embedded in any web page, where it can display activity steams within your application. It also creates a collaboration workspace (also known as a "Space") within eXo Platform, bringing select activities from other apps right into your intranet, where users can discuss, share feedback, and respond faster and more effectively to their work.
Since this widget is hosted on your local instance of eXo Platform, it can display personalized information as well. An activity stream of the most recent user actions will display to the group's members. To other users who are not already a member of the space, a link with information on joining the group is displayed.
The eXo Platform widget will empower developers to make any web application more social, by attaching social and collaboration features to any object. An object can be a customer, a contract, a bug… Any app your company uses will be able to benefit from real-time activity streams and all the other services offered by the same eXo Platform that runs your website or intranet.
It can be integrated in two ways. The first option is an iFrame that you insert in a page. It would look like this: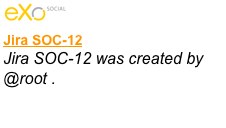 The second and more sophisticated option is a button. This approach allows you to display more information, and looks like this: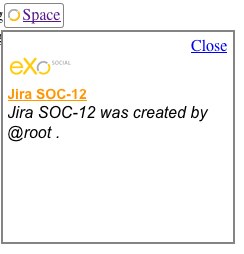 Check out the video demo to learn how to integrate it in your own page; we also show an example of adding the widget to XWiki. A step-by-step tutorial is available in the resource center as well.
Coupled with the OpenSocial API, you can create your own "chatter"-like features for your applications. By adding activity streams, your users can follow relevant groups, co-workers, or even application functions – making it easier to collaborate and work more effectively.
You can add the following information to your apps:
Profiles
User activity streams
Spaces (groups)
Updates sent by your applications
Social networks
Personalized dashboards
This is available in the latest version of eXo Platform 3. Stay tuned for a real-life example of what can be done with this new tool!