The Latest in Cloud Storage Integration with the eXo Cloud Drive Add-on

Being a social collaboration solution, eXo Platform ships with a wide array of functionality aiming at providing an effective way of sharing and collaborating around information and content in a contemporary work setting. Solid and flexible document collaboration is often an important part of that picture and so it comes built into the platform, allowing it to serve independently as an integrated document management solution.
Some organizations or teams, however, may find that they need to adopt eXo Platform to help them achieve certain objectives while continuing to rely on external cloud storage solutions for storing and sharing some or all of their documents. Whether such a dependence is permanent or temporary (e.g. part of a phased adoption or migration plan), it certainly helps to have cloud storage integration available on demand and this is where the Cloud Drive add-on for eXo Platform comes into play.
This add-on provides plug-and-play integration of popular cloud storage solutions with the "Documents" module in eXo Platform. It allows your organization to use eXo Platform as the entry point and center stage of team and project updates, notifications, interactions, etc.—i.e. all of the things that made you start using it—while having all of your remote cloud documents available inside your unified collaboration platform, easily sharable with others inside the platform. They are automatically synchronized so you don't have to worry about copying or moving them.
Notable Changes
Those familiar with the add-on's initial stable releases may recall that it provided options for connecting with Google Drive, Box and SharePoint instances as well as an option for manually connecting to any CMIS-compliant remote repositories. That menu has seen some changes over time.
The SharePoint connector branched out and became a separate add-on that leverages proprietary web services to access extra information and vendor-specific aspects. Its features include the synchronization of multiple SharePoint sites, document versions and document access permissions between both systems.
A Dropbox connector was then added to the Cloud Drive add-on. Consistent with the other connectors, it provides automatic synchronization of Dropbox files in the form of shortcuts created inside eXo Platform, so that the actual content isn't copied. As well, it can open and preview Dropbox files from within eXo Platform's document manager (if previewing the format is supported by eXo Platform).
Here is what the Cloud Drive connector menu looks like as of today: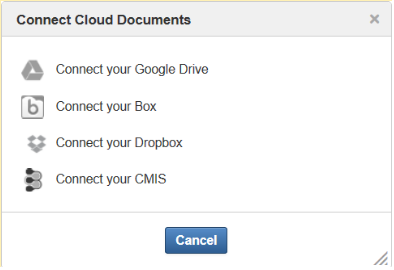 Recent Improvements
Here is a quick rundown of the three latest updates of the Cloud Drive add-on that you may have missed:
1) Months ago, we released version 1.3.0 of the add-on. This release introduced the Dropbox connector mentioned above and all of the features therein. You can read more about it here.
2) Shortly after that, version 1.3.1 of the add-on came out. It improved working with heavy drives that have a large amount of data stored in them and provided higher fault-tolerance. As is often the case, that improvement was triggered by user feedback. This update also provided a new improved file preview for Google Drive and non-Google formats. Last but not least, it added the ability to share synchronized remote cloud documents easily with other users and team spaces within eXo Platform to enhance the collaboration potential even when dealing with files that are not actually stored inside the platform.
3) The current version 1.4.0 was then released quite recently, featuring a new integration with the Activity Stream in eXo Platform. When sharing a cloud file with a group of people via an eXo space, a new post is now automatically generated in the space's activity stream.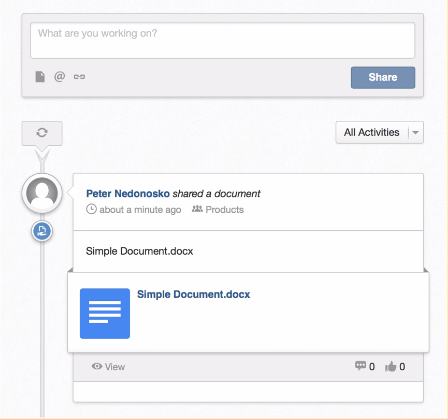 This also means that space members can now not only see it on their personal activity streams but also receive an on-site and/or email notification when a cloud document is shared. They can leave likes and comments on it as well as have document previewing available right from the activity stream.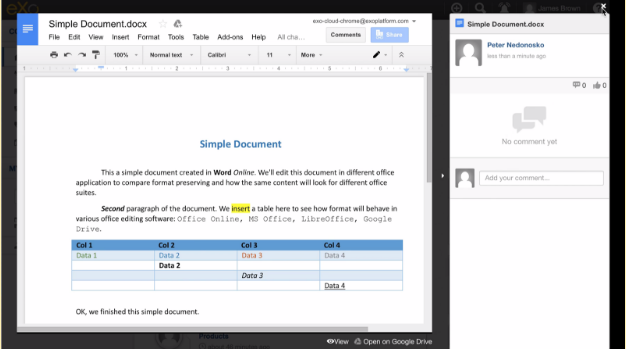 Finally, this latest update also adds extended permissions to space managers, giving them the ability to remove any cloud document shared by a member inside the space.
What's next? We will simply continue to listen to any feedback shared by users of this add-on and base the next improvements mainly on that. We will also try to take advantage of any improvements made by the cloud storage providers, such as when Google announced a better Google Drive API last year.
If you have any feedback, we encourage you to share it in the Cloud Drive add-on space on our Tribe website.
Trying it Out!
If you are handy with configuration tasks and would like to take the Cloud Drive add-on for a spin, you can find it and install it into your eXo Platform instance using the Add-on Manager.
For instructions on how to configure the add-on so that it works properly with the cloud storage(s) you intend to connect to, please refer to the add-on's source code repository on GitHub.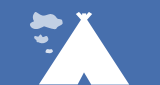 Join The eXo Tribe
Register for our Community to Get updates, tutorials, support, and access to the Platform and add-on downloads. Sign in Now!