Will Millennials ring the death knell of email usage at work?
I came upon an interesting article last week that summarizes key findings from the App Annie report on mobile users behaviors according to age group.
One thing that resonated with me was the clear disinterest the youngest group has in email. The report analyses the amount of time users spent each day using mobile apps. Unsurprisingly, the younger the age group, the more time the users spend on mobile devices and the more data they consume. But these users' choice of communications apps is particularly striking -. These young users have abandoned email for email alternatives like messaging apps.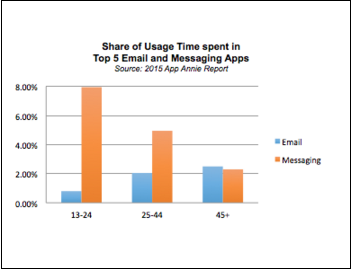 Considering how much time the young users spend on their phones, it makes one wonder whether they use email much on their desktops. The younger the users, the less they use email. Will generation Alpha abandon the email altogether?
It is interesting to think about what this evolution will mean to workplaces. Already teams use social apps and collaborative chats to interact in the workplace. As Millennials become the majority of the workforce, workplaces are bound to transform to accommodate new ways for people to communicate and work together on a larger, whole-enterprise scale.