Our latest major version eXo Platform 6 was released in late 2020, followed by eXo Platform 6.1 recently. They featured a number of improvements to functions, user experience, and design.
eXo Platform is now equipped with a multitude of features that help users to navigate the platform easily and enjoy a complete remote working experience. A redesigned task management application, a videoconferencing tool, and a brand new agenda are among the many additions in our latest releases.
In a previous blog post we introduced readers to the major changes we made to the agenda application. They include a new design, easy navigation and accessibility, a rich event creation process, and integration with built-in eXo Platform apps and with remote agendas from other calendar providers such as Google Calendar and Outlook.
We encouraged eXoers, community members, and clients to test the new agenda application, provide their feedback and suggest any changes they would like. The data we gathered gave our feature teams a better understanding of the usage metrics, and they assessed the areas that required attention.
For the last couple of weeks, a dedicated feature team has been adding to the capabilities of the agenda application and working on some new use cases and overall improvements.
Let's take a look at what's new.
It goes without saying that the event creation process can be fiddly. Participants' schedules can differ, leading them to skip meetings. Eventually, this can affect productivity.
This is why we thought of adding a date poll feature, to enable event creators to propose time slots for participants to choose from.
The new event creation process has the usual two main steps: selecting the event's details (name, space, location, participants, and description) and suggesting dates. The main addition is the "alternative dates" button. Clicking it takes you to the main agenda, where you can choose the time slots directly.
Once the time slots are selected, participants are instantly notified. Clicking on the notification takes them to a date poll menu listing the proposed dates. There, they can cast their votes and check the other participants' votes as well.
Once voting is completed, you will know more about the availability of each participant and their preferred dates. You can then complete the event creation process and send the final invite with the agreed date and time.
In rare cases, participants may choose the same date for another event, by error. We have therefore introduced a warning sign within the date poll menu, right next to the date in question. Once clicked, a drawer will appear showing the event or the vote that conflicts with the proposed date.
Full integration with the native gamification system
As is the case with other eXo Platform native apps, the agenda application is now fully integrated with the built-in gamification system.
Upon completing each action within an agenda, you will be rewarded with points. The points awards for each individual action are set by the platform administrator. The actions include: Event creation / update / answer, date poll creation, and vote.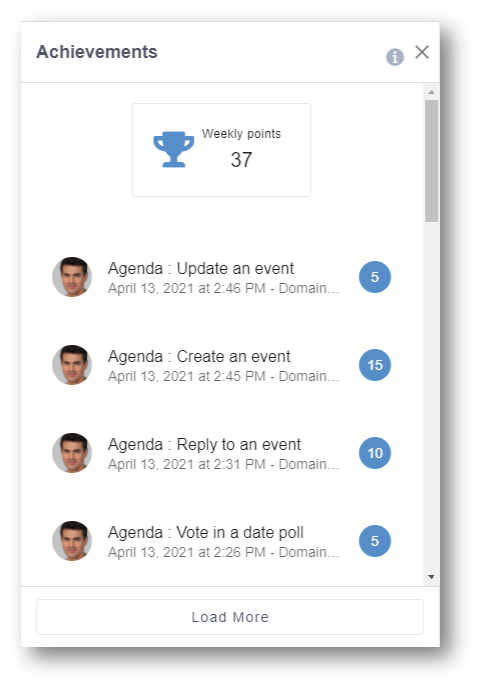 In addition to the functional changes, we have added to the new agenda application. Our teams of product specialists and designers have made minor UX and UI improvements to make the app more visually appealing and easy to navigate.
For example, a "pending invitations" drawer has been added. It gives users an overview of pending events, and the date polls they have created or been invited to.
In addition, some work has been done to accommodate the above new features within the mobile app, so that people on the move can easily navigate within the agenda application.
So, there you have it. We hope you will enjoy these improvements we have made to the agenda application. If you would like to test them for yourself, we invite you to check our community site here. For more details, you are welcome to contact us and to book a demo with our expert consultants.