Why we created our own cryptocurrency at eXo
When Bitcoin was first released in 2009, it marked the birth of a new currency and a new way of doing business and performing all sorts of transactions. The new currency and the technology it is based on (blockchain) were met with mixed reviews. Some believed that the technology has what it takes to disrupt the financial system, while others – mainly banks and financial institutions – were skeptical, labeling Bitcoin as a trend that would slowly disappear.
However, soon after the launch of Bitcoin, a number of cryptocurrencies like Litecoin and Ethereum emerged. These new currencies gathered huge momentum in the last couple of years as they represented an easy way for consumers to perform transactions all the while eliminating intermediaries like banks, consumer apps, and so on.
Convenience and ease of use didn't only appeal to the general public. Major institutions across different industries soon followed by contemplating or providing plans to launch their own cryptocurrencies. Facebook's Libra and JP Morgan's JPM Coin are prime examples of the many companies that were willing to join the digital currency race. The motives behind such actions differ among these companies, depending on their industry, products or services. Use cases range from online shopping and international payments to an internal currency used primarily by an organization's employees.
In this blog post, we will define our own cryptocurrency and explore the top reasons for what made us bet on blockchain for our future innovations.
eXo Wallet and Cauris: what are they?
In late 2018, we introduced the eXo Wallet, a built-in digital wallet solution based on the Ethereum blockchain technology. Ethereum is an open-source, public, blockchain-based decentralized platform used to deploy "smart contracts" and implement tokens through the ERC20 standard.
We decided to name the tokens "Cauris" after "Cowry" – a popular form of currency used in different parts of the world, like Asia and Africa, in ancient times. With Cauris, eXoers can send and receive payments for various services, perks and more.
Below are the main reasons that pushed us to introduce Cauris into the workplace.
Integrate with our built-in gamification system
Long before the introduction of the eXo wallet, our development teams have been working on a new and innovative way to engage employees and improve their overall work experience. The result was a gamification system natively built into the platform. In a nutshell, gamification represents a system for the automatic allocation of points and badges to users for their activity within the platform. Features like leaderboards, domains and badges are designed to encourage users to contribute and interact with their peers' work.
The success and wide adoption of gamification internally paved the way for our own currency system. In addition to the fun it brings to the workplace and ability to engage users, combining gamification and the eXo Wallet brought tangible rewards to our gamification system. Every month, gamification points earned are converted into tokens and paid to every employee as a reward for their engagement. The more you contribute and share, the more points you gain and the more Cauris you earn.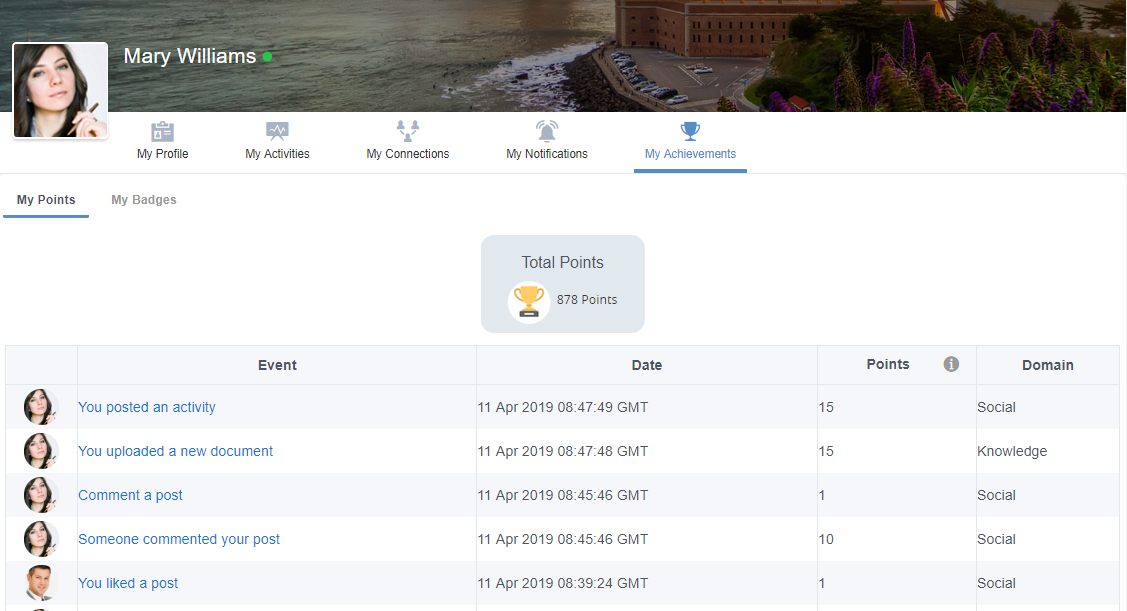 Recognize employees with the kudos add-on
Kudos are a great way to encourage peer-to-peer recognition and to improve engagement. In our latest version, we brought kudos one step further with a seamless integration with the eXo wallet. Every time a user sends a kudos to his/her peers, he/she will earn two cauris. Based on our internal experiment, we found that combining intrinsic and extrinsic rewards helped exoers get engaged and feel more valued and willing to praise each other.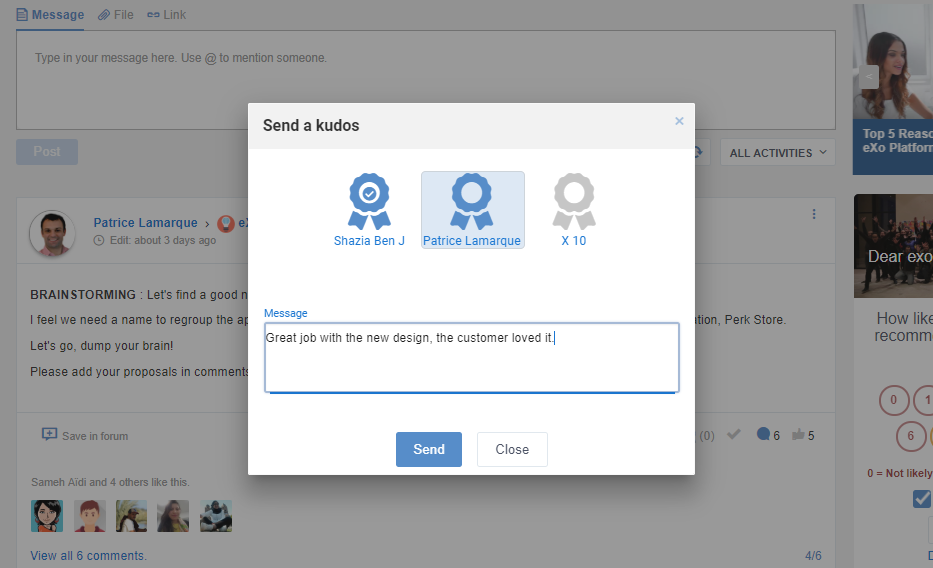 Allow users to purchase and post perks
Once a user collects his/her gamification and recognition rewards, he/she needs somewhere to spend them, otherwise they will be worth nothing. That's why we developed the Perk Store. The Perk Store is an internal marketplace where employees can use their Cauris to purchase perks posted by the HR department or by their peers.
Over the past few months, we have been experimenting with a number of use cases for the Perks Store. Office cafeteria, team-building events and training classes are among a host of activities that can be posted and purchased by eXoers. These activities have proven to be effective at improving employees' work experiences and providing meaningful ways for them to spend their hard-earned Cauris.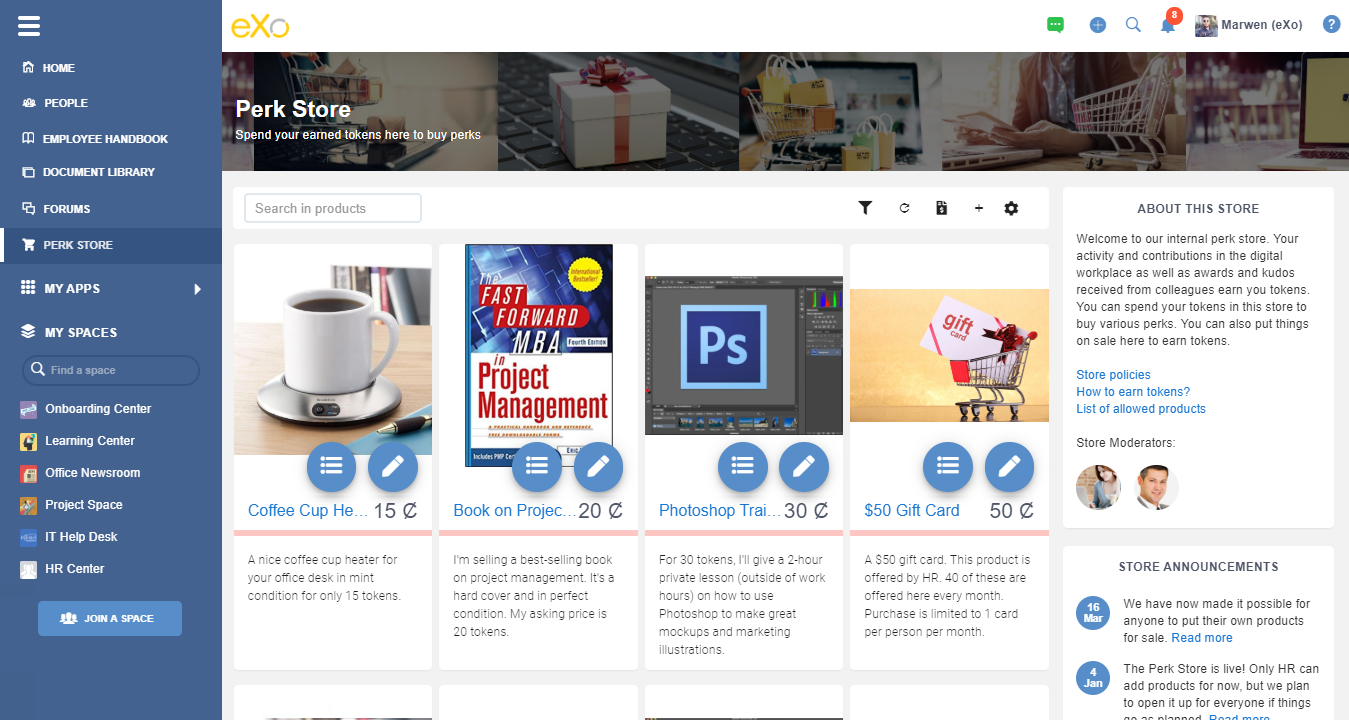 Communicate, collaborate, empower and reward represent the four main pillars of the eXo Platform. Over the last year, we have been investing heavily to meet the growing demands of our clients and help them improve engagement and reduce turnover rates. Furthermore, with our latest version, we have been trying to adapt to the generational shift in the workplace as employees value recognition and want cool and innovative features to be seamlessly built into their digital workplace.
If you would like to know more about the eXo Wallet, cauris and rewards program, make sure you take the blog tour and subscribe to our newsletter.
For a more in-depth look at our features and offers, we suggest you get in touch with our experts.
Where to go from here: