Transform your business with a social intranet
Boost employee engagement
A social intranet connects employees to coworkers, tools, documents and information, giving employees a voice and promoting the sense of belonging
Leverage company knowledge
An open source intranet allows you leverage collective knowledge and intelligence to find innovative solutions to business problems, crowdsource ideas, gather feedback, and more.
Increase productivity
A social intranet is specifically designed to focus on each employee, providing them with a unique place to interact, learn, work, share and keep up to date on what is happening in the company
Key Benefits of a Social Intranet software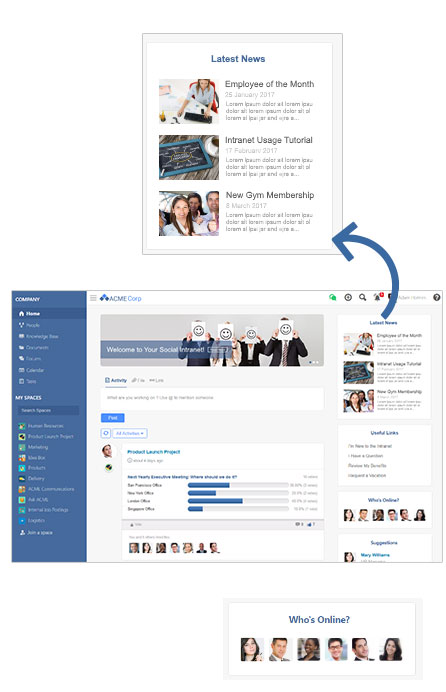 Boost employee engagement with social enterprise features
Company-wide searchable Profiles allow employees to search for potential connections using their colleagues' background, experience, skills and other information provided by them.
Spaces, with preinstalled collaboration tools, are used to create private group environments where employees can interact and collaborate on a project or in a community of interests.
An Activity Stream provides an efficient channel to communicate corporate information in an open and engaging way, supplementing formal news announcements. Companies implementing a digital workplace also use their company intranet to share success stories, recognize internal achievements, and reward initiatives and successful ideas.
Building a personal network within the company, interacting every day with co-workers everywhere, keeping informed about what is happening in the company – all create a sense of belonging, align employees to company objectives and boost their engagement.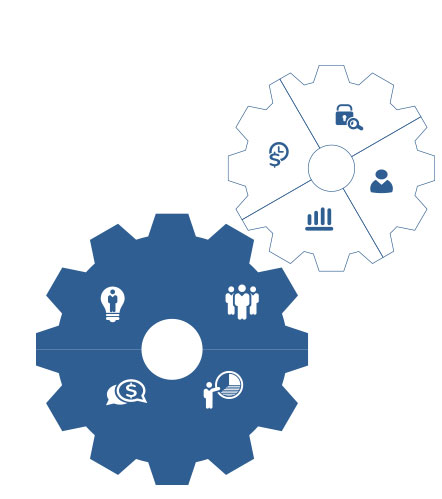 Leverage your collective synergies through social collaboration
eXo's social intranet comes with a set of preinstalled knowledge management tools that are cleverly integrated with the enterprise social network activity stream and designed to promote knowledge sharing across the company.
Employees can solicit collective intelligence via the enterprise social network to find a solution to business problems. Expert solutions and knowledge can be captured, stored, and shared via forums and wikis. New product ideas can be crowdsourced and submitted to obtain feedback with polls. Subject matter experts can be more easily identified through searchable skills and background experience on their profile.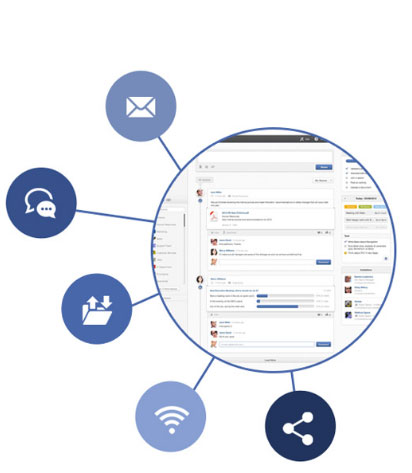 Each employee can filter their activity stream to focus on social interactions or on their work projects, staying up to date with all tasks with minimal disruption to their work.
Quicker information searches, fewer group emails, personalizable notifications to suit individual work styles, access to work projects from anywhere – all contribute to increased productivity while multitasking.
Who benefits most from eXo's social intranet software?
Distributed or multi-departmental organizations seeking to increase employee engagement and group cohesion
Companies willing to improve their communications and knowledge sharing
Companies looking to upgrade their intranet with social capabilities