This post is part of a series of articles that will introduce some noteworthy improvements to eXo Platform 4.4. Watch this blog for more product news in the upcoming weeks.
Notifications are an essential tool of digital collaboration. They allow us to stay connected or catch up with what's happening at our workplace while we are busy outside. However, depending on how you consume them, notifications can be very disruptive. So we've made a small improvement that will help minimize your interruption time.

Previously, notifications had shortcut links to the activity stream that enabled your engagement in a conversation. These links are essential to facilitating conversational interactions. However, sometimes we want to take a different action, such as approving a document, checking our agenda, or simply reading through a wiki page.
So from now on, email notifications for any content in eXo (documents, polls, forums, events, wikis, etc.) will include links to their original context.
An "Open" button has been added to email notifications that will open the content in the application that created them and in the space they came from.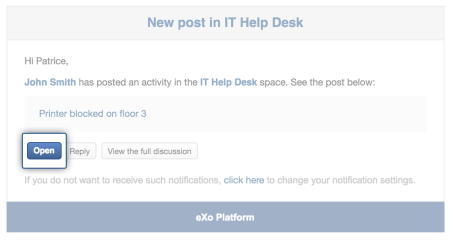 This improvement is in line with previous ones to the activity stream and search results that let you open documents in the Documents app.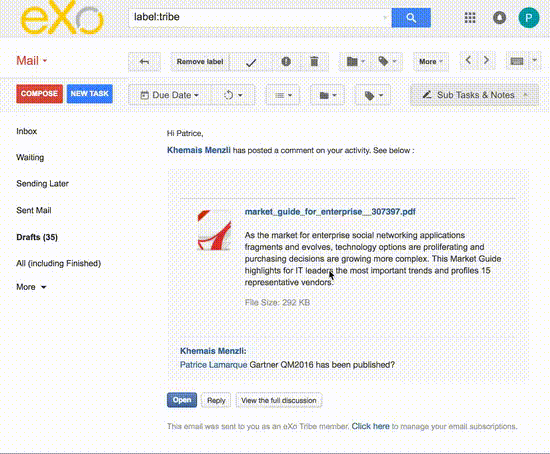 We hope this small improvement will help you work even more efficiently with your notifications.
Tell us what you think.
As usual, these improvements can be previewed immediately on the Tribe and in the latest milestone of eXo Platform 4.4 Community Edition. Let us know what you think. We'd love to hear your feedback.
Other articles in the series:
– Platform 4.4 Sneak Peek: Improved Document Activities
– Platform 4.4 Sneak Peek: Member Lists in Chat Rooms
– Platform 4.4 Sneak Peek: Improved Document Search results
– Platform 4.4 Sneak Peek: Invite People to Your Spaces More Easily
– Platform 4.4 Sneak Peek: Space Avatars on Activity Streams
– Platform 4.4 Sneak Peek: Opening Content in Context from Notifications
– Platform 4.4 Sneak Peek: Share Documents to Users
– Platform 4.4 Sneak Peek: Desktop Notifications for eXo Chat
– Platform 4.4 Sneak Peek: New Document Version History
– Platform 4.4 Sneak Peek: Text Formatting in Microblog and Comments