Platform 4.4 Sneak Peek: Improved Document Search results
This post is part of a series of articles that will introduce some noteworthy improvements to eXo Platform 4.4. Watch this blog for more product news in the upcoming weeks.
Documents remain the most frequently searched type of content in eXo Platform. Until now, the unified search results page only let you download a document. Since there is so much more you can do in eXo with your documents, we improved the document search results in the same spirit as what we did for document activities.

Here's what a document search result will look like now: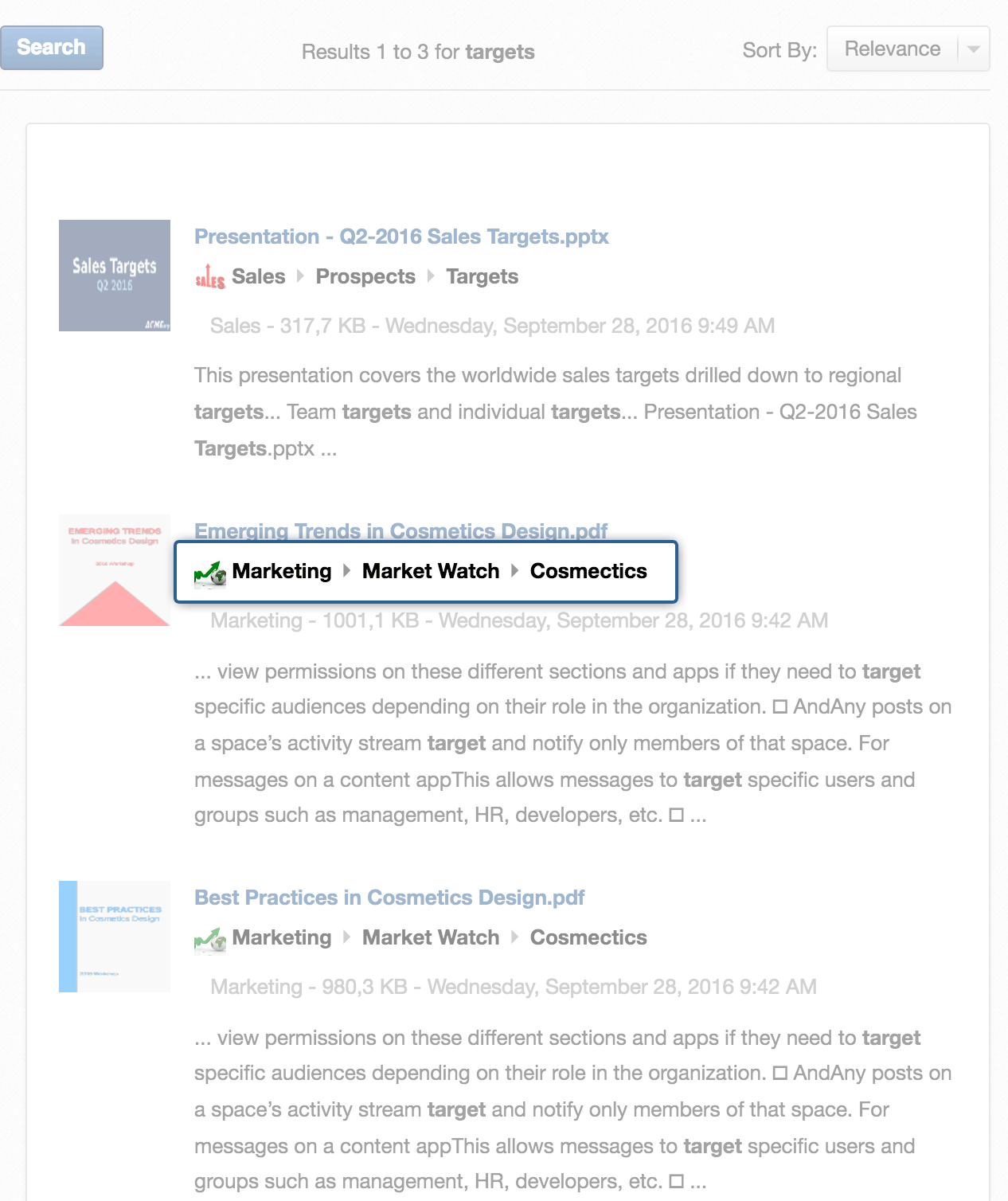 Now, imagine you are looking for a particular file. The first improvement is immediately noticeable. The location of the document is now clearly displayed with the avatar of the space and the path, which is very useful for distinguishing documents that have the same name.
Now, you may not necessarily always want to download the file, but rather collaborate on it. With eXo Documents, you can edit it, upload a new version, leave a comment, update a metadata field, etc.
So now, clicking on the document title will open the document in its original context. For instance, your quarterly sales targets presentation will open the Documents app of the Sales space.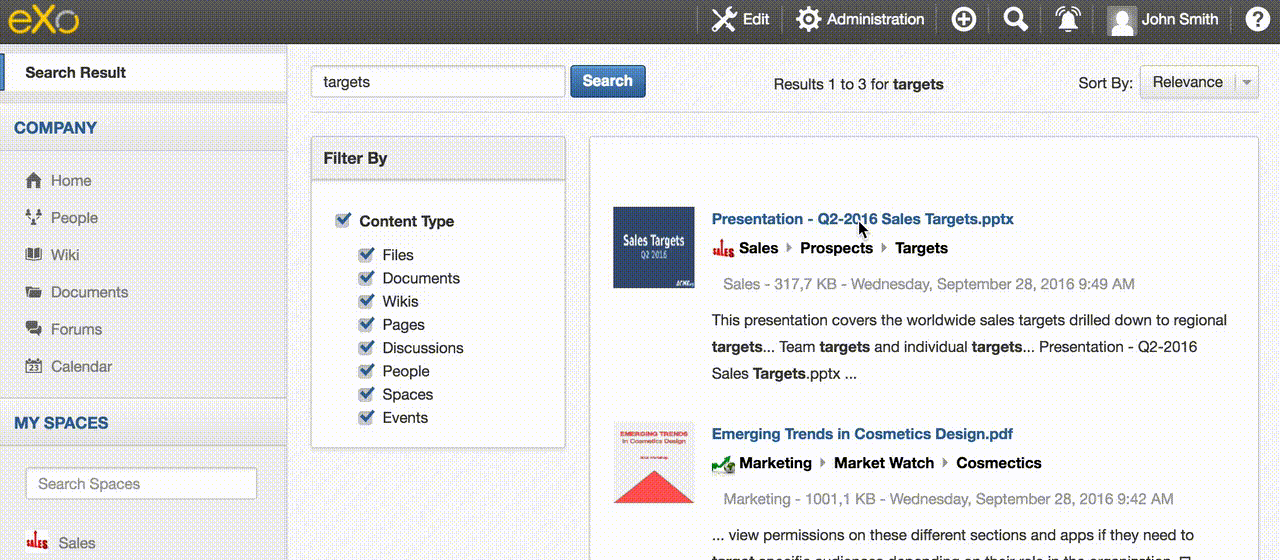 Now, sometimes we search without knowing exactly what we will find. In this kind of exploratory activity, it's useful to have a quick glance inside the document to decide if you want to use this one or skip to the next result. Clicking on the thumbnail in front of the search result will pop up the document preview interface over the search results.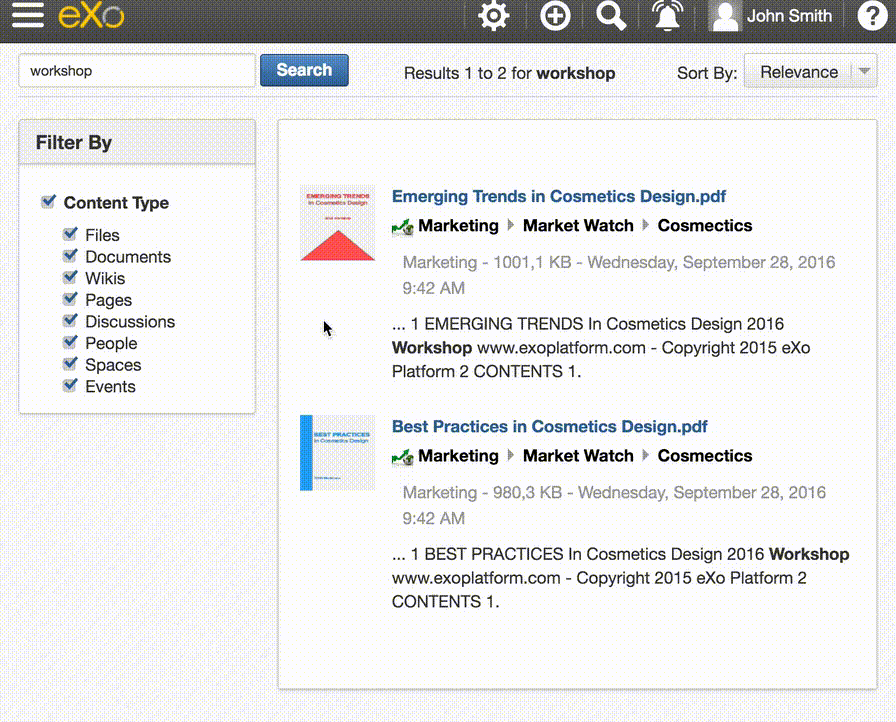 You can easily dismiss the preview with the close icon or by typing the ESC key. Or, if you need it, you can still download the file or open it in the Documents app via the new links provided at the bottom of the preview interface.
Finally, the floating results in the quick search field will also directly open a preview.
We hope these improvements will help make your documents more accessible and will let you collaborate more naturally on them.
Tell us what you think
As usual, these improvements can be previewed immediately on the Tribe and in the latest milestone of eXo Platform 4.4 Community Edition. Let us know what you think—we'd love to hear your feedback.
Other articles in the series:
– Platform 4.4 Sneak Peek: Improved Document Activities
– Platform 4.4 Sneak Peek: Member Lists in Chat Rooms
– Platform 4.4 Sneak Peek: Improved Document Search results
– Platform 4.4 Sneak Peek: Invite People to Your Spaces More Easily
– Platform 4.4 Sneak Peek: Space Avatars on Activity Streams
– Platform 4.4 Sneak Peek: Opening Content in Context from Notifications
– Platform 4.4 Sneak Peek: Share Documents to Users
– Platform 4.4 Sneak Peek: Desktop Notifications for eXo Chat
– Platform 4.4 Sneak Peek: New Document Version History
– Platform 4.4 Sneak Peek: Text Formatting in Microblog and Comments