Platform 4.4 Sneak Peek: Improved Document Activities
This post is part of a series of articles that will introduce some noteworthy improvements to eXo Platform 4.4. Watch this blog for more product news in the upcoming weeks.
When a lot of information arrives in the activity stream, it's easy to get confused about where things are coming from. In addition, we've heard feedback from some users who needed a way to reach the original location of a document that was shared in the activity stream.
Based on that feedback, we made some changes to give users a bit more context and to create better behaviors for document activities. Here's an example of what a document's activity may look like now.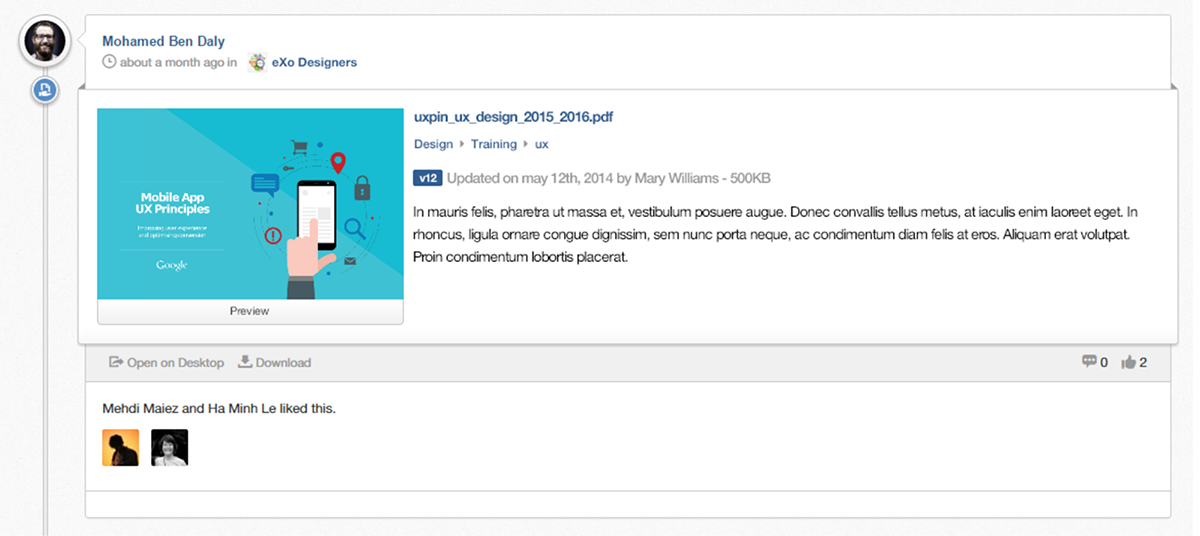 Clicking on the thumbnail image will open the full document preview on top of the activity stream. That's how it worked before, but now we've added a Preview button to make it slightly easier to access the document preview.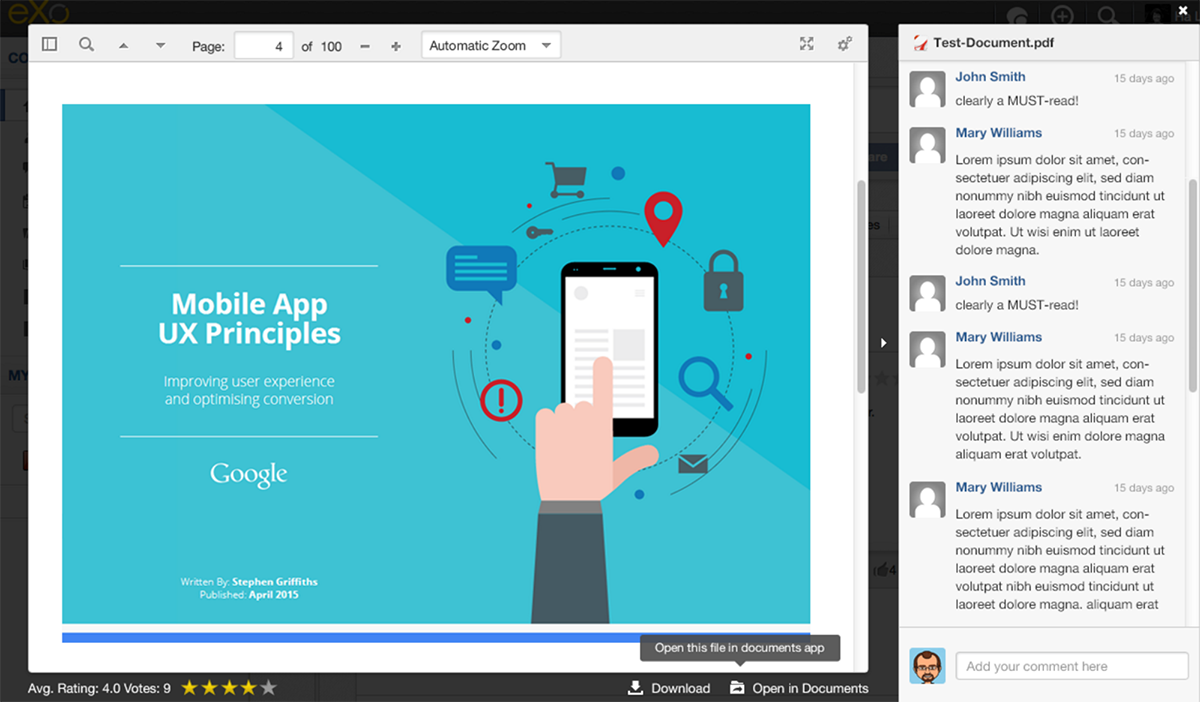 You can use this when you just want to take a quick look at a document and you don't need to do more than read and comment on it.
If you need to do more, we have added a Open in Documents link that will take you directly to the documents app. If you want to read the document offline, we have also added a Download link there.
Back in the activity stream, you will find that clicking on the file name link will take you directly to the Documents app, just like when you click on Open in Documents. If the document was shared from a space, you will be taken to the Documents app inside this space. From there, you have full access to all the collaborative features offered by the Documents app, such as remote editing, versioning, and commenting.
One last change to document activities is the addition of a clickable breadcrumb path representing the path to the document in the space.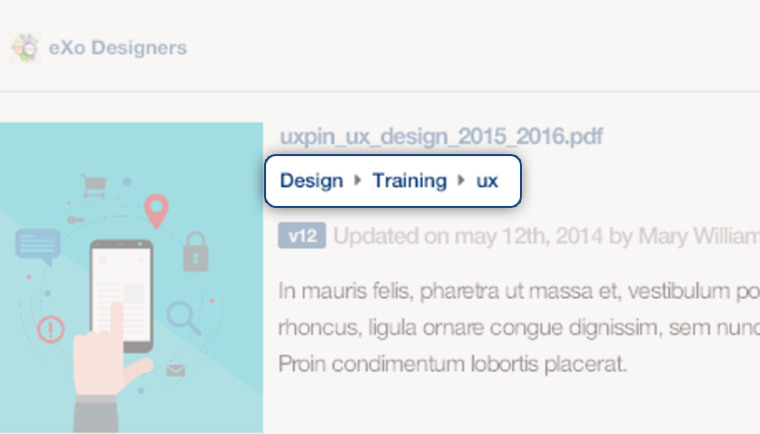 As you'd expect, each segment of the breadcrumb path will take you to the related spot in the path in the Documents app. This breadcrumb path, combined with the file name and description, helps you make more sense of the context around a document's activity.
Tell us what you think
These improvements can now be previewed on the eXo Tribe. If you prefer, you can also try them on your server by downloading the latest milestone of eXo Platform 4.4 Community Edition. Let us know what you think—we'd love to hear your feedback.
Other articles in the series:
– Platform 4.4 Sneak Peek: Improved Document Activities
– Platform 4.4 Sneak Peek: Member Lists in Chat Rooms
– Platform 4.4 Sneak Peek: Improved Document Search results
– Platform 4.4 Sneak Peek: Invite People to Your Spaces More Easily
– Platform 4.4 Sneak Peek: Space Avatars on Activity Streams
– Platform 4.4 Sneak Peek: Opening Content in Context from Notifications
– Platform 4.4 Sneak Peek: Share Documents to Users
– Platform 4.4 Sneak Peek: Desktop Notifications for eXo Chat
– Platform 4.4 Sneak Peek: New Document Version History
– Platform 4.4 Sneak Peek: Text Formatting in Microblog and Comments