eXo Platform 4.0.1 Enterprise Edition is out!
On April 30th, we announced the availability of eXo Platform Express Edition.
Today, we are happy to announce that the Enterprise Edition is now Generally Available.
Last week, we launched the Enterprise Edition of eXo Platform 4.0. It is a beautiful and highly extensible open-source platform.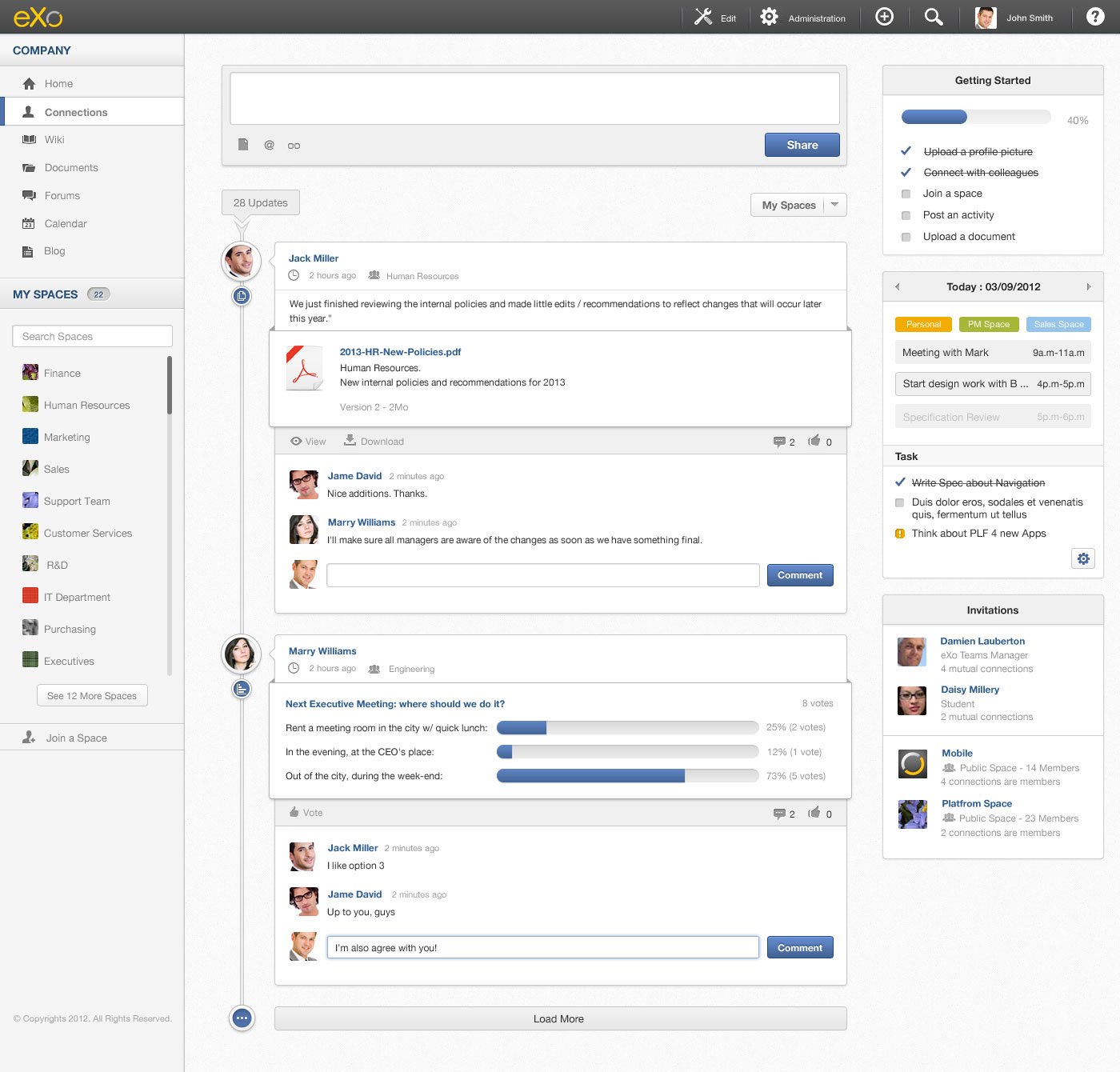 In this latest version:
Readability and balance of our product homepage, one of the key elements of eXo Platform 4, have been improved.
Rich collaboration features such as wikis, forums, calendars, and documents are smartly integrated around activity streams, social networking, and workspaces.
The intuitive and modern user interface has been carefully designed to instantly engage users: we changed more than 400 screens!
A totally new and redesigned navigation scheme makes it easier for users to find what they need.
Files and Documents Management, one of the oldest and core features of our platform, has already benefited from this global renewal (Upload in Progress Bar, Multi-Upload Feature, Unified Search, etc.).
The wiki application user interface received a lot of small enhancements, as well.
And there's much more to discover.
eXo Platform 4 Enterprise Edition begins a new 4-year maintenance cycle; this version will be supported until July 2017 (find more details in our maintenance program).
Note: Actually eXo Platform Enterprise Edition is eXo Platform 4.0.1. The first official maintenance release, expected in September 2013, will be eXo Platform 4.0.2.
Shipping Notes:
Starting with eXoPlatform 4.0, we introduced copy protection in the form of an activation key. By default, the binaries will be limited in time for use. To unlock the software, please open a case on our support site with the title "Activation Key Request for Enterprise Edition."We will provide an activation key that you can then install.
Note that you need to have an active subscription to benefit from an activation key.
If you are running a previous version of eXo Platform (such as All-In-One, eXo Platform 3.0, or eXo Platform 3.5) and wish to migrate to eXo Platform 4, please contact your Sales Account Manager. She will analyze your current situation and work with an eXo GPS representative to scope your migration.
Note that we have already migrated our community website to eXo Platform 4; this will no doubt be a huge improvement in the way we all interact within the community. Our new platform product has a very smooth learning curve, so we added plenty of features that are just waiting for your contributions.
The intuitive and modern user interface of eXo Platform 4.0 required us to improve our documentation website.
Thank you for your interest in eXo.