eXo Platform 4.3 Released: Collaborate Productively!

I'm happy to announce that eXo Platform 4.3 has been released. The Enterprise edition is being shipped to customers starting today and a free trial can be downloaded!
After improving real-time collaboration and user engagement, eXo Platform 4.3 emphasizes productivity. Being able to collaborate productively is critical to our work experience. No matter if you are working alone or in a team, no matter if you are working on-site or remotely, no matter if you are working on your desktop computer or your mobile device, eXo Platform 4.3 will let you get more done, more easily.

During the past few months, we've talked extensively about these new exciting productivity tools. Now that they are finally packaged all together, let's summarize what you'll find in our most ambitious release to date!
Task Management
Responsive Web Layout
Share Documents
Simplified Document Versioning
Improved Video Calls
New Templates
Connect with Social Networks
Forgot Password
Administrative Features
Developer Features
Task Management
This has been the most requested item in the past year. Collaborating efficiently often requires some structure. Our brand-new integrated task management system allows individuals and teams to capture, manage and work on tasks and projects productively. Read more…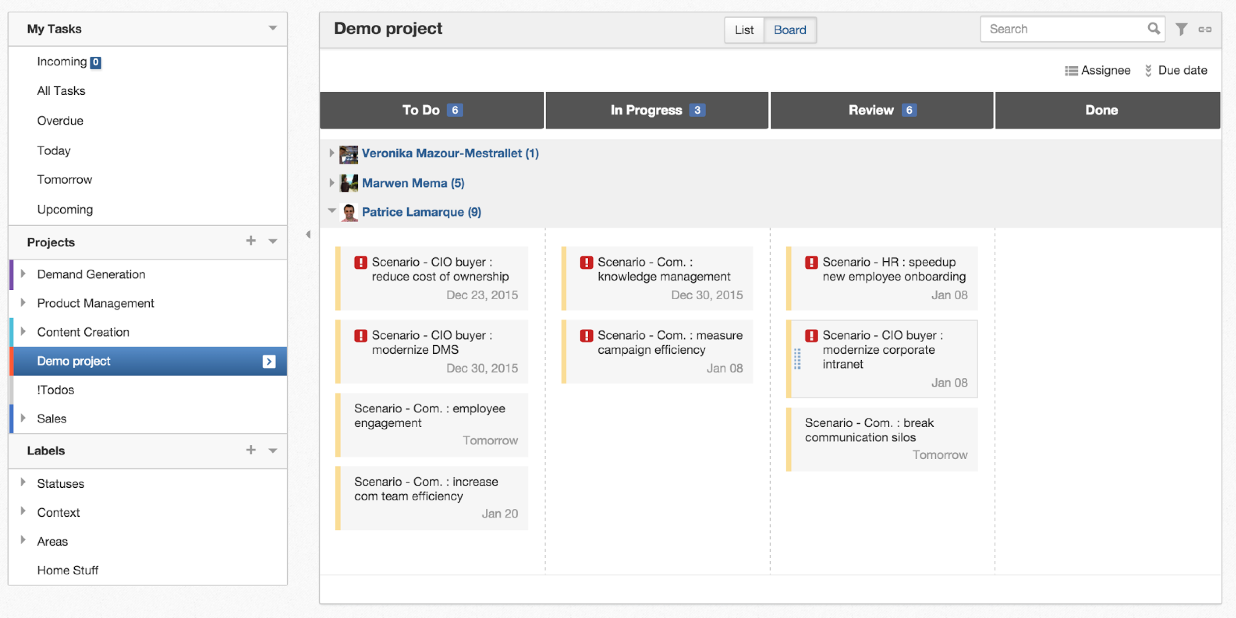 Responsive Web Layout
Working efficiently from anywhere has become an imperative for many of us. That's why eXo Platform now looks and works better on your smartphone and tablet. We have redesigned the home page and navigation to give you a better experience. Read more…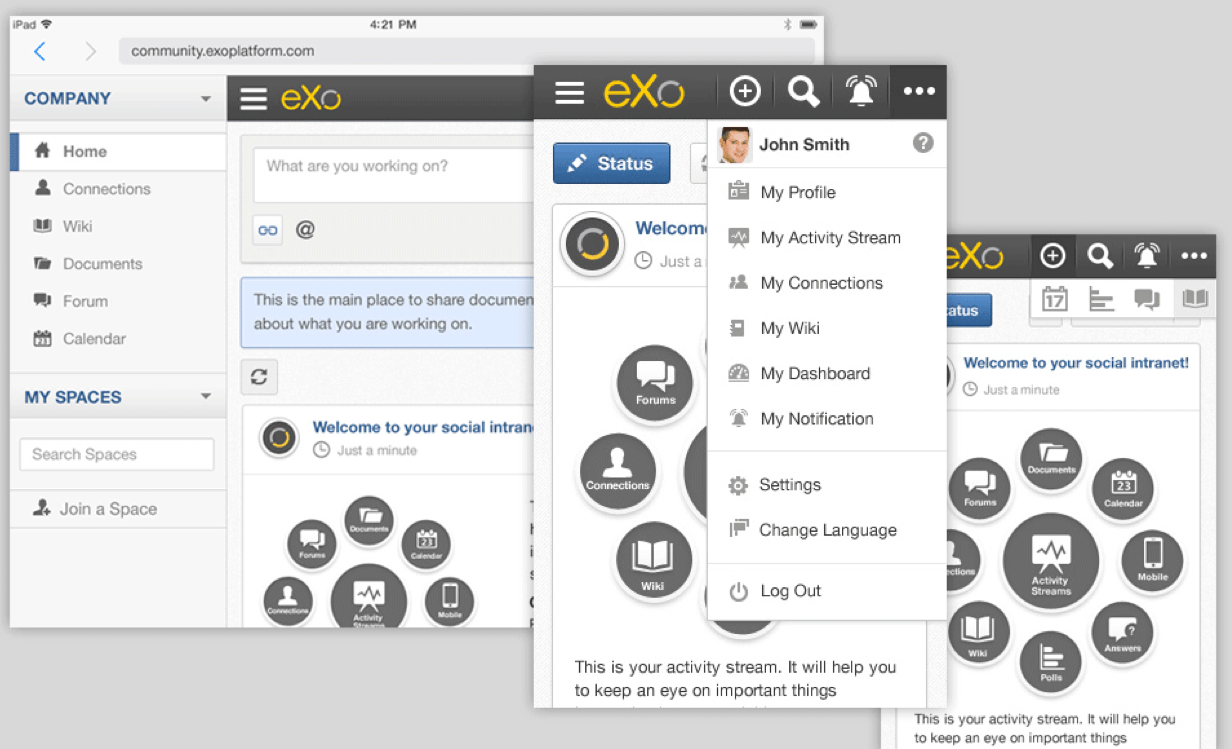 Share Documents
When you're working with others, the most common interaction is sharing a document, either for reading or for editing. Our new document-sharing feature should make it easier to share documents and let others know about any changes. Read more…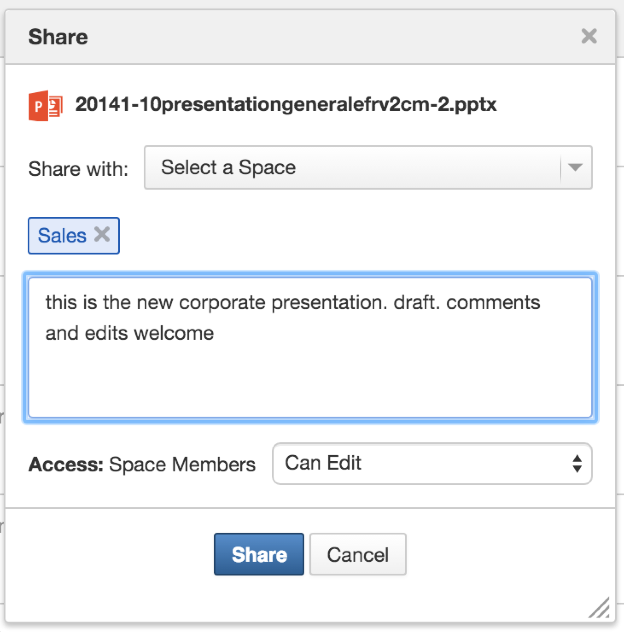 Simplified Document Versioning
I like to say that a good feature must empower users without getting in the way. This is exactly what we aimed at in reviewing document versioning. You can now edit documents freely, and versions will be managed for you. Read more…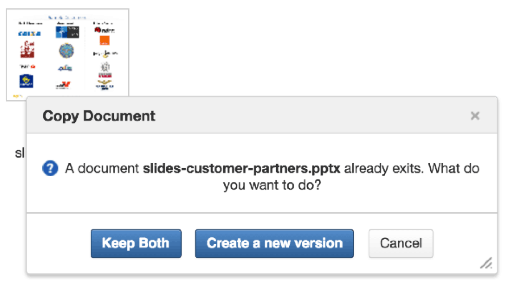 Improved Video Calls
Very often a quick call can save hours of sending emails or chatting back and forth. We have updated the video-calling experience to improve the stability and provide better audio and video quality. Video calls now work as a browser plugin for Firefox and Internet Explorer. Chrome users will happily enjoy native support (no plugin to install!) thanks to our support of the WebRTC standard. Read more…
New Templates
eXo Platform has always had strong content management capabilities. With the new template pack in this new release, it will be even easier to build a modern and good-looking website for your company or its landing pages. Read more…
Connect with Social Networks
People building an online community with eXo Platform will be happy to hear that they can now provide their members an option to log in via Facebook, Google, LinkedIn, Twitter or any other oAuth compliant service out there. Read more…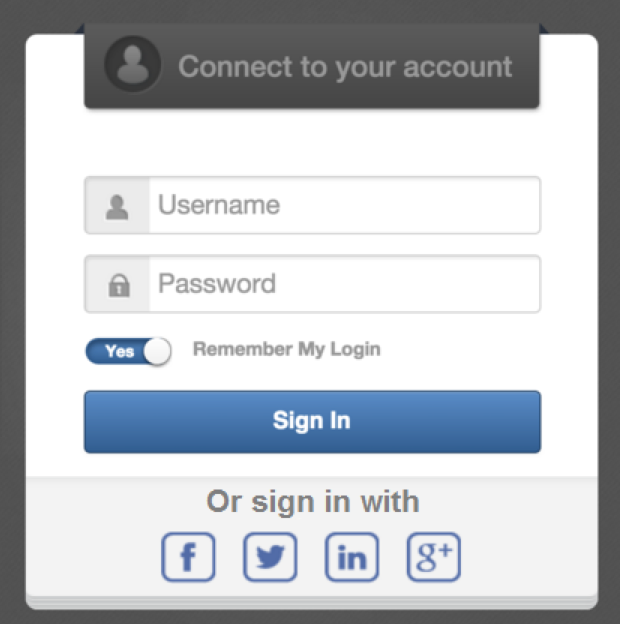 Forgot Password
We finally added a much requested solution for people who have lost their credentials. eXo Platform can now help them to generate a new password. Read more…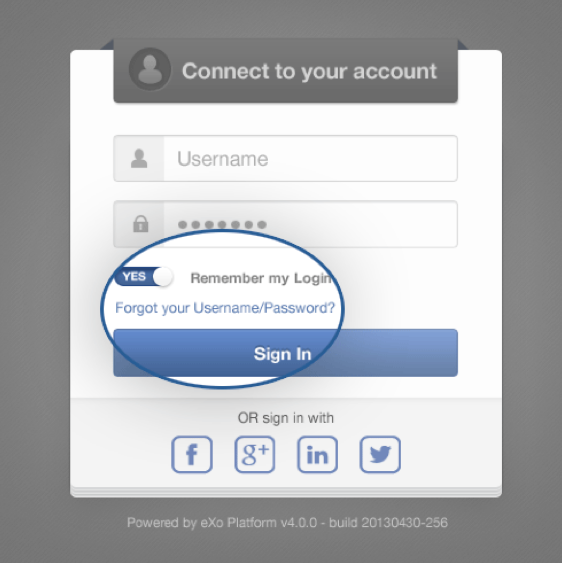 Administrative Features
As usual, we've listened to the requests of IT administrators and built some goodies for them:
Disable user accounts: temporarily suspend a user account
Clustering on Tomcat: Scale your eXo Platform setup easily with Tomcat
Java 8 support: Latest version of Java(tm) is now officially supported
Developer Features
Last, but not least, we've added a couple of developer features:
Social REST API: a brand new RESTful API for the social layer in eXo Platform
CDI support for portlets: standard Java EE component injection is finally available for portlets
How to get eXo Platform 4.3 ?
Ready to take the plunge? Have a look on the tribe where you can play with all these features and then rush to downloads section to try it for yourself.
You can download native installers for Windows, Linux and Mac. But also – and it's new – virtual machines for VirtualBox and VMWare.
Enjoy!
Let us know if the post has been helpful to you by leaving a comment or contacting us!