eXo Platform 4.4 Released: Work Better with More Context!
I'm happy to announce that eXo Platform 4.4.0 has been released. This marks the general availability of eXo Platform 4.4 including for eXo customers. The Enterprise edition is being shipped to customers starting today and a free trial can be downloaded.
As with each previous version, we tried to stick to a common theme for all the enhancements that we've packed into eXo Platform 4.4. After dealing with productivity, user engagement, and real-time collaboration, we've now looked into contextual work. This means giving hints and a better sense of the context for a piece of information to help users make better decisions, faster.
For those who are following us closely, 4.4 is probably already old news because we've published already 32 milestone releases and blogged about the features as they became available! Fellow Tribe members have enjoyed the latest improvements (and glitches!) along the way via weekly updates.
This aggressive schedule turned out to be extremely useful in helping us to identify some problems early, gathering user feedback, and making adjustments. And since it has been running in production for 6 months already and has had an extensive QA campaign, we're more confident than ever that eXo Platform 4.4 is not only production-ready abut also user-proof!
Alright, enough rabbiting. Let's open your first eXo present of the year to see what's inside!
Documents
Document activities will now reveal more information about the location of documents and allow you to preview them or navigate to the document explorer more easily. Read more…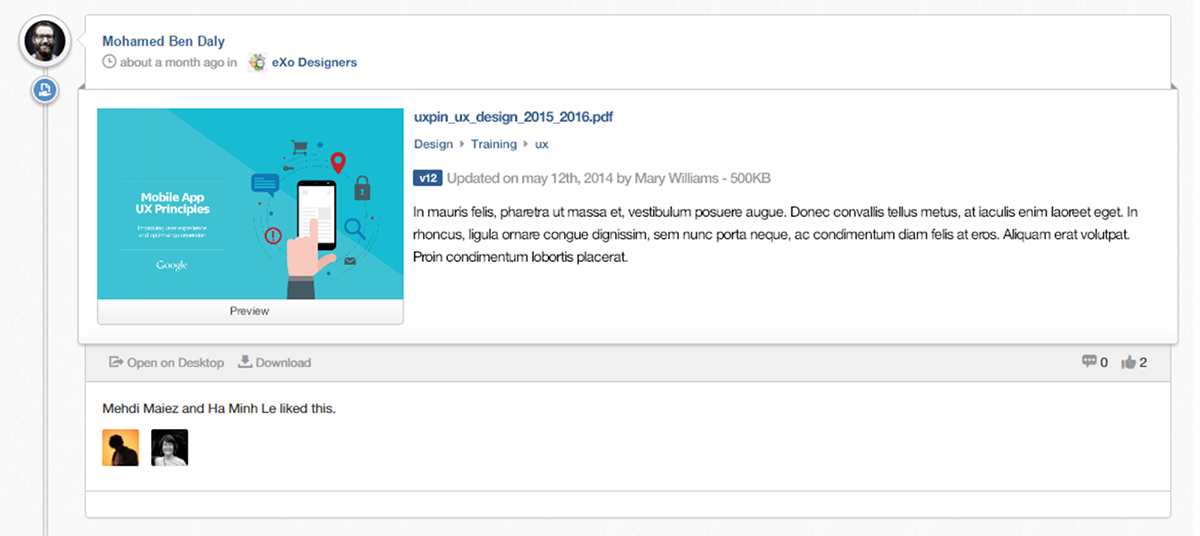 In the same vein, the search results for documents have been enriched so you can understand better where the results come from and you can preview the documents, whether you are looking for a specific document or not. Read more…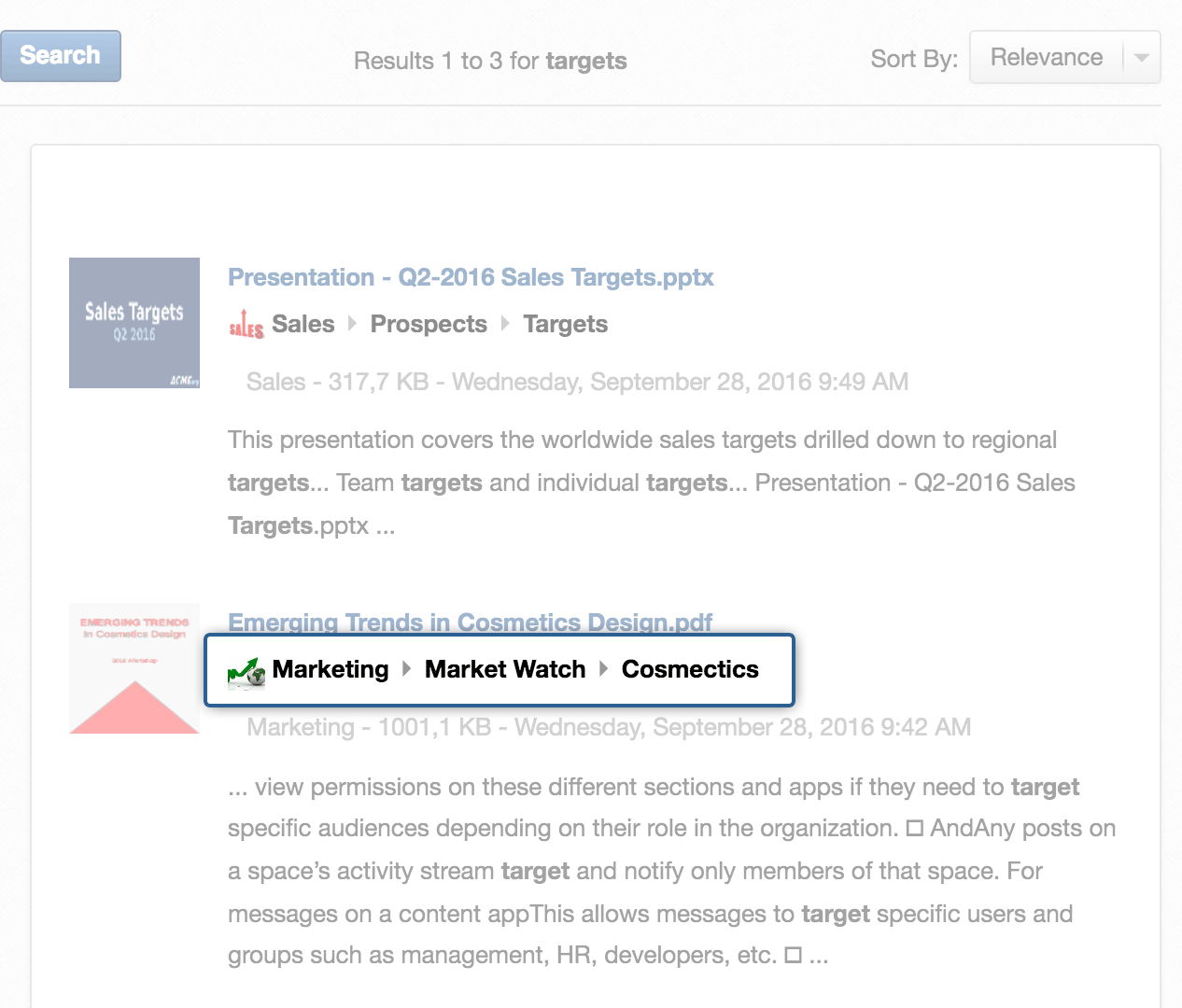 Document sharing has also been enhanced with a redesigned interface to allow you to share just as easily with people as with spaces.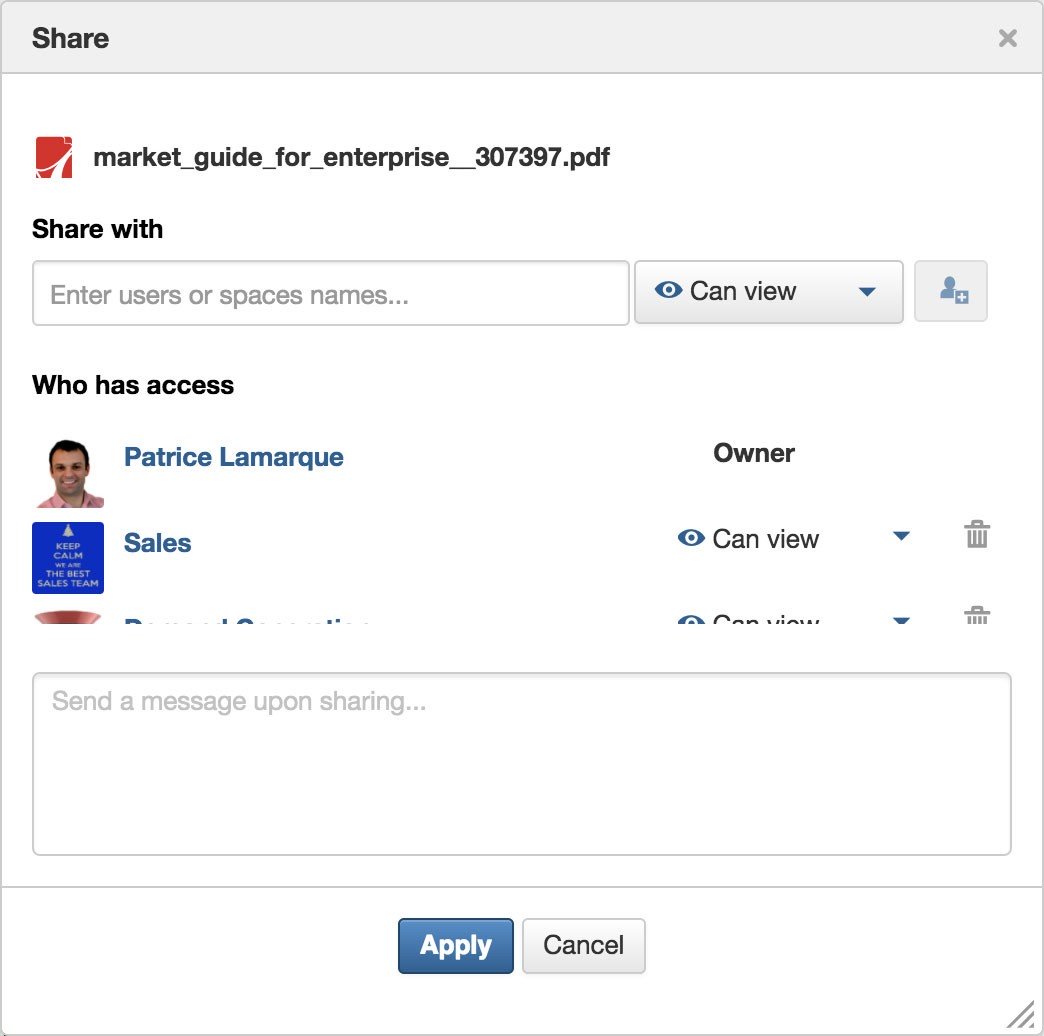 Always in line with the improvements introduced in the previous version, we have completely redesigned the version history management screen, making it simpler, easier to use, and more like the version history of the wiki pages.
Notifications
With the aim of linking information to its context, email notifications now have an Open button that allows you to access the associated content directly in its context.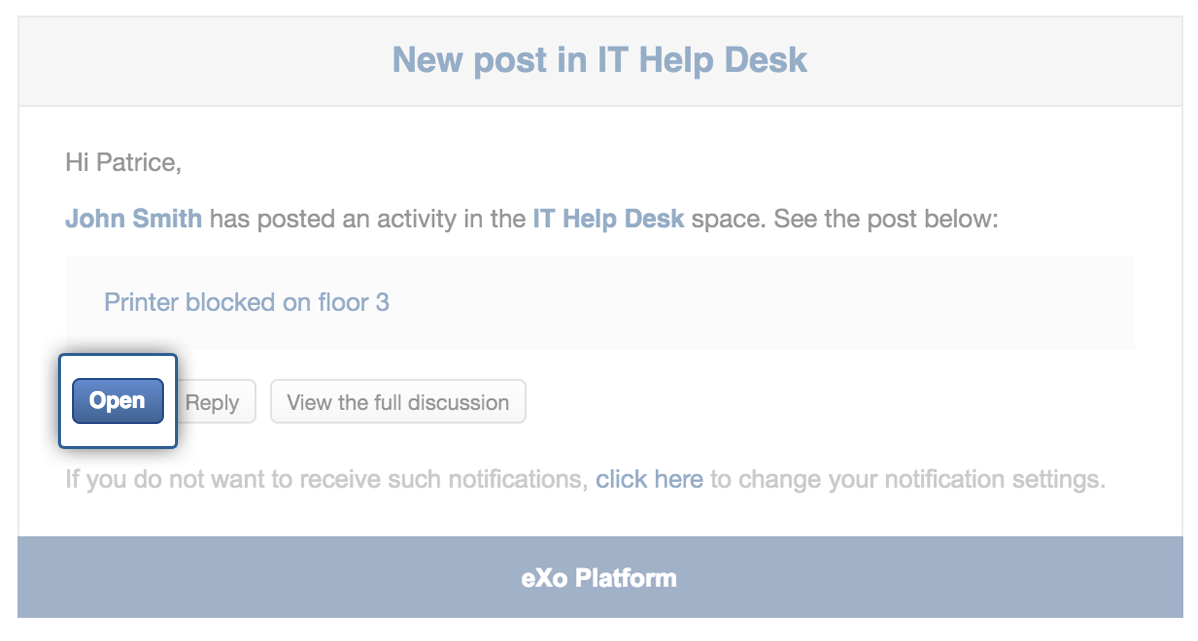 By the way, we added a pair of new notifications for document sharing. Read more…

Also, the chat application has been given desktop notifications, to alert you even when you don't have it open. Read more…

Activity Streams
Still on the topic of context, you should be able to scan and process your streams more efficiently because each activity clearly indicates the space from which it comes. Read more…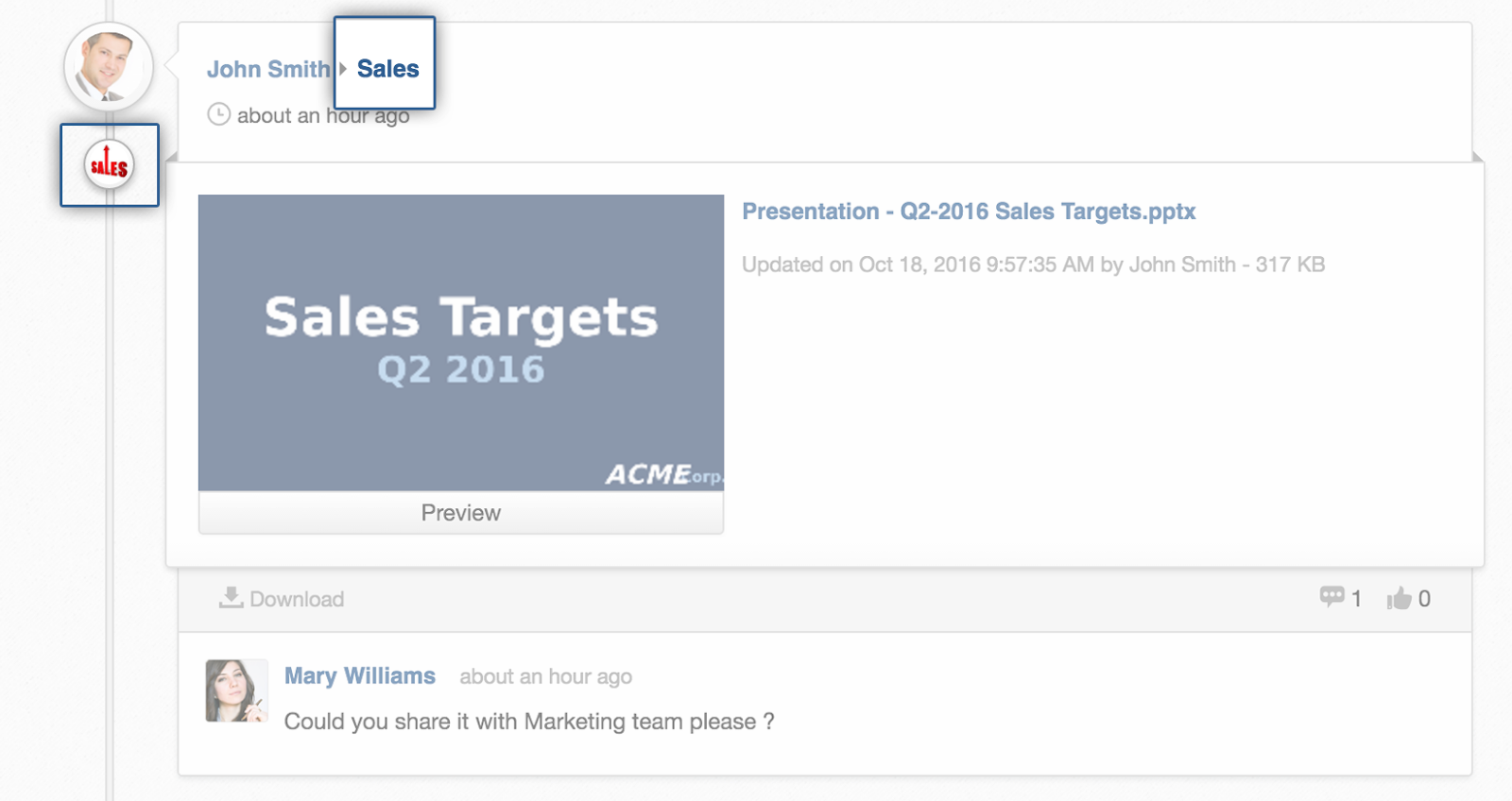 Your activity streams will now be richer and more visually appealing because we have added a rich text editor to the comments and the microblogging functions, offering you some formatting capability. Read more…

As a bonus, the activity streams load faster thanks to a major rewrite and optimization, which we will discuss at the end of the article.
Chat
In addition to desktop notifications, the chat has a new panel indicating which participants are in a chat room and their presence status. Read more…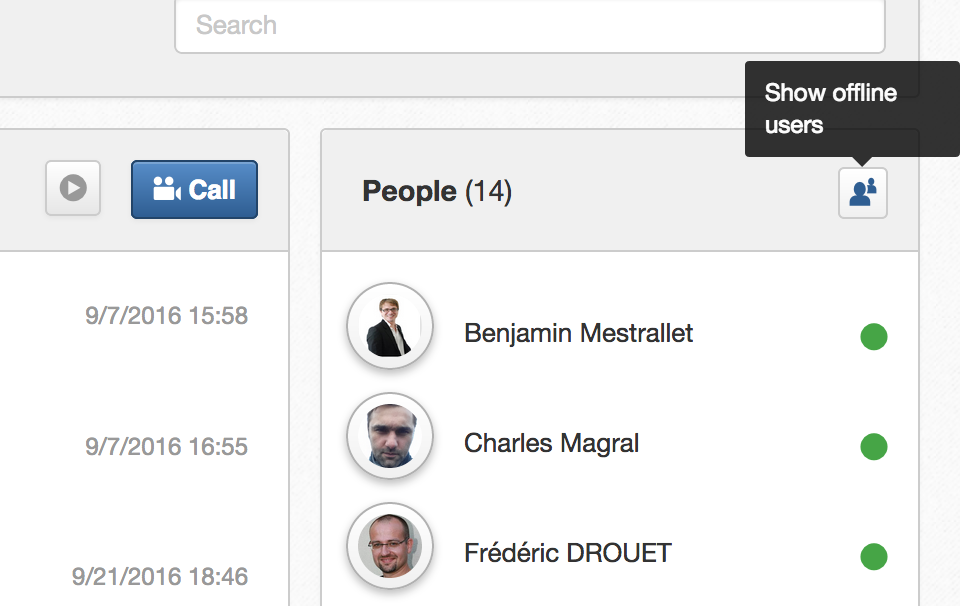 The chat application is now mobile friendly. You can enjoy conversations on the move with a design optimized for smartphones. Read more…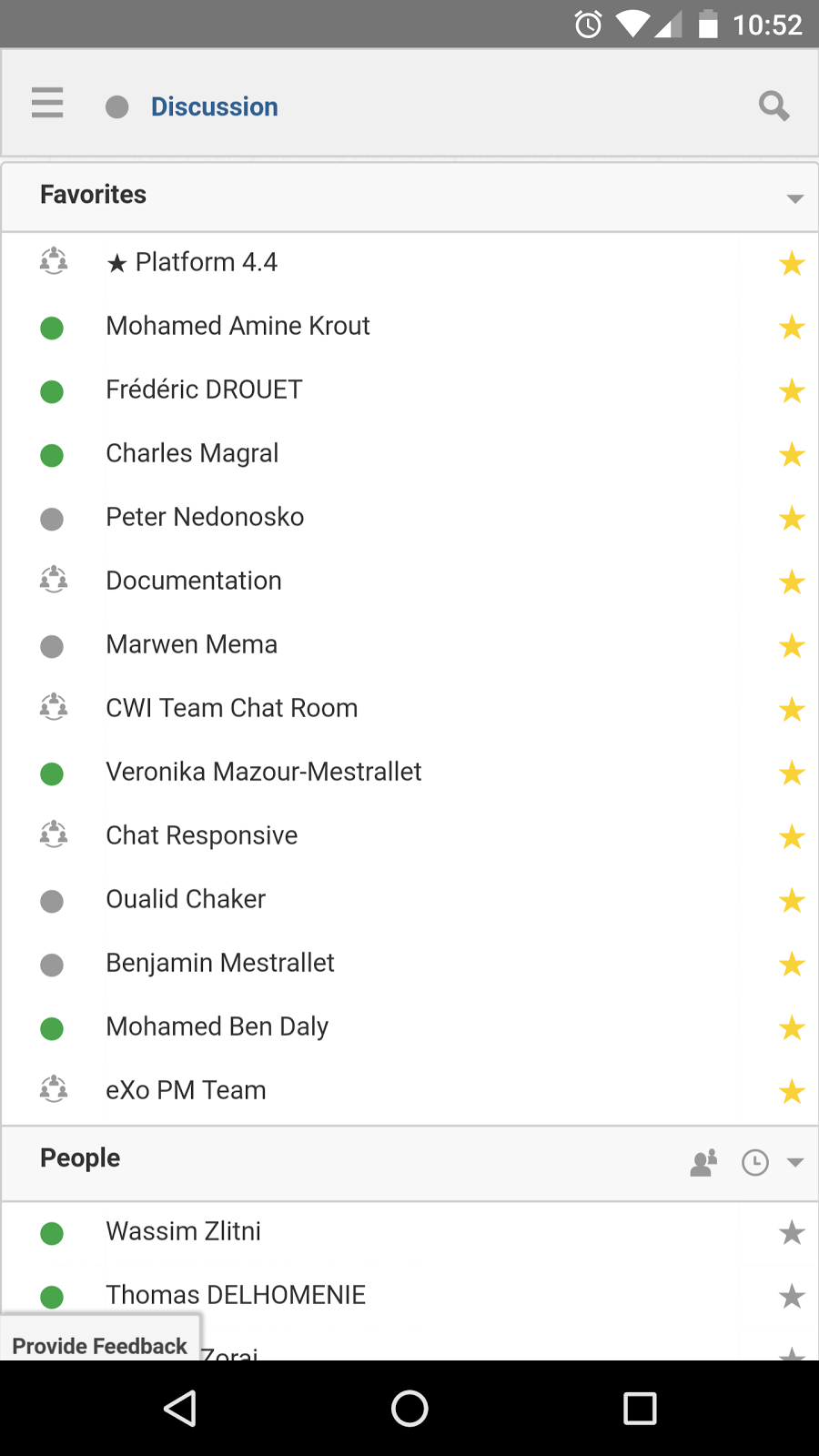 Spaces
As a space administrator, you will be pleased to know that we have improved the interface for inviting space members with a brand new component that not only makes suggestions to you as you type, but can used to invite all the members of another space. Read more…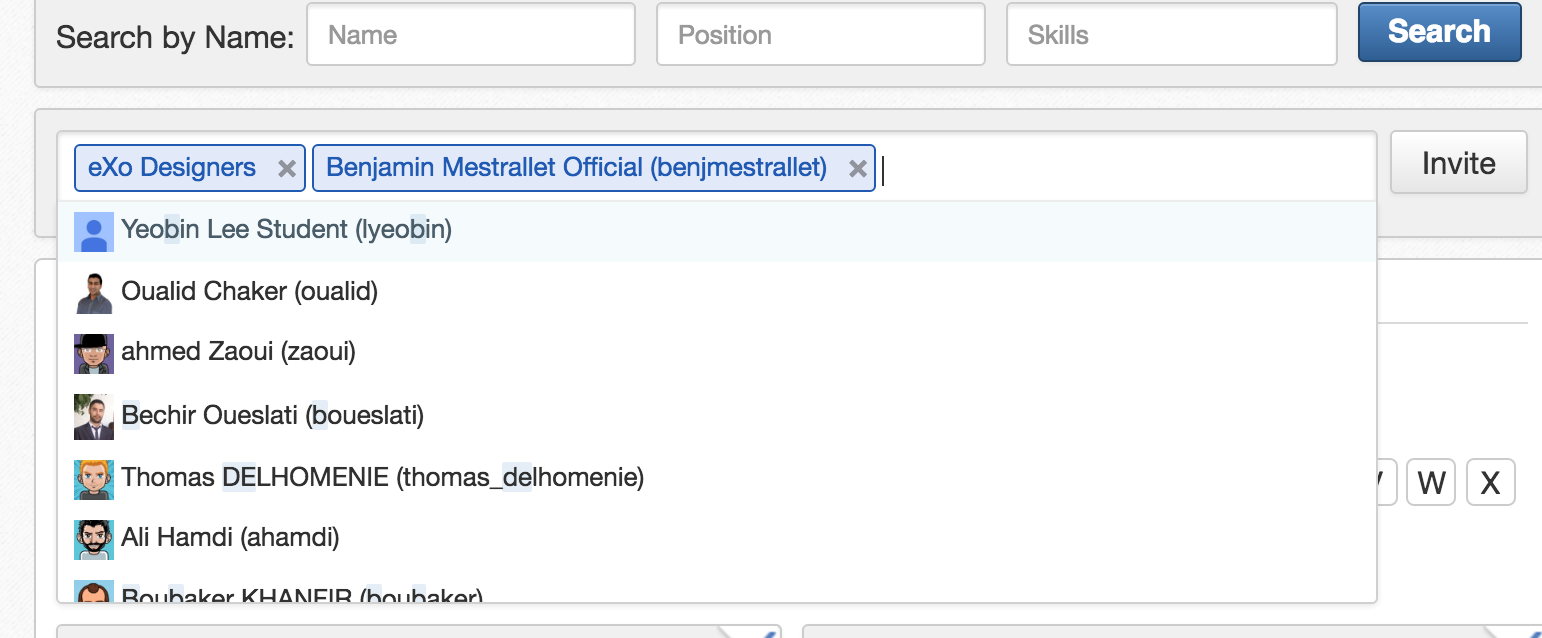 Elasticsearch
Finally, eXo Platform now uses Elasticsearch to power certain searches, such as for the wiki and user profiles, as well as for important functions such as activity streams. If you are a user, you will probably feel the difference in terms of speed. If you are an administrator, read more…
And Much More…
All of these new features are already covered in the online documentation, which we continue to update every week according to your feedback.
Besides what we have discussed in this article, eXo Platform 4.4 includes, as always, a multitude of fixes and UX, performance, and security improvements, which you can discover by reviewing the release notes.
If you have not already done so, download the eXo Platform Enterprise free trial.
Thank you for your support and enjoy!
As usual, these improvements can be previewed immediately on the Tribe and in the latest milestone of the eXo Platform 4.4 Community Edition. Let us know what you think. We'd love to hear your feedback.